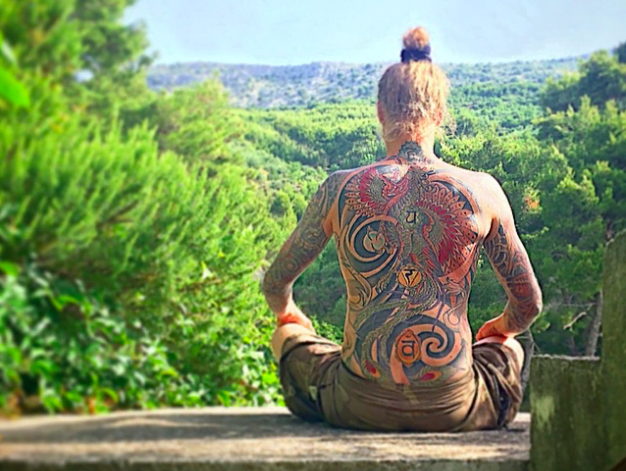 In 1998 I found yoga as a way to improve my flexibility as well as my recovery time for skateboarding, as a off shoot it helped to improve my focus and mood. Since then I have delved much deeper allowing my practice to blossom as it continues to grow and positively impact my physical mental and spiritual well being. My passion bubbles through passing on the bliss via yoga, raw foods/veganism and heart centered living. I feel so Blessed to share and grow with the different styles I offer at retreats, festivals and for private events offering myself up in loving service as a
🙂 Yoga Teacher by Donation 🙂
 Here, there, anywhere, even on Skype or Ichat

To set up a yoga class or request my services at a retreat or festival simply click the "Contact Me" button below and leave some relevant information. Always a pleasure and honor to share that which lightens and lights us up!
Excited and blessed to connect and grow together 🙂
I currently offer 3 different styles of yoga classes to best suit the moment and your needs

Kendalini
Kendalini yoga blends the Powerful Expanding movements and Breath Work of Kundalini yoga (considered the King of all yogas, focused entirely on raising ones Kundalini Energy upward along the Chakra's for Spiritual Growth and Enlightenment) with the Tibetan Rights, Power yoga and Good old Tomfoolery fun n Sillyness. A continuously evolving expanding and enlightening flow offering the true bliss of the present moment. Seeing the Sacred in everything Kendalini promises Chi expansion every time.
(Beginner – Guru)
RAW POWER YOGA
This style of yoga is is essentially yoga with brawn, this process produces intense internal heat and a profuse, purifying sweat that detoxifies muscles and organs, think Athletes Yoga Plus!
Flowing from pose to pose with the breath bringing in elements of calisthenics n Kendalini fun, expect to sweat and get a great workout! By the end of the session you will feel more like you have completed a traditional weight training or a callisthenic workout than you would with any other type of yoga.
(Beginner Power – Advanced Ultra Power)
Kendalini's Kundalini
Kundalini is considered the king of all yoga's, the focus is on awakening the "kundalini" energy at thebase of the spine and drawing it upward for the purpose of enlightenment. It has a more spiritual feel focusing on the Chakra's Energy Balance and the conscious awareness of your Energetic/Auric Body. Expect lots of core work on your abs and around the spine with Kundalini yoga — and perhaps even more sitting than usual.
Offering Both Serious and Silly Kendalini/Kundalini..
(Beginner – Enlightened) 
Enjoy my 2 free full Yoga Class Videos Below!
I happily offer all classes from 45 minutes to 90+ minutes to suit your time preference and needs.
For more info or to set up a class click the "Contact Me" button below

Enjoy A Full Kendalini's Kundalini Yoga Class
With Tibetan Singing Bowls played by Brian Calvi of FarmOfLifeCR.com 🙂
  Ohh Enjoy A full Kendalini Yoga Class from
Hope to see u there this Year for all four types of Classes!
Enjoy some Fun Pics from a Few Different Teaching Experiences!
Sharing at the 2015 Raw Food and Yoga Surf Adventure Retreat in Costa Rica!
Click here to learn more and join me for the time of our lives at the next raw food n yoga adventure retreat!
Excited to Grow and Flow with you
Set up a class or request me to come to your event by clicking the "Contact Me" button below 🙂

Wishing you much
PeaceLovenSeasonalFruit ck