The Beatles said "Love is all you need"…
Well… I'd say Peace Love n Seasonal Fruit fits our needs even better!
A slogan, a mantra, a way of Life.
Peace Love n Seasonal Fruit is a message that can spark a new perspective, that can brighten anyone's day bringing the awareness needed to help create a more eco, healthy, compassionate and conscious present and thus future.
That's why I'm so stoked to share these new tank tops out!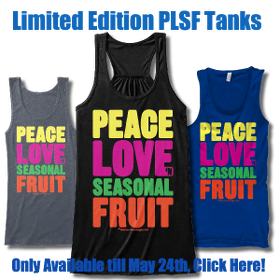 Just in time for the rising spring /summer heat
you can get each of the three styles,
racerback, girls cut, guys cut, in three colors each! 
That's a ton of options but not a ton of time to grab one.
Even though these were originally only on Pre Sale you can now Reserve one at the same link above! 🙂
Share your love of nature, of seasonal fruit, of living a compassionate lifestyle and really enjoy spreading a smile with a Peace Love n Seasonal Fruit Tank Top!
Wishing you much
PeaceLovenSeasonalFruit ck