Joyce Chen Spiral Slicer
$31.95
Danng!! Make professional garnishes in minutes with the Joyce Chen Spiral Slicer. Quickly creates Angel Hair like Pasta, Ribbons, or Slices with Ease and Consisitancy! The spiral slicer's design keeps fingers safe unlike other slicers and shredders. Made from quality bpa free plastic, the slicer is safe to clean in the dishwasher.
Out of stock

Oh Oh Oh My!!!!
I am soo Stoked to offer the Amazing Joyce Chen Spiral Slicer also known as the Saladacco Spiralizer.
Ever since I first started The Raw Advantage this has been the one product I have wished to offer!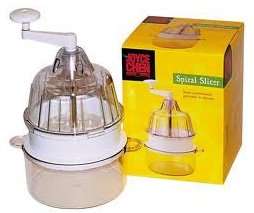 Having tried all of the different Raw noodle tools out there I personally feel the Amazing Joyce Chen Spiral Slicer / Saladacco Spiralizer is by far the best.
Producing the thinnest most tender angel hair pasta noodles of any device one can make amazing raw dishes that really bring to life the texture of traditional pasta. Using zucchini, carrots, beets, hardier squash, cucumber, celeriac or any other root veggie and producing the lightest most delicious nutritious noodles with the most eye popping presentation.
Sturdy and compact the Joyce Chen Spiral Slicer / Saladacco Spiralizer offers ease in making raw noodles with the quickest clean up. Make elaborate Italian Angel hair pastas in minutes, sure to amaze friends and family as well as bring new tastes textures and joy to your raw diet.
When I found this noodle maker my taste buds rejoiced, as you can tell from my noodles section in my "101 Frickin Rawsome Recipes" I love love love Raw Noodles!
From simple Classic Zucchini Marinara to "Presto Sun dried Tomato Pesto" to Thai Noodles and beyond,
your imagination (and my book ahah) are your only limits.
If you have a kitchen, like raw food, wish to like it more or want to entice your kids, friends, partner or parents with ridiculously amazing raw dishes I would highly recommend checking out this invaluable tool!
In the realm of Raw Noodles the Joyce Chen Spiral Slicer / Saladacco Spiralizer Reigns Supreme!
| | |
| --- | --- |
| Weight | 1.74375 lbs |
| Dimensions | 8 × 6 × 6 in |