Nuts About No Nuts
My friend Jon Kozak is Nuts about Using NO NUTS in his 50 gourmet LFRV recipes!
He does this for ease of digestion and assurance your getting the freshest most vital Food Possible!!
Check it out for amazing recipes with NO nuts, NO seeds. NO salt, NO oil!
Have nut or seed allergies?
Want low-fat easy digesting raw gourmet meals
Or like many simply feel better when not eating nuts?
This is the book for you!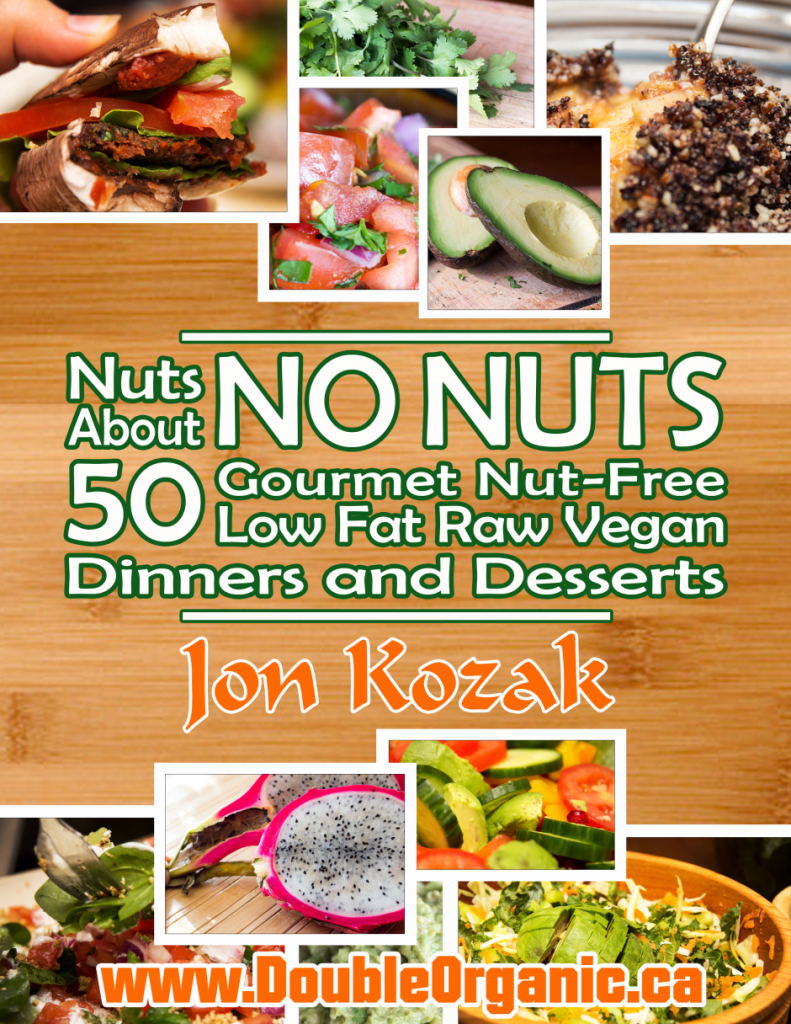 I feel Blessed to Share my Friend JonKozak's book as I know it can bring you exactly what your looking for, top level helath while enjoying tastes textures and old dishes you Love with ease of digestion and higher nutrition!
From the wholesome flavours of Ukraine, to the exotic tastes of the Asia's, the spice of the Amazonia and of course the familiar flavours of your favourite American cuisine. With 50 of the most delicious raw vegan recipes spanning all types of cuisine this book is sure to please your tastes!
Along with each recipe, there is a mouth-watering professional photograph to both let your eyes guide you to your next meal, and to offer ideas to plate you dish in a way that begs to be devoured.
In addition to the 50 epic recipes and stunning photography, each recipe also has such information as how much the recipe will yield, how long it will take to prepare, and what appliances are needed.
Don't have a dehydrator? Don't worry! Only 10 recipes use a dehydrator and there are some non-dehydrator options, or if you wish grab a dehydrator here. On top of that, the amount of calories and their ratios of carbohydrate, protein and fat has been calculated for each recipe.
Quality products take time, and this book will not disappoint! There are no filler recipes in this book, only the best of the best made the cut. These recipes have been tried, tested, and true enough people always ask if there is any left!
Enjoy detailed instructions, information on where to locate certain ingredients, as well as a fully hyperlinked navigation to flip through the pages with minimal effort!
After you have satisfied your taste for rich and savory flavor with a main dish, you will want to save room for dessert!
Did I mention the scrumptious desserts contained in this book?
Fruits and veggies have never tastes so good!
You will love this book, I am sure of it!

What I and others are Saying about "Nuts about No Nuts"
"With over a decade on a raw food diet, one thing I have really come to learn is that I feel my absolute best when I keep my diet low in fat and generally nut-free! Double Organic Jon has really delivered in spades with amazing recipes that are not only really tasty and satisfying, but also nut-free! If you want to get that gourmet taste without the nuts, oils, salt and heavy feeling that accompanies most fancy raw dishes I am sure you will love this book as much as I do!"
-Chris Kendall RHN, Raw Lifestyle Coach, Low Fat Raw Vegan Chef, TheRawAdvantage.com
"This book is full of tantalizing culinary delights that will satisfy your hunger, provide pleasure, and help build better health. With many various healthy vegan options of low-fat, raw, gourmet worldly cuisine, these recipes are great for both transitioning to healthier eating, as well as for celebrations and special occasions. This book is very visually appealing (the pictures look edible!), and the easy-to-follow instructions will help guide you towards culinary success. If you enjoy spending time in the kitchen, then this is one recipe book worth owning!"
-Dr. Samuel A. Mielcarski, author of "Feel Good Now!", DrSamPT.com
"Jon has created a master piece of art with his book 'Nuts About No Nuts.' This book is full of valuable information, stunning photography, and insanely delicious recipes that are sure to help change lives for the better – no question. If I had a book like this when I first went raw vegan, I would have saved myself a lot of gut-aches and headaches! Thanks Jon.
-Ted Carr, Raw Vegan Triathlete, 100SquatsADay.com