The Raw Advantage – Retreats
I am So Excited to Offer these amazing Retreats!
Raw Food N Yoga – Surf Adventure Retreat: February 28th – March 7th 2020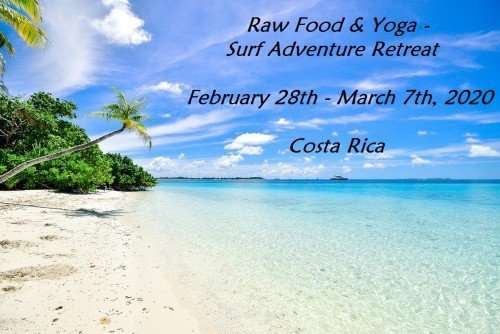 "Chris you were as amazing as you are on your videos and how you write. I choose to come to this retreat because I could tell any retreat with you involved would be worth it! Your personality and caring and energy is inspiring beyond words. You do have a amazing way of making everyone comfortable and soothing any tension!"
"The motivational level after this retreat is so incredible!! Seeing "real" people live this way with such joy and ease, really confirmed to me that the low-fat-raw-vegan lifestyle is the lifestyle I want for myself!! :)"
"There is something about being in nature, especially in Costa Rica's untouched jungle, that is incredibly heart opening, balancing and healing. The sounds, the fresh clean air and spring water, the land, tropical fruits, organic greenhouse, animals and the people, I could only describe this place as pure love."
Join us February 28th – March 7th 2020 at the amazing organic, permaculture retreat center – The Farm of Life! The name of the game fun, amazing food, connection, relaxation and adventure! Costa Rica offers some of the best surfing in the world with many world-class breaks. We will be exploring the best waterfalls, beaches, hikes and adventure that Costa Rica has to offer. At the amazing Farm of Life we have unlimited organic tropical fruit, a amazing chemical free pool, sun gazing vortexes, culinary skills classes, daily yoga, a fire pit, gong baths and more! Join me for the time of our lives!
All you can eat Organic, Local, Raw Fruits and Veggies + Coconuts!

Simple 80/10/10 style cuisine from "101 Frickin' Rawsome Recipes" with the option of 2-3 Low Fat Raw Gourmet Dinners from "TRA Retreat Treats"

Raw Food Demos, Culinary Skills and Workshops!

Up to 1 Yoga Class a Day (4-5 different styles in the beautiful Yoga Hut overlooking the Jungle)

Surfing including Rental and Transportation (2-3 days depending on tides and level of surfing experience.)

Amazing Jungle Hikes to Waterfalls, Cliff Jumps and more! (Varying lengths from easy to more challenging)
GUARANTEED:
– All you can Eat Raw Foods and Culinary Skills Classes!
– One-on-one and Group Raw Lifestyle Coaching with Chris Kendall
– Social and Emotional Support and Strategies
– Learning to apply all the different aspects of Holistic Healthy Living
– Epic Tropical Adventure and Connection with Self, Nature and Like Minded People!