Description
Are you a Durian Lover?!
I sure am, but know this book is not just a travel guide or an eating guide.
Yes, it will help you visit durian farms and durian stalls in Penang. It will teach you how to identify more than 25 different varieties of durian. It will show you how to choose good durian and avoid the bad, but that is not this book's mission.
The mission of The Penang Durian Guide is to turn you into a durian connoisseur. A connoisseur cares about the whole story. Flavor is the story of a place and it's people and history. Through eating delectable, delicious durian, this book aims to help you to get to know and to love Penang as a place as intimately as the author has over these last 7 years.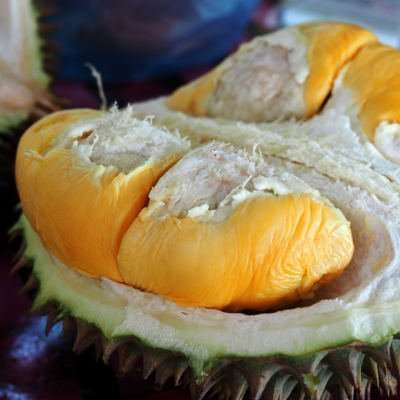 I feel so blessed to bring you the works of my Friend Lindsay Gasik, one who like me just cant help but share the abundance we have found via the passion within.
What's Inside This Book:
The Penang Durian Guide is organized into 7 convenient chapters for all your durian-munching needs.
Here's a look at the Table of Contents:
Introducing Penang
Getting To and Around Penang
Where To Stay and Durian Farmstays
Sample 4-Day Durian Itinerary
A Durian History
Buying Durian
When To Go For Penang Durian Season
Guide to Off-Season Durian
Where To Buy Durian
How To Buy Durian
Step By Step at a Durian Stall
When to Reject Durian
When to Buy Pre-Packaged Durian
How to take Durian Home
Tasting Durian 
Why Durian Tastes Like Durian (Science Stuff)
Why Old Tree Matters
Terroir of Penang
Choosing Durian
Choosing Good Durian
Avoiding Bad Durian
Varieties By Flavor and Texture
Identifying Durians
Durian Hunter's Checklist
How to Identify Different Varieties
The Durian Field Guide (26 Durian Varieties)
Finding Durian: Stalls and Farms
George Town Durian Stalls and Walking Tour
The Middle: Air Itam to Balik Pulau
The Northwest: Batu Ferringhi to Balik Pulau
The South: Bayan Lepas to Kampung Genting
The Mainland: Seberang Perai
Durian Cuisine
Acknowedgments 
Citations and References
As a fellow Durian Connoisseur and one that is excited to dive into the best durian adventure possible this Guide to Penang Durian is GOLD. Not only does it have amazing pictures, descriptions and tips on the king of fruit itself and near countless varieties, but also goes deep into where to stay, what times of year, what types of durian in what seasons and so much more.
If you want to plan the tropical durian filled adventure of a lifetime this book is for you!!
Hope to see you out there with a big smile and a large helping of Durian!
Much PLSF ck