I'm making up some serious time here.  As you know I've been chillin' with the fam for the last couple of weeks after months of traveling and retreats.  So to make up for laying low for a bit I'm coming at you today with loads – oh yeah LOADS – of sweet deals and promos and awesome bonuses for YOU-OOO-OOOO!!
So I'm super stoked to be partnering with Luis Souza from RawVeganPower.com.  If you haven't already, you can catch a fun little interview we did a week or so ago.  Now we are offering a contest where you can win some bitchin' prizes from my shop like 
100% Raw Vegan Power Shirts (Girls or Guys – you pick!)
Paperback copies of 101 Frickin' Rawsome Recipes
Some of my awesome stickers 🙂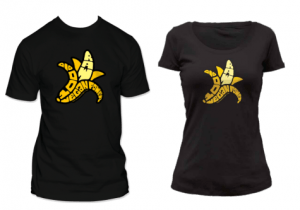 You can peep the full details HERE but basically all you have to do to enter is:
1. You must be a The Raw Advantage Email Member. It's free and simple to join + you get 2 FREE e-books and exclusive offers
Click here and enter your details
We will contact winners through email.
2. You must be a Raw Vegan Power fan on Facebook (You can do that on the contest page as well)
3. Enter a comment on the contest page to let us know
"WHAT DO YOU THINK IS THE BIGGEST ADVANTAGE OF EATING RAW FOODS?"
This giveaway ends on May 31st midnight so get your name in the hat today!!
Also, as you may know, I'm a HUGE fan of Xero Shoes.  These shoes are designed to give your feet amazing freedom, while still providing awesome protection while running, walking you name it!
Well, they are running a super amazing Mother's Day sale.  Get ready for summer with these super comfy shoes!
All of their Xero Shoes Summer Colors — Boulder Sky, Electric Mint, and Hot Salmon — are on sale for 50% off until midnight, May 15th.
Get either a DIY kit or Custom-made Xero Shoes, in either 4mm Connect or 6mm Contact for half off (not sure what to get, get a gift certificate).
Plus they have new Xero T-shirts. And the original laces are on sale for just $1/pair (to make room for the NEW laces, which come in SEVENTEEN way-cool colors, including reflective).
Ohhh but I'm not done yet!!!  WOOOO-HOOO I have more bonuses for you!  If you share the contest info (link/video) on Facebook and tag me in the comment (make sure you do this so I see it), I'm going to be giving away a FREE Banana Commander shirt to two of the best shares!  So let the world know about descriptions for the post, why you are sharing it, why others should view it – be funny, be crazy, be unique!!  It might just snag you a free t-shirt!!
Wishing you much much
PeaceLovenSeasonalFruit ck