If you know me you know I LOVE Xero Shoes!
Today I am excited to reviewing the brand new Xero Aqua X Sport and the whole Vegan Spring 2021 lineup that just launched today, March 17th!
I really love them and wanted to let you know the whole spring lineup is available in mens and women's sizes and is on sale until March 29th!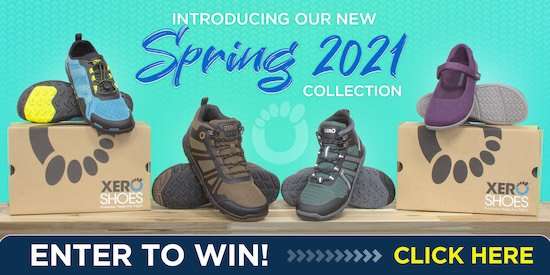 Enter for your chance to WIN a FREE Pair, Plus get 20% off your first pair and 25% off if you get two or more of any from the lineup!
 * As a disclaimer, I am a "Xero Hero" and Xero Affiliate so by using my link you help me with my banana habit, very much obliged.
Into the review, I go much deeper in the video but will share a bit about each below from the Xero page!
My favourite vegan minimalist shoe from the Xero 2021 spring lineup is the Aqua X Sport!

The Aqua X Sport features a breathable mesh upper with a quick-dry lining, non-absorbent tongue, and the same flexible 5.5mm FeelTrue sole as the Mesa Trail and as always the 5000 mile warranty on every sole! The Aqua X Sport is a water-friendly shoe that's just as comfy on roads and trails and I cant wait to try surfing over reef breaks in!
Next up we have the Xcursion Fusion!
This fully waterproof hiking boot is ready for the most extreme adventures!
The Xcursion Fusion is a sleeker, lighter, and more rugged version of the best-selling original.
Then we have the Daylite Hiker Fusion
With its new lightweight, abrasion-resistant welded upper and gripper lugged sole, the Daylite Hiker Fusion is perfect for those hikes when a technical boot is more than you need.
And Last but certainly not least The Cassie

Xero's best-seller for women is finally back and even better with an eco-friendly, super soft hemp canvas upper!
What can I say about Xero shoes, seriously they have helped me so much.
After decades of skateboarding and punishment to my feet, ankles, knees and back I found refuge and repair with minimalist shoes. I tried a few brands and then found Xero and was home. Good minimalist shoes give you just the right amount of protection while retaining your foots natural barefoot position enabling and requiring the muscles of your foot, ankle and leg to support and strengthen in the most anatomically correct way. I have more videos that go deeper into this such as..
I really hope you enjoy both of the videos and take advantage of the limited time sale on the new Spring 2021 Vegan Lineup from Xero Shoes!
As Always,
Wishing you Much
PeaceLovenSeasonalFruit ck