101 Frickin Rawsome Recipes – Ebook
$9.95
The best of the best simple Hygienic Low Fat Raw Recipes without all of the Salt, Oil, Spices and Raw Junk Food ingredients common in many Raw Recipe Books!
Bringing the Simplicity of Mother Natures Perfection into your Kitchen! 🙂
* As soon as you complete your purchase, the download link will be on the confirmation page. 
When you purchase this option you will receive the ebook immediately and the 100% recyled paper copy will be physically mailed to you via your chosen mailing preference.

My Simple and Hygienic Raw Recipe Masterpiece
Enjoy
"101 Frickin Rawsome Recipes"
Would you like to enjoy the benefits of eating more Whole Fresh Ripe Raw Fruits and Vegetables simply because you love to eat them, not just because they are "healthy" or you "feel you should"?
How about having a repertoire of quick and easy raw recipes you can't get enough of and are excited to share with those you love?
Coming at you with a recipe book that could be found in the
Garden of Eden itself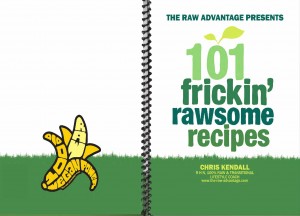 * If you truly cannot afford to donate email info@therawadvantage.com and we can figure something out 🙂
Many of us feel run down, tired, and way too busy to make good food choices. We live in a fast-paced society, who wants another book of complex recipes that require hours of prep time, expensive equipment, and leaves you feeling less perky than you know the raw lifestyle should?
Each and every recipe in this book is designed to be easily made
in minutes with ingredients, you can find anywhere!
From the simplest most satisfying meals consisting of 1- 3 ingredients, to more "fancy dishes" you could easily serve at a gourmet raw restaurant!
I have surprised many guests when they realized they were eating a simple raw recipe!
With amazing dishes like these, you will be too!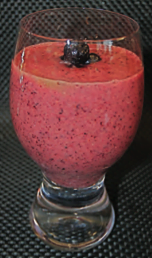 Blueberry Lagoon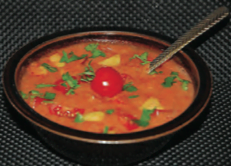 Nectarine Gazpacho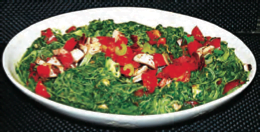 Presto Sun Dried Tomato Pesto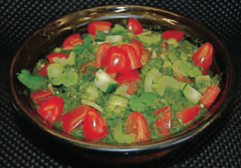 Classic Stew
95 more amazing and simple recipes to discover!!
Still, need more info?
These recipes all utilize proper food combined for optimal digestion and absorption leaving you with the energized light feeling you would expect from our species-specific diet.
Don't know about food combining?
Entire books have been dedicated to food combining, or the chemistry of digestion. Here I bring you the easiest-to-understand key concepts along with 101 delicious examples of proper food combining to effortlessly hit the principals home!
11 years ago I simply started eating fruit for breakfast and implementing proper food combining,
I haven't had one sick day since!
For over 7 years I have been reading every raw recipe book I can get my hands on. The vast majority of them are overly complicated, quite time-consuming to make, and high in fat, salt, spices, stimulants, and other irritants that lead you away from the boundless energy and glowing youthfulness that should accompany the Raw Lifestyle.  Motivated by this I felt the need to share the gems I eat day in and out with you and anyone seeking optimal health, boundless vitality, and peak physical fitness.
Striving to bring more of Mother Natures Loving embrace to you,
I am confident in saying these are
"The Best of The Best"!
Choose from 101 Frickin'
Revitalizing "smoothies"
 Awesome"green smoothies"
Wondrous "sweet soups"
Satiating"savory soups"
Original "noodle dishes"
Mouthwatering"stews"
Excellent "special dishes"
and
So much more!!!!
You are sure to find many a new favorite!
By finding a few favorite raw recipes that you and your family love, the enjoyment, and ease in including more fresh ripe raw whole fruits and veggies in your improved or 100% raw lifestyle becomes not only easy but thoughtless.
Did you know most people rotate 5- 7 staple recipes?
Day in and out they eat these staples, we are creatures of habit!
Ease in implementing lifestyle changes comes from replacing your old unhelpful habits with new ones that you love and enjoy, this makes committing to your improved lifestyle effortless.
It only takes 20 – 30 days to implement a new habit!
You may not believe it now but these simple recipes and their ability to awaken your finer senses, facilitate your body's innate self-healing, improve your vitality, straighten your priorities, and skyrocket your general sense of well-being will catapult you to a place where you simply prefer the tastes, textures, and results gained from enjoying more fresh ripe raw fruits and vegetables.
Too Often we put things off for another day, why wait?
The best time is the "present" start gifting yourself with more love by actively creating a new healthier more vibrant you that you deserve today!
You dang well deserve it!
It all starts with one simple choice that can blossom into new healthy habits 🙂
Still Unsure?
Enjoy this video launch for the ebook including a demo of 2 of the recipes!
Here is what a few people have said so far 🙂
Dear Chris; I love your book!
Thank you so much for all the bliss you share in your raw culinary creations!
I LOVE raw noodles too!
Your videos also have great humor and joy and are a blast to watch.
Sending you TONS of LOVE and GRATITUDE for sharing all that you do!
—-from Ruthie Dreier, Santa Rosa, California USA
In the confusion of the high-fat raw food movement, I ran into Chris Kendall's book "101 Frickn' Rawsome Recipes". Clearly explaining guidelines, objective measurement of calories, and easy and (most importantly) delicious recipes that I could make quickly, with little effort or pain to my wallet. This allowed me to take the notion of trying out raw seriously and so I went from practically 0% to 100% raw overnight.
Starting out at 100-105 kg at 189 cm (very overweight) to quickly dropping 5-10 kg without doing anything consciously. After 6-9 months on the diet, I was down to 85 kg (ideal weight according to BMI) and feeling amazing. A weight I hadn't had since high school, a shirt size I haven't had since puberty, and an energy and well-being I haven't ever had.
Going raw has had effects on so many levels I cannot put it into words, thank you Chris for existing and being one of the greatest influences upon my life and getting me to healthy friendships. Eternal love and gratitude,
Johan Agstam
I just received Chris' wonderful recipe book "101 Frickin Rawsome Recipes" last week and I have been loving it! The recipes are simple, delicious, and properly combined for optimal digestion and maximum health! This book is a MUST-HAVE for anyone on or moving towards the low-fat raw vegan (LFRV) lifestyle. I have ranged from 70%-100% raw over the past 11 years, and this book has given me new ideas on how to combine foods in a way that will make it easy and enjoyable to stick with the LFRV lifestyle. Thank you Thank you Chris!!!
I really didn't think anyone had any new ideas I hadn't already seen. WOO HOO!
Sincerely, Janett Hoke
I just got your ebook on the weekend and tried the infamous pineapple pomegranate & kiwi soup… Yummy!! I would never have thought of putting these flavors together 🙂 But you made it look sooo appetizing on YouTube I could not resist trying it!
 I'm loving your book, best recipe book I've purchased on Raw Food so far 🙂
Thank you for sharing all your insights
 xx Patricia Samynaden
Hahaha!! This is really the easiest way to eat. I'm not bloated, I slept well and I feel pretty relaxed. Peed abundantly and poop came out like a clean birthday cake knife lol
Joe Andrews
Hi Chris!
Just wanted to let you know that I just got the spiralizer today and have just made myself your Presto sun-dried tomato pesto.  VERY delicious!  Recipes like this are great because they are extremely simple adding a savory aspect that is hard to find when eating a simple raw diet. I find these especially helpful when I find myself craving during my transition to 100% raw. I have already gone out and picked up more ingredients as I know this will become a regular dinner for me.
This is definitely going to help me transition from 80 to 100% raw.
Many Thanks, Vanessa, Saskatoon, Sask, Canada
MY MOM LOVES IT!! 
She was SUPER excited when she called me and she LOVES all the banana recipes b/c that woman is bonkers for bananas 😀 She's learning a lot from your book and she's absolutely thrilled!! 😀
She keeps saying 'Oohhh… I'm so glad he has so many recipes with bananas!' haha..  and she also says 'This is so perfect for me!'. She read your bio and was very impressed by it. She said 'he's ONLY 30?! And he wrote this WHOLE BOOK?!" followed by 'wooooww… ' haha.
THANK YOU!! 
Hope you are well as you spread your enthusiasm and knowledge on respecting our bodies and earth! 
Much peace and love, 
Karen