Barley Grass Juice Powder
$29.95
The best green juice powder out there IMHO, grown specifically for nutritional quality, high in trace minerals and organic sodium. 100% Raw, Kosher, Organic, Non GMO, Vegan, Gluten Free and Free Trade!
This is by far the best quality and best price that I have found for 1 lb /460 g of Barley Grass Juice Powder, I hope you LOVE it as much as I do!
In stock
After finding so much benefit from adding Barley Grass Juice Powder (BGJP) to my raw food lifestyle I am really excited to share this amazing product with you. Convenient, delicious and jam packed with trace minerals often lacking in commercial produce (which I often eat / can only find while traveling) I find BGJP invaluable. After trying out numerous brands over the last 5 years I am really excited to bring you Terrasoul's Barley Grass Juice Powder!
Learn more in this Video I made!
Raw, 100% organic Barley Grass Juice Powder is one of the most potent sources of nutrients, complete with protein, trace minerals, 20 amino acids and Superoxide Dismutase (SOD), a extraordinary compound that works to fight inflammation and repair damaged cells.
Certified Organic, Raw, Non GMO Fair Trade, Vegan, Gluten Free!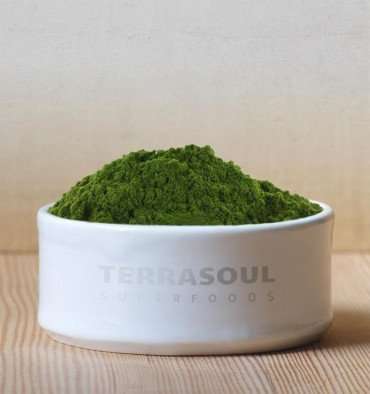 Terrasoul's raw organic Barley Grass Juice Powder is grown in the rich soils of an ancient seabed in Utah's west desert and harvested at its nutritional peak, pressed of its vital, nutrient-rich juice, then dried at low temperatures to ensure that it contains the highest possible levels of enzymes, chlorophyll and nutrients. Barley Grass Juice Powder is a concentrated form of barley grass, as it takes approximately twenty five pounds of juice to make one pound of powder, and is 100% pure and always free of carriers and excipients. Barley Grass Juice Powder can help alkalize your body and provides a super-store of vitamins, minerals and enzymes for everyday vitality and well-being. Simply add to water to enjoy an instant fresh juice or add to your favorite smoothie!
Ingredients:  Organic Barley Grass Juice Powder (Hordeum Vulgare)
Allergy Info:  Packaged in a facility that also processes tree nuts.
Storage Info:  Refrigeration not required. Store in a cool, dark, dry place.
Country of Origin:  USA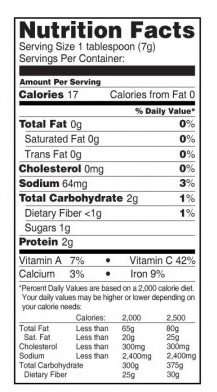 I simply love this product and hope you do too, many people find it helps them with craving salt and curbs their hunger for greens due to its rich nutrient content. Easy to add to a smoothie, mix with water for a paste to dip fruit / veggies in, or great to simply eat a spoonful at a time it's a perfect nutritional adjunct to the raw food diet. Having a bottle / bag with me as I travel helps assure me quality greens / green smoothies and dense nutrition no matter the fruit I find.
Enjoy more greens and the extra nutritional assurance that your getting the trace minerals and micro minerals you need to be optimally healthy!!
Wishing you Much
PeaceLovenSeasonalFruit ck