Cool Raw Power Stickers
$4.95
Super Sweet
"Don't Have a Cow, GO BANANA'S"
"100% Raw Vegan Power" Banana
Raw Vegan Power Banana
and
Peace Love and Seasonal Fruit Stickers
Smack em on your Water bottle, Bike, Skateboard, Car, Mailbox, Face, Near and In health food stores/Gyms, and anywhere else you can!!
Who Doesn't Love love love Stickers?
Only silly people methinks! I gotta say I Love them!
Being a skateboarder I was once sticker obsessed, this led me to the realization that I needed to make the best stickers Ever!!!!
So Stoked to unveil My Two NEW Peace Love n Seasonal Fruit Sticker as well as the Updated Raw Vegan Power Sticker!
New Vegan / Vegetarian / Raw Vegan Stickers!!!
The Orignail 100% RVP & DHAC
Grab 12 of any combination of them with any other purchase for 5 bucks
You can choose 3, 4 or 6 of your choice, or 12 of your favorite.
Each of the round stickers are 4 by 4 inches and the new PeaceLovenSeasonalFruit sticker is 3 1/2" by 1 1/4" Perfect for a Smart phone!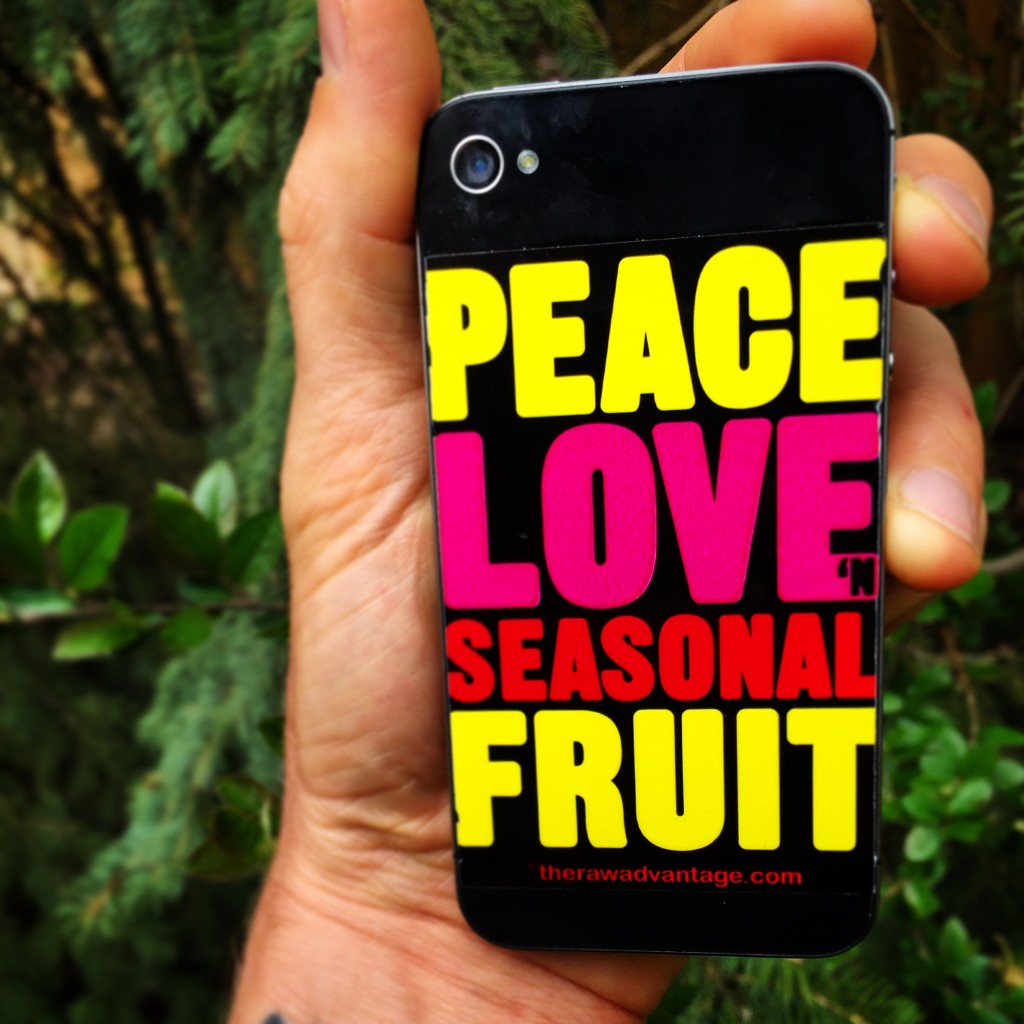 Stick em on your car, your parents car, your skateboard, your house, your mailbox, windows, snowboards, bikes, ski's, tennis rackets, jet ski's, boats, coats, shirts, cats, dogs, frogs, ice skates, signs, busses, trains, phone booths well anywhere and everywhere you feel the simple sweet raw vibes could n should be spread!!!
Love it, share it, spread the sweet flow!!
| | |
| --- | --- |
| Weight | 0.03125 lbs |
| stickers | 10 100% RVP, 10 DHAC, 12 100% RVP, 12 DHAC, 12 PLSF, 12 RVP, 3 of Each (12 Total), 4 of 3 Designs (Indicate selection in comments), 6 of 2 Designs (indicate selection in comments), Half & Half |