Costa Rica Retreat Deposit
$500.00
Reserve Your Spot For The Next 
Raw Food n Yoga Surf Adventure Retreat
at The Farm of Life in Costa Rica!
Excited to enjoy and grow with you, Learn a Ton More in the video and post below.
Contact me Here if you have any questions about the retreat or reserving your spot with a deposit 🙂
In stock
The Raw Advantage
Raw Food N Yoga Surf Adventure Retreat
at The Farm of Life
January 11th – January 19th 2024
Secure your spot with a Costa Rica Retreat Deposit!
---
Email me directly at chris@therawadvantage.com to get the Retreat Form for info on pricing, rooming options, flight info, and More! 
---
The Banana Commander is excited to invite you on the most epic retreat experience in Costa Rica! Having witnessed the healing power of the raw food diet and being blessed to enjoy all that the amazing Farm of Life offers, we couldn't help but create this retreat to bring all of it and us together for the most amazing Raw Retreat Ever!

…with amazing raw food meals and tropical fruits!

Included in the Raw Food Yoga Surf Adventure Retreat:
– 1 night at Margarita's BnB on January 11th to make sure you are ready for an early shuttle The next day direct to the beach!
– Travel to and from the airport / BnB & the Beach / Farm of Life (4 hours from San Jose)
– 7 nights accommodation at The Farm of Life

– All you can eat Organic, Local, Raw Fruits and Veggies and Daily Fresh Coconuts! 
– Simple 80/10/10 style cuisine from "101 Frickin' Rawsome Recipes" with the option of daily Low Fat Raw Gourmet Dinners from "TRA Retreat Treats" and "Frickin Rawsome Pizzas"

– Raw Food Demos, Culinary Skills, and Workshops!

– Up to 1 Yoga Class a Day (2-3 different styles in the beautiful Yoga Hut overlooking the Jungle)

– Surfing including Rental and Transportation (2-3 days depending on tides and level of surfing experience.) Potential to Skateboard. 
– Amazing Jungle Hikes to Waterfalls, Cliff Jumps and more! (Varying lengths from easy to more challenging)

– Meditation and Tibetan singing bowls around the campfire
– Sungazing morning and evenings. Connecting to the earth with barefoot walking. 

– One-on-one and Group Raw Lifestyle Coaching with Chris Kendall
– Social and Emotional Support and Strategies
– Learning to apply all the different aspects of holistic healthy living
– Fun, fun, and more fun! and Fruit, fruit, and more fruit!
_____________________________________________________________________
*Costa Rica offers some of the best surfing in the world with many world-class breaks or spots. We will have the option of going to a number of different spots ranging from beginner to advanced during the retreat surrounded by amazing endless coconut trees, fresh fruit, perfect beaches, and the option of caves. It will be amazing fun!
Seize this opportunity to fully immerse yourself in the raw lifestyle while enjoying awesome activities, learning about hygienic lifestyle factors, and absorbing all that Costa Rica has to offer!! Whether you are a hardcore fruitarian or brand new to raw foods, you will enjoy and benefit from this retreat. We will be sharing vital and helpful information regarding the raw food diet including but not limited to common mistakes, ways to plan for success, making it FUN, secrets to making great sauces, tips, and tricks of long-term raw foodists, and the science as well as common sense behind the raw food diet.
Did we mention -All the Whole Fresh Ripe Raw Fruits and Veggies you can eat!!
Email me directly at chris@therawadvantage.com to get the Retreat Form for info on pricing, rooming options, flight info, and More! 
_____________________________________________________________________
Our Crew!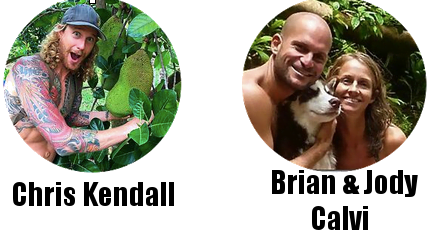 Chris Kendall creator of The Raw Advantage is the famous "Banana Commander" 43 years old, Registered Holistic Nutritionist, Low Fat Raw Vegan Lifestyle Coach, Raw Food Chef, Yoga Teacher, Athlete/Pro Skateboarder, was voted best male athlete at the Best of Raw Awards 2015 as well as Funniest Raw Male.. well how about that! He has been on the LFRV path since 2004 and is near 20 years raw vegan! Chris believes that we are always provided for, and that we have all we need to grow into our highest potential in every moment. Through letting go of graspingness and fear in turn dedicating ourselves to loving service we truly can all live in abundance. His award-winning retreats are a must on your travel to-do list!
Our hosts, husband and wife team Brian and Jody Calvi, are health enthusiasts with giant hearts. Their respective histories with disease and long fights for recovery inspired them to open Farm of Life. They are grateful for the healing journey they've experienced and feel their higher purpose is to give back to others in need. Brian and Jody are here to assist guests, support your healing journey, arrange tours and services, and make your visit exemplary. Brian's farm tours and personality are a highlight for many on the Farm. Learn more about The Farm of Life at FarmofLifeCR.com
Also serving us on the farm the head Chef, the Greenhouse Keeper, and the three friendly huskies: Caesar, Ramseys, Inca and Shakti the kitty. 

_____________________________________________________________________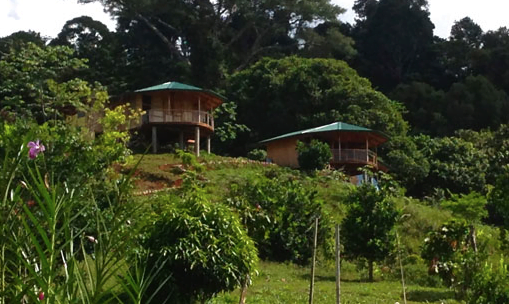 Private Cabins & Premium Cabins
Casa Coco and Casa Mono are beautiful new cabins with amazing views of campus and a walk-out balcony. All cabins have amazing views from the balconies, private shower/bathroom, and luxurious beds!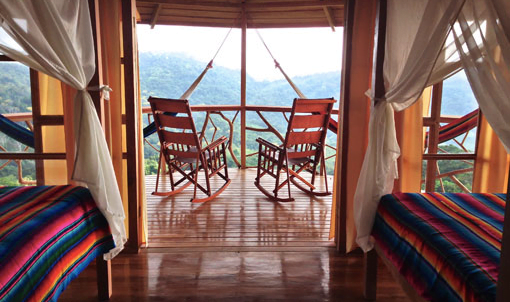 Email me directly at chris@therawadvantage.com to get the Retreat Form for info on pricing, rooming options, flight info, and More! 
Check out more photos of the accommodations here: www.fincadevida.com
Space is limited!

We really hope to see you out here in Costa Rica! There is a maximum occupancy of 21 people, so be sure to secure your spot and reserve your place now!!
 Paradise awaits you…

Avatar Rock – A hidden gem in Costa Rica, on private land beside the Farm of Life, that we have access to on this retreat!
Much
PeaceLovenSeasonalFruit ck