Once again, my good friend, the caped crusader – Batman himself stopped by for a short interview 🙂
Today, he shares how he loves mangoes so much that they are his absolute favorite part of The Raw Advantage Costa Rica Retreats at The Farm of Life!  He has been to my retreats before and he loves the mangoes so much he can't stop talking about them! 
I have to agree with Batman, the mangoes are pretty awesome, but we are also going to have sooo much more wonderful tropical fruits and veggies.  Plus, because this is a Culinary Skills Retreat, we're going to be making some super awesome, tasty recipes!!
Don't worry though, just because it's a culinary skills retreat, that doesn't mean we will be spending the ENTIRE time in the kitchen – oh no!  We are going to get out on nature hikes, visit waterfalls, go to the beach, go surfing, swimming, skateboarding – it's going to be a blast!!
If you haven't had a chance to peep the details yet, check 'em out HERE, then grab the spot we've been saving just for
YOU!!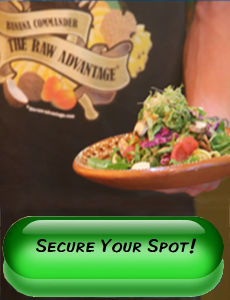 ck
As Always
Wishing You Much
PeaceLovenSeasonalFruit ck