Frickin' Rawsome Mango Cherry Pudding Recipe!
With Cherry Season upon us I felt it was time to share a simple, sweet, satiating Cherry Recipe!
I Hope you Love it! 🙂
Cherries are one of my all time favorite fruits, I remember a time when I set up my hammock tent between a cherry orchard and a nectarine orchard in Osoyoos, B.C… I will admit I ate more than my fair share according to some.
Eaten alone, in a smoothie, fruit salad or chopped in a green salad, all delicious options. While I will admit my absolute favorite is to eat them direct from the tree, when hungry till full, this Frickin' Rawsome Mango Cherry Pudding Recipe is in my top 3 ways to eat cherries!
Frickin' Rawsome Mango Cherry Pudding Recipe!
4 cups cherries
3 mango's

2 dates
Pit and slice cherries in half, place 1/2 in a bowl and 1/2 in the blender, reserving 6 pieces to make things fancy! Slice the mango (watch the video for the best technique) and place the "cheeks" in the blender, eat the centers if you wish 🙂 Add the two dates to the blender, be sure to pit them! Blend till smooth as can be then pour over the halved cherries, arrange the extra cherries in a beautiful way and share on Instagram, twitter and Facebook 😉
Check out @MissNaturallyAshley on Instagram,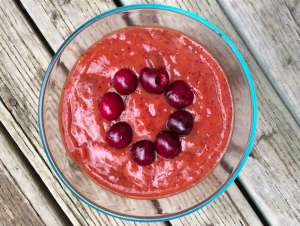 here is the photo she took of the pudding, she is the best! 🙂
P.S For more super simple delicious hygenic raw vegan recipes, including my other favorite cherry recipe "Colossal Pineapple Cherry" check out my smash hit "101 Frickin' Rawsome Recipes" available by donation!
P.P.S if you don't already have a Vitamix Blender I highly recommend you invest in one. IMHO by far the Best Blender you can buy! Make your raw lifestyle a thousand times easier, achieve any texture and consistency with the Vitamix Blender, Dense Dates, no problem, no presoaking needed, frozen banana's.. Its time for Ice cream, Brown Coconut or Whole seeds, make a thick sauce or Nut Butter. The possibilities are endless. A Must in a Raw Kitchen!
As Always
Wishing You Much
PeaceLovenSeasonalFruit ck