Raw Vegan Falafel Burger Feast Recipes with 3 Bonus Sauces!
Enjoy this super tasty raw vegan falafel burger feast recipe video that comes with 3 bonus low fat raw vegan sauces; Mango Chutney, Hot Sauce and Hummus ??
I don't know about you but I just LOVE Falafel and Hummus and feel so blessed to share my raw vegan Falafel Burger Recipe with some of my favourite sauces!
I wasn't introduced to falafels until my late teens when I moved to Vancouver Canada, but I really fell in love with them when I started transitioning towards a vegetarian and then vegan lifestyle shortly after. This fun raw vegan falafel burger recipe can also be made into balls if preferred and can be made in large batches so that you can freeze the extras for a quicker feast! Simply dehydrate at 118° for 30-45 minutes!
I hope you really enjoy the Raw Vegan Falafels, Mango Chutney, Hot Sauce and Raw Hummus, written instructions below 🙂
---
I Love my biochef vacuum blender attachment that fits on the vitamix, I'm not a affiliate but my friend John Kohler of sells them on his site and other vacuum blenders at DiscountJuicers.com and for everyone in Europe google search "Vitality 4 Life Biochef" and it will pop up with options for various countries in the EU ??
As an extra I do have a "DIY Vitamix Vacuum Blender Hack" video to help you make your vitamix / blender into a Vacuum Blender ??
---
Now Back to the
Raw Vegan Falafel Burger Feast Recipes!
The full recipe makes 10 burgers with all the fixings, toppings, sauces as well as a side salad and serves 2 – 5 people.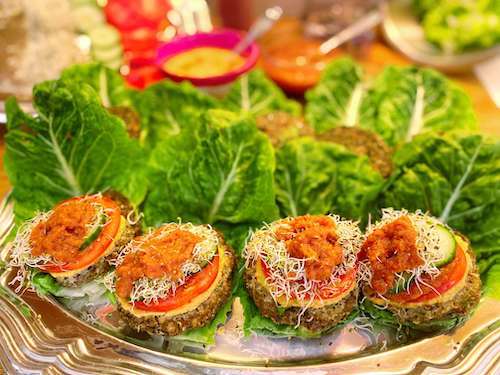 *As mentioned before you can make multiple batches and freeze the extra falafel burgers, or balls, for a quicker feast by simply popping the frozen patties in the dehydrator at 118° for 30-45 minutes.
First things first,
You will need to start with the Soaked / Sprouted Chickpeas
24 to 48+ hours before you wish to serve the raw vegan falafel burgers take 1/2 cup dried chickpeas (garbanzo beans) and soak them in filtered water with a few extra inches of water, for at least 8 hours or overnight. Best to use quality raw organic chickpeas for the best result. Drain and rinse the chickpeas thoroughly. Once soaked overnight they can be used at this stage but are not quite as easy to digest as if you sprout them 1 – 4 days. If sprouting, cover your jar with a mesh netting / cheese cloth and invert the jar over a bowl at an angle so that the beans will drain and still allow air to circulate (see video). If you are using a bowl you can place the chickpeas in a strainer with a bowl underneath. Repeat rinsing well and draining 2-3 times per day, if sprouting, until sprouts are the desired length, usually 3-4 days. Separate the chickpeas in two, just shy of 1 cup for the falafel burger patties and a heaping 1/3 cup for the hummus!
Falafel Burger Patties – Makes 10
This recipe is best broken up into two sets of ingredients, the wet smoothly blended ingredients and the dry chunky ingredients.
Wet Ingredients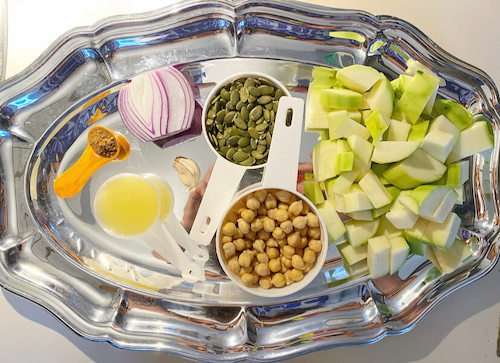 1 Zucchini (.5 lb / 230 g)
Soaked / Sprouted Chickpeas (Just shy of 1 cup)
Red Onion (.13 lb / 60 g)
1 Lemon (4 tbsp / 1/4 cup Juice)
Cumin (1 tsp)
Garlic (1 Clove)
Peel and rough chop the zucchini and put at the bottom of the blender. Add the lemon juice and the rest of the ingredients, blend until smooth and creamy leaving in the blender.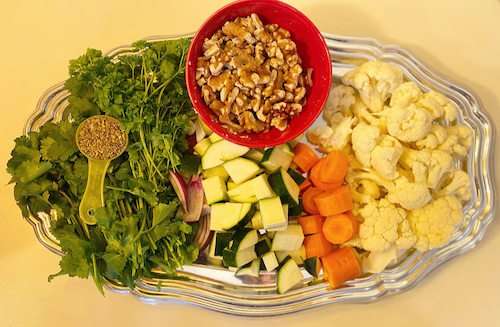 Dry Chunky Ingredients
Cauliflower (.6 lb / 272 g)
1 Zucchini (.5 lb / 230 g)
1 Carrot (.25 lb / 115 g)
Walnuts (.22 lb / 100 g)
Cilantro (.1 lb / 45 g)
Parsley (.05 g / 20 g)
Dry Oregano (1 tbsp)
Loosely chop the cauliflower, zucchini carrot and walnuts, if you have a vitamix add these 4 ingredients into the blender on top of the blended wet ingredients. Set the vitamix speed at a 3 and use the tamper, or some stalks of celery, to push all the chunky ingredients into the blade to create a fine chunky texture. * If you do not have a vitamix you can pulse blend all of these ingredients in a food processor, or medium fine grate them with a had grater or in a food processor.
Add the herbs last and blend at 3, pulsing a few times in order to incorporate the herbs into the falafel mix.
Get two excalibur dehydrator trays ready with a non stick teflex sheet on each, scoop a 1/2 cup measuring cup full of the mixture onto the dehydrator tray, and repeat with 5 on each tray until all of the mixture is used up. Use a spoon to partly flatten each 1/2 cup portion into 1/2 – 3/4 inch thick patties. * You may want to watch the video to visually see this all in action.
Place both trays in the middle of the dehydrator at 130° for the first 30-45 minutes and then switch it to 118°. At about 2 hours you can carefully move the patties and flip them using my special technique, be sure to watch the video to learn the best and easiest way to flip the raw falafel patties. At about 6 hours rearrange the nearly dried patties to make sure the driest are on the sides or at the back and those that need a bit more drying are near the front and center of each tray for the final hour.
While the Patties are in their final hour or two of drying its time to get the bonus sauces and toppings ready!

Mango Chutney
1 Mango (.83 lb / 375 g)
1 Persimmon (.19 lb / 85 g)
1/4 Lemon (1 tbsp Juice)
Ginger (1 tbsp minced)
Red Onion (2 tbsp chopped / 20 g)
Peel, pit and roughly chop the mango and optional persimmon. Blend 1/3 of the mango with all of the persimmon, lemon juice, as well as 1/2 of the ginger and 1/2 of the onion. Once smooth add the rest of the ingredients and pulse a few times to leave a chunky consistency, adjust to desired taste and pour into a bowl with a little spoon.
*If you do not have fresh mango you can substitute for frozen / thawed mango, or ripe nectarine or peach. If your mango is really sweet then there is no need for the persimmon, you can also replace the persimmon for 1 date.

Hot Sauce
Tomatoes (.77 lb / 350 g)
Red Onion (2 tbsp chopped / 20 g)
1/4 Lemon (1 tbsp Juice)
1 Date (.06 lb / 23 g)
Sun Dried Tomato (1/6 cup / 10 g)
Hot Pepper to taste
Blend all ingredients together until smooth, be sure to pit the date and only add a small amount of hot pepper at a time to find the desired spiciness and adjusting to desired taste. Add to a squeeze bottle.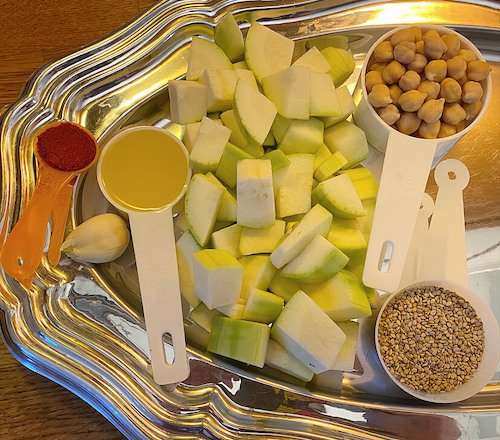 Raw Vegan Hummus
1 Zucchini (.5 lb / 230 g)
Soaked / Sprouted Chickpeas (Heaping 1/3 cup)
1/2 Lemon (2 tbsp Juice)
Raw Sesame Seeds (2 tbsp)
Smoked Paprika (1 tsp)
Garlic (1 large clove)
Peel and rough chop the zucchini, add to the blender along with all of the rest of the ingredients. Blend until smooth and creamy, adjusting flavour to taste. Pour into a bowl with a little spoon.
Burger Fixings and Side Salad
2 Large Tomatoes
1/2 a Cucumber
1 cup of Sprouts
1 Large head of Romaine Lettuce
Slice the tomatoes and cucumbers into thin rounds to top the burgers with. Remove the largest 10 outer leaves of the romaine lettuce and fold into makeshift "buns" for the burgers. Finely chop the remaining lettuce and place in a bowl, optionally add any extra greens, tomatoes and/or veggies to make a nice side salad.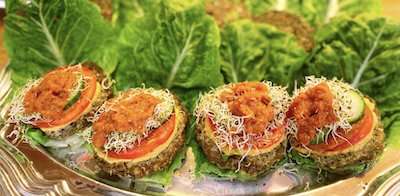 Raw Vegan Falafel Burger Assembly
Once the raw vegan falafel burger patties are dry to your preference (6-8 hours total), place one on each romaine leaf, top with a spoonful of raw hummus, then a slice of tomato, 2-3 cucumber slices, a spoonful of  chutney, some sprouts and finally the hot sauce to your taste! Fold the lettuce leaf overtop to finish the burger and set aside, review the video for visual help.
Any remaining sauce can be used to dip and or in the side salad, enjoy the feast!!
---
I hope you really enjoy this raw vegan falafel burger feast, it is always a hit and is easily one of my favourites.
Be sure to try them out and to make extra to freeze to make it even easier and quicker for your next falafel craving!
Wishing you
Much PeaceLovenSeasonalFruit ck
As Always
Wishing You Much
PeaceLovenSeasonalFruit ck