The Best NO Fat Raw Vegan Salad Dressing Ever!
I have tried hundreds if not over a thousand raw vegan dressings over my last 14 years as a raw foodist but this is one dressing is The Best NO Fat Raw Vegan Salad Dressing Ever that I turn back to time and time again!
I really hope you enjoy this simple hygienic well food combined NO fat raw vegan dressing a ton! It is my absolute Favourite no fat Raw Dressing Bar None!
May this magical sauce become your favourite no fat dressing as well!
A good raw dressing is like a really comfortable pair of your favourite jeans. That one that you always feel good about, that you can put on every day, brings a smile and almost feels like a warm hug. Having 5-7 staple raw vegan recipes that you feel this way about makes all the difference in your success sticking consistently to a raw food lifestyle. I live breathe and promote eating a lower fat and higher carb raw food lifestyle (check "the 80/10/10 diet" by Dr Douglas Graham) for long term optimal health on a raw food diet. Eating lower fat its super helpful to have some good staple fat free dressings and sauces.
In terms of no fat sauces (I love fatty sauces too such as my Coco Butter Veggies sauce in my TRA Retreat Treats ebook) this one by far takes the proverbial cake! You can make it in limitless ways with a simple addition of a herb, lime, green onion etc, and serve it in just as many ways on countless different dishes!
So What is the recipe you may ask…
      Mango

         &        

Tomato!!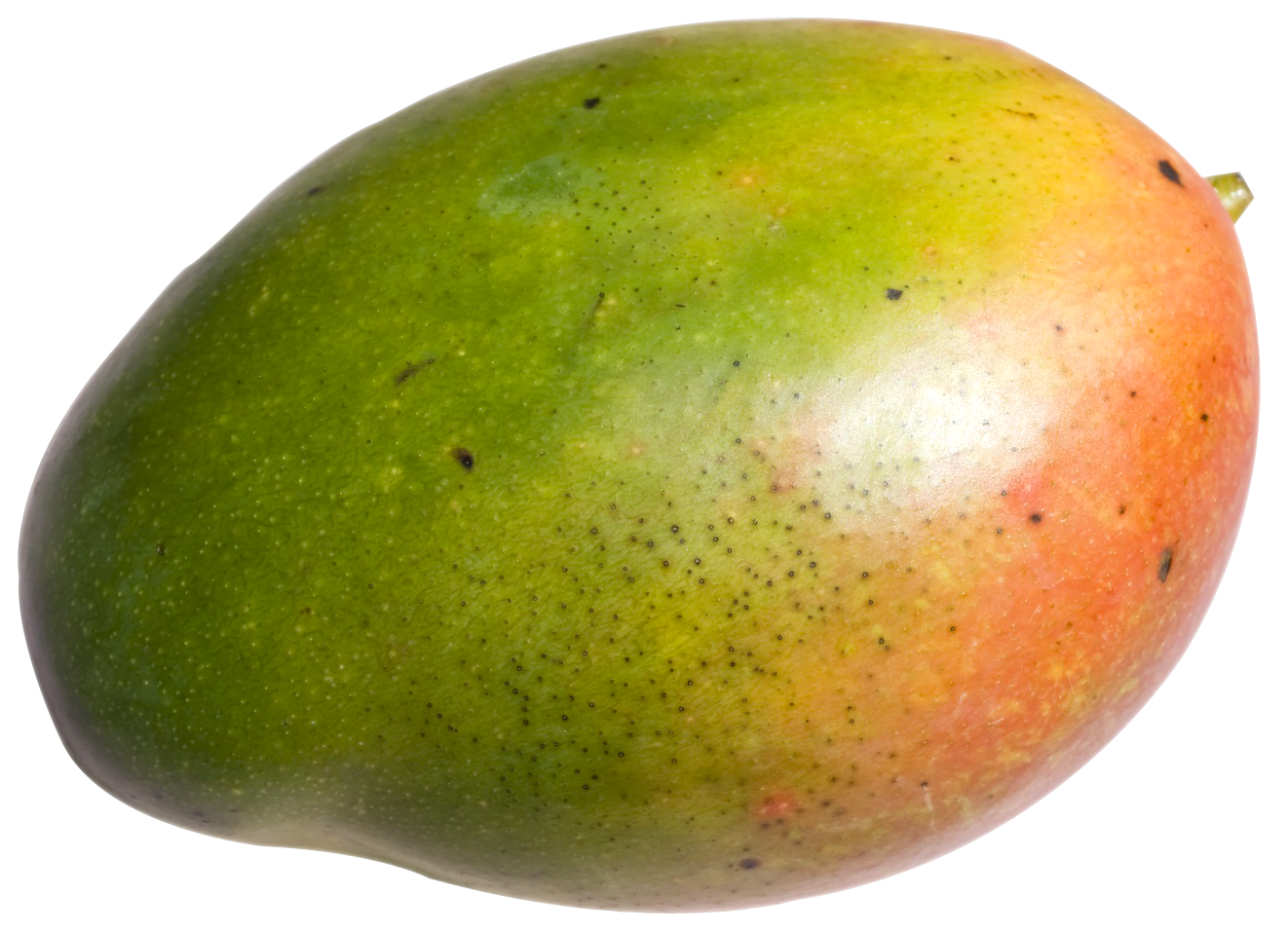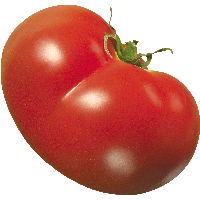 Thats it, seriously…
A pairing that I didn't try for my first 5 years raw but then when I did I was BLOWN Away!
It really is the perfect marriage of sweet, tangy and savoury with a creamy texture that coats any green or noodle perfectly! Try it in any combination, mostly tomato, mostly mango or half and half (my favourite), it is amazing any way you cut it. Try adding some sundried tomatoes, or some lime, dill or ginger…
Ohhhh I love it with a bit of cilantro and hot pepper, the sky is really the limit. While mangos are seasonal you can still get them frozen year round, simply thaw and blend with the best tomatoes you can find.
** As always the quality of the ingredients dictates the quality of the sauce, seek the best tasting mangos and tomatoes, I LOVE using cherry or heirloom tomatoes, any sweet mango will do! 🙂
An extra hot tip…
If you cant find quality fresh mango frozen mango works pretty well, simply thaw it out first. Also, as another amazing option nectarine, peach or even papaya works really great too!
This recipe is perfect as it is but can also be considered a base recipe to play with a build on 🙂
Sometimes I chunk it up and use this as the base for my Favourite Stew Recipe!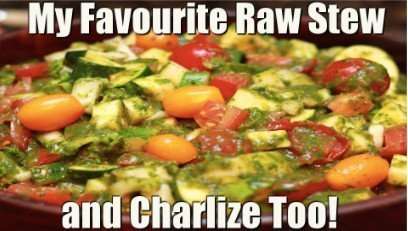 Check out that recipe with a special appearance by my niece Charlize! 
Perhaps your in a slump and are making the same lack luster dressings again and again..
or
maybe you are having a hard time getting in enough greens to feel truly satisfied…
If you want to grow you repertoire of the best of the best low fat raw vegan dressings in the raw food scene…
From creamy recipes, to spicy, to tangy, sweet and also hygienic, covering all types of dressings and each one a hit, grab your copy of Naturally Ashley and my newest raw recipe ebook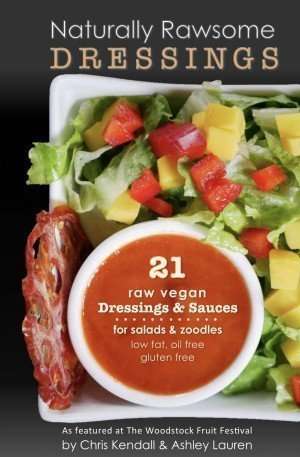 Featuring all 21 dressings we made to wide acclaim at the 2017 – 2022 Woodstock Fruit Festival!!
These are our go to dressings that you can make to top salads, various types of raw vegan noodles, mix on top of chunky ingredients for stews, chilis, curries and more!!
PS get 100$ off of the Woodstock Fruit Festival if its your first time with my code "banana" it is seriously the fruit party of the year!! 
---
They say give a man a mango and he is fed for the night, teach a man to plant a mango tree and will be fed for a lifetime..
Well that may not be the original but the over all concept rings true 😉
I Love Love Love Love to share recipe books and videos (check out my free raw recipe playlist here)
and really with the recipes in my book above or any of my books you can feed yourself for a lifetime…
BUT
I also really love to inspire and educate on having fun in the kitchen, on getting creative and making your own dishes so you can introduce your own variety and personalize to your specific favourite flavours.
With that…
If you want to become a bonafide sauce master and learn all of Naturally Ashley and my super secret tricks and tips to make the most amazing tasting sauces that really POP from scratch or to confidently recreate one from a old favourite cooked sauce look no further than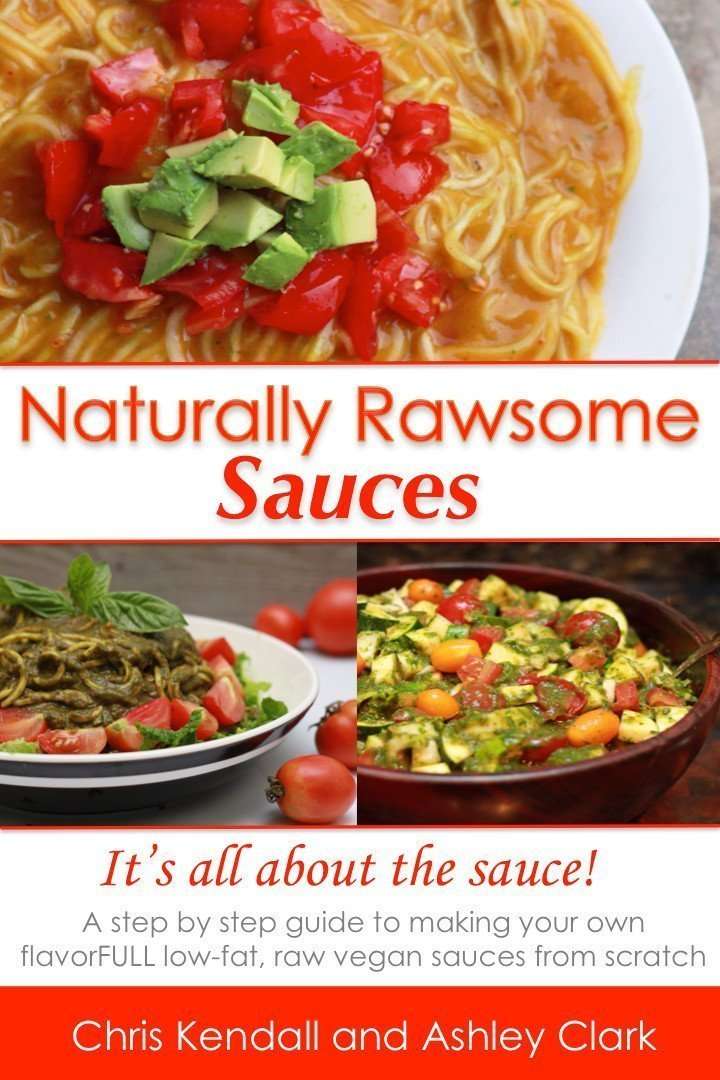 Your How to Guide to becoming a Low Fat Raw Vegan Sauce Master!!
It is amazing the shift that can occur when making food becomes a fun experiment rather than a chore. This simple ebook provides some of our favourite recipes as examples while explaining the steps, techniques and information to break down a recipe and build a new one from scratch. Put on your chef hat, prepare to have fun and upgrade your raw cheffing skills!
---
If you want to both learn how to make amazing sauces yourself while also arming yourself with Naturally Ashley and my time tested and true favourites you can them together as a as a special package deal!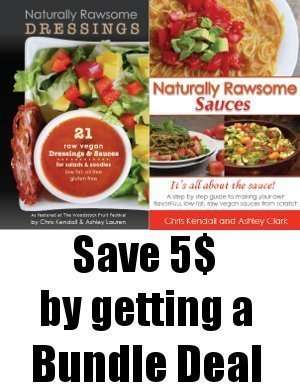 It would be way to shameless to not offer a few package deals!!
---
Last but not least,
Before you go show off your love for the fruity compassionate lifestyle with a organic Cotton
Got Fruit? t-shirt!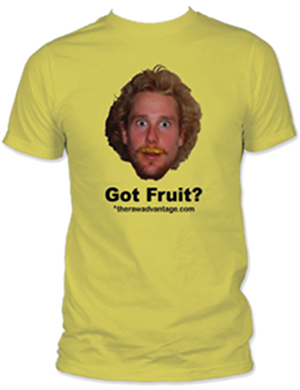 If you don't want my face on your shirt you can also choose from my other 12 vegan designs ahahaha such as and many more!! 
Hope you really love the recipe
As Always
Wishing You Much
PeaceLovenSeasonalFruit ck