Kendall Bites, My Favourite Raw Stew and Charlize too!
Just a Quick little Kendall Bites video for you today,
Sharing My Favourite Raw Stew as an epic dinner at My Sister Kara's pad, using her Brand New Vitamix Blender!
Whoaaa!!
Sweet Charlize aka Charlie helps us out by blending n providing smiles n Laughs. 
Oh n the scandalous Recipe, Yes that was a dirty trick wasn't it?!
A ramped-up version of one of my recipes from "101 Frickin' Rawsome Recipes" can be found Below!! 
I hope you love the Video as well as My Favourite Raw Stew and Charlize too! 🙂
Stew stew stew, I just love raw vegan Stew!!!
I must admit raw vegan stews are one of my all-time absolute favourite dinner dishes to make. They are really quick and easy to make, require very little cleanup and are easily one of the best sweet and savoury, satiating one-pot meals ever! So many people have a hard time getting enough greens into their raw food diet, or any diet for that matter, raw vegan stews are so good at this that I made an entire video dedicated to them with another epic stew recipe I called "Best Raw Food Recipe to get Tons of Greens in!" 
For many years as a raw foodist, I have found myself making at least 1 – 3 stews a week, they have easily been one of my most common dinner meals for over a decade! I encourage you to give it a try and to add more stews and greens into your life for nutrient density, savoury flavours and a delicious crunch! This is one of my favourite simple raw recipes of all time and is my favourite raw stew recipe, one that I have been making tons of recently and am so excited to share with you with the help of Charlize too!
With that,

To My Favourite Raw Stew!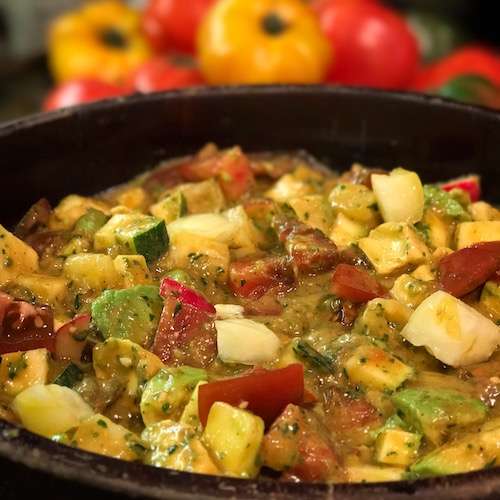 Sweet and Savoury Bok Choy Stew
5 Tomatoes (1 lb / 460 g)
2 Mangos (.75 lb / 345g)
2 small Zucchini (.5 lb / 230 g)
1/2 head Napa Cabbage (.5 lb / 230 g)
1 – 2 bunches Cilantro (.2 -.4 lb / 90 – 180 g)
1 bunch of Bok Choy (1 lb / 460 g)
1 small Avocado (.4 lb / 180g)
optional – 3 Green Onions, hot pepper to taste
Directions:
1. Dice 2/3 of the tomato and all of the zucchini, and toss them together in a bowl.
2. Cut the stems of the napa cabbage and the bok choy into cubes and then add them to the bowl, place the greens and cabbage tops aside.
3. Blend the remaining tomato with the mango and optional green onion and hot pepper until smooth.
4. Add the bok choy greens, cabbage tops and cilantro to the blender, and blend at slow speeds (between 3-5 on the Vitamix Dial) creating a chunky constancy.
5. Use a few celery stalks, or the Vitamix tamper, to help push the greens into the sauce to make sure all the greens are lightly blended into a chunky consistency.
6. Pour the chunky sauce over top of the cubed veggies in the bowl and mix well to coat.
7. Slice and remove the pit from the avocado, cube it into playing dice-sized cubes and add last so the cubes don't simply "mash in"!
Enjoy! (approx 775 cal.) 
I hope you Love my Favourite Raw Stew and Charlize just as much as I do

!
If you enjoy simple raw recipes like this one then you will LOVE my "TRA Retreat Treats", "101 Frickin Rawsome Recipes" and "50 More Frickin Rawsome Recipes" all available as ebooks or as physical recipe books printed on 100% recycled paper with a coil binding to make it easier to fold open when making recipes!
As Always
Wishing You Much
PeaceLovenSeasonalFruit ck