Best Raw Food Recipe to Get Lots of Greens In!
This video goes into my all-time favourite, no overt fat, simple hygienic savoury raw vegan dinner recipes!
I gotta say I think it is the best raw food recipe that has loads of greens and is super delicious!
We all know young tender leafy greens are super healthy but a lot of people have a hard time getting enough in! Most long-term raw foodists agree that getting enough greens in your diet is one of the top tips for long-term success on a low-fat raw vegan diet. This recipe is one that I have often eaten up to 3-5 times a week over the last decade, as with any recipe the quality of the ingredients, especially the mango and tomato, dictates the wow factor of the recipe.
I really hope you LOVE it, the recipe video goes deeper into the nutritional aspects of the recipe and why it's so beneficial to get more greens into your diet! 🙂
To the Recipe!
PS – this recipe serves 1 – 4 people
Chris's Favourite Raw Vegan Stew!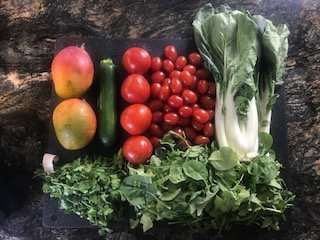 Tomatoes, Cherry or Grape – (1 lb / 460 g)
Tomatoes, any – (1 lb / 460 g)
Bok Choy – (1 lb / 460 g)
Zucchini – (.5 lb / 460 g)
Mango – (1.25 lb / 575 g)
Arugula – (.3 lb / 140 g) or more to taste
Spinach – (.3 lb / 140 g) or more to taste
Cilantro – (.25 lb / 113 g) or more to taste
Directions:
– Start by placing the first lb of cherry or grape tomatoes into a large bowl. If you can not preferred smaller pieces you can dice the cherry/grape tomatoes or use any other type of tomatoes.
– Remove the green tops from the bok choy, setting them aside, then dice the white stems of the bok choy to your desired size. Place in the bowl with the tomatoes.
– Dice the zucchini roughly into similar-sized pieces as the bok choy and tomatoes, place into the bowl and mix all 3 ingredients together, set aside.
– Rough chop the remaining lb of tomatoes and place in your Blender (I recommend the Vitamix, get FREE shipping here)
– Cut, scoop and squeeze all of the mangoes, except skin and pit, into the blender. See the video for the easiest technique for most mangos!
– Blend the roughly equal portions of tomato and mango until smooth. Add more mango if you want it sweeter, more tomato if you want it more savoury!
– Rough chop or twist and break the bunch of cilantro in half, stems and all, place in the blender and pulse blend at a low to medium speed to a partly blended chunky texture. Best to use organic cilantro!
– Add the greens tops from the bok choy next using the tamper at a low to medium speed into a chunky texture. If you do not have a Vitamix use a celery stick or two to push the bok choy greens into the blades making a nice chunky texture, see the video for more details.
– Lastly add roughly equal parts spinach and arugula to the blender, using more arugula if you want a spicier flavour, and pulse blend the same way the cilantro and bok choy was using the tamper or a stalk or two of celery to push into the blades.
– Pour this sweet and savoury thick and chunky green sauce over top of the tomatoes and chopped bok choy stems and zucchini, stir well and serve!
ps If you are not strictly hygienic it can be fun to add a bit of green onion and or hot pepper into the sauce, otherwise one cubed avocado also goes very nicely with this dish!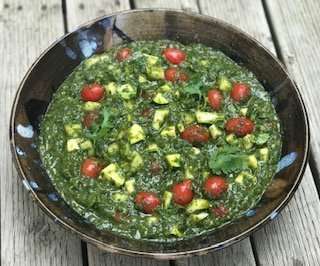 This recipe is so nutrient-dense, sweet and savoury that it makes a perfect one-pot meal for any time of the year.
Getting enough greens in your raw food lifestyle, or any healthy lifestyle is important for long-term mineralization and high levels of health!
If you want more delicious free recipes check out my other recipe videos in my Rawsome Recipes Playlist!
If you're looking for more simple well food combined low to no fat hygienic raw vegan recipes
check out "101 Frickin Rawsome Recipes" as well as "50 More Frickin Rawsome Recipes" both available as ebooks or on 100% recycled paper!

If you are looking for slightly fancier no to low fat raw vegan gourmet, cravings busters recipes as I often call them,
check out my "TRA Retreat Treats", "Naturally Rawsome Sauces", "Naturally Rawsome Dressings",
"80/10/10 American Classics raw vegan BBQ" as well as my newest hit book/ebook "Frickin Rawsome Pizza!"
Lastly, if you want the bulk of my recipes as well as easy access to all of my best recipe videos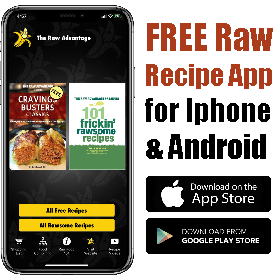 Grab my FREE Newly Updated Raw Recipe App for iPhone and Android here  
PS If you like the app please do a review on the app store, it really helps spread the message n tasty fun!
As Always
Wishing You Much
PeaceLovenSeasonalFruit ck