Two Apple Recipes, Enjoy the Harvest!
Fall is in the air and that means…. APPLES! 
Check out this sweet little video!  First Alli and I go apple picking (Does it get any more fall than picking fresh apples?!)
Then I have a guest chef in my kitchen – hehe.  None other than the "Caped Crusader"!  That's right, Batman makes an appearance this week and shares two deliciously tasty fall apple recipes!
Here are the recipes in case you didn't catch them:
Classic Apple Sauce
1.75 Liters Small Apples
4-8 Dates
2/3 cup rasins
Optional:
dash of Cinnamon,
Nutmeg
Ginger
Blend Apples well, Slicing if needed. Add the Dates, be sure to Pit them, use more if the apples are tart. Add Spices if desired as well as Raisins, Pulse gently. Serve immediately or add a squeeze of lemon to keep from oxidizing 🙂 Delicious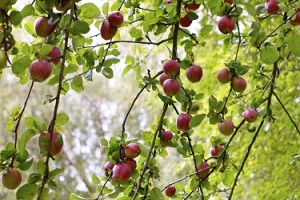 AppleAid or
Fresh Apple Cider…
You Decide!
2 Liters Small Apples
8-13 Dates
or 1-2 cups Rasins
1 cup water
Blend Apples Well and Squeeze through a nut milk bag reserving the liquid. Blend Dates till smooth, using more or Raisins if the Apples are tart. Enjoy tons! Aprox. 1000+ calories
Much Much
As Always
Wishing You Much
PeaceLovenSeasonalFruit ck