Trinidad Scorpion Pepper Challenge + Spicy Raw Recipe!
The worlds hottest naturally cultivated pepper, the Trinidad Scorpion is NO Joke!
Watch me try the Trinidad Scorpion Pepper Challenge by trying the pepper straight up by itself and then in a raw vegan curry recipe that I share below!
Which hot pepper is actually the hottest pepper in the world is up for some debate, over the years the title has become a highly sought after prise. For a time the Trinidad Scorpion Pepper held that record, that is until it was usurped by the Carolina Reaper. The reason the actual hottest pepper in the world is debated is due to the fact that the Carolina Reaper, that took over the spot for the worlds hottest pepper was rated officially by Guinness (which is what you need to hold a record), has been shown to consistently be the hottest pepper, meaning the average heat of the Carolina Reaper is the hottest at 1,5oo,ooo Scoville units. That said there has been a Trinidad Scorpion Pepper recorded that officially broke the 2 million mark, yet not verified specifically by Guinness, thus the debate, is it based on the hottest pepper recorded or the hottest average pepper of any species. Beyond that there are peppers that are naturally cultivated and then those that are more selectively cross bread and manipulated. Either way the Trinidad Scorpion Pepper is the hottest pepper in the world or at the least one of the hottest peppers in the world and is due respect in its consumption to avoid self harm.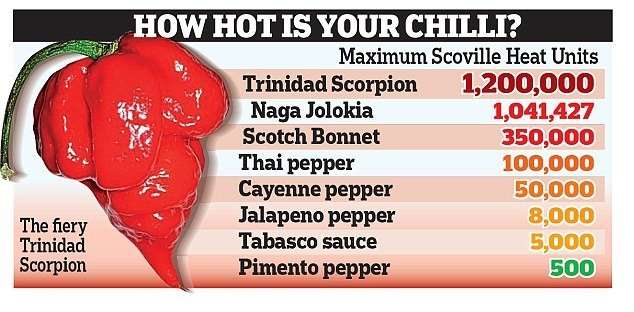 *** on average the Trinidad Scorpion, depending on the variety, has been rated at 1,400,000 SU and the Reaper at 1,500,000. That said the hottest Trinidad Scorpion pepper has been rated over 2,000,000
This average rating shows why sometimes you can get a jalapeno for example that can be way hotter than the average. My number one tip for consuming hot peppers is to mix them into a sauce with fat, this greatly reduces the heat factor and makes them much more enjoyable. If you were to mix this pepper straight with tomato and not have some fat in the sauce or at least some guacamole or raw vegan sour creme on the side… your mouth would be burning twice as hot.
As a aside, I want to mention that I am not recommending that eating hot peppers is healthier than abstaining, in fact there are more than a few reasons to avoid regular consumption of hot peppers. A few to include – they are irritating in nature and cause the body to create mucous to protect itself, they also raise blood pressure to hasten removal from the body. On the other side there is some healthful properties, namely the anti-inflammatory effect, their specific nutrient profile as well as the anti parasitic properties, which can be helpful in some circumstances.
I have personally been into hygiene, or the study of health and health creation for 15+ years, for 5 of those years I ate strictly hygienic, in part meaning I did not consume any irritating "foods" that you would not feed to a baby, hot peppers, garlic, onions, spices etc being some of them. With such experience I can clearly say I felt amazing, better even without them practicing "strict" hygiene and yet I still choose to consume them from time to time. The last decade I have brought them back into my diet to create different dishes, meet different people where they are at, to simply relax on my views a bit and lastly because I really really enjoy them and have found my balance, at least in the now.
To each of us finding our personal balance in the moment and being open to change as we seek to better know ourselves meeting our true needs and desires.
I really hope you enjoy the video as well as the hot sauce recipe shown in the video.
Trinidad Scorpion Pepper Curry
1 Mature Coconut
1 lb / 460 g – 3 small Mangos
1 lb / 460 g – tomatoes
1 Big Thumb Ginger
.15 lb / 68 g – Green onions
1 Clove Garlic
1 hot pepper – Trinidad scorpion or your choice
Remove the water and the mature white meat from the coconut (break into small pieces), add both to a Vitamix blender container (buy a new or refurbished Vitamix here). If there isn't enough coconut water to come close to covering the coconut pieces add just enough water to almost cover it all. Blend at high speed until smooth, strain with a nutmilk bag and add the milk back to the blender, compost or reserve the fiber for a different use. Add the rest of the ingredients (possibly starting with 1/3 or 1/2 of the scorpion pepper) to the blender and blend till smooth. Take it easy with this one if you used the Trinidad scorpion pepper, it is quite hot!
This sauce is just a simple base, to it you could add lemon, lime, any herb, any curry powder, chili powder and so much more.
** these amounts above are approximate as I freestyled this recipe and used what I had. A sense of play as well as fine tuning to your tastes and the ingredients flavour profile you use is always key in making amazing sauces.
If you want to learn how to be a true sauce master and make all of your old favourite sauces into a raw vegan version from scratch, check out my
"Naturally Rawsome Sauces" ebook!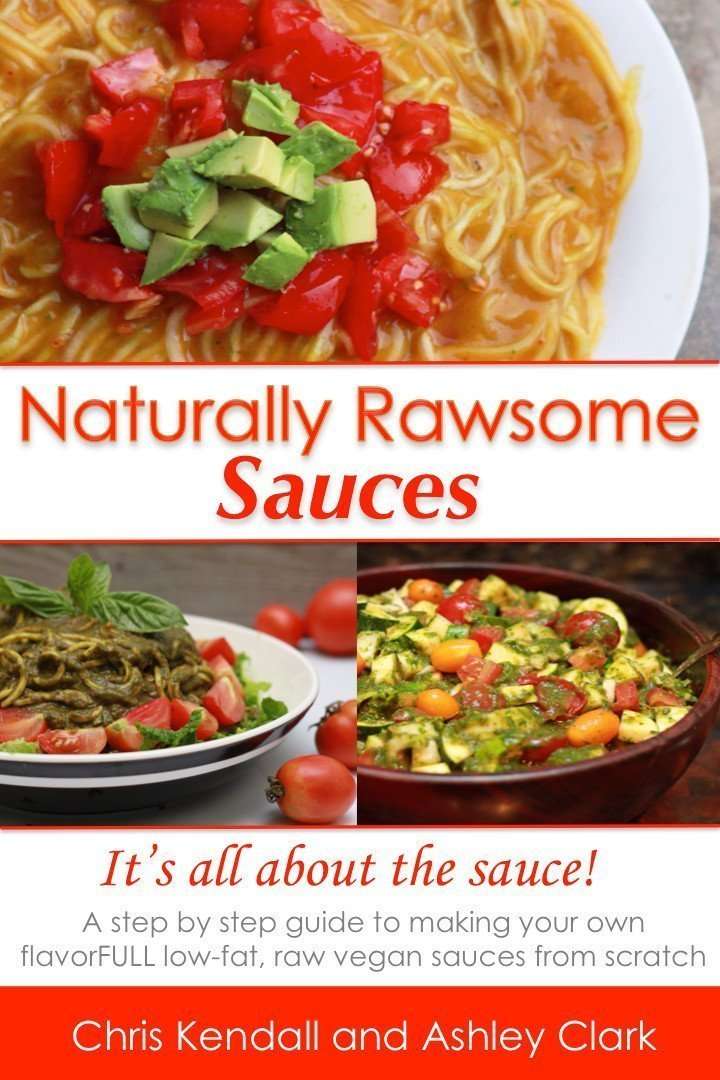 If you want the bet of the best pre made Raw Sauces Dressings and Dips recipes, check out Naturally Ashley and My
"Naturally Rawsome Dressings" ebook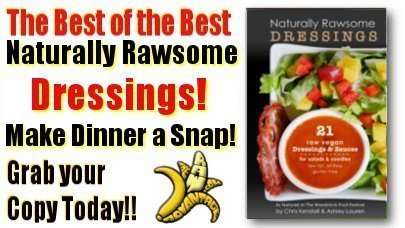 or
Get them both as a package deal here!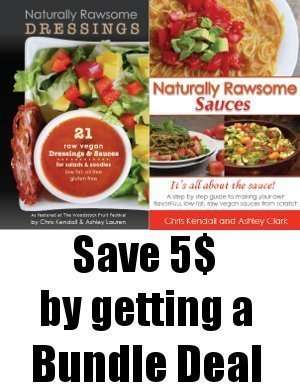 If you would rather dive into my Free Recipes I have a ton..
Be sure to enjoy my FREE Raw Recipes Playlist Here
and
Enjoy my Free App "The Raw Advantage Raw Recipes"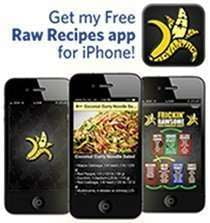 Get 3 Free Ebooks "Super Sweet Treats", "10 Sure Shot Ways to Drastically Improve your Health" and "TRA Retreat Treats" Excerpt "Mediterranean Night" Here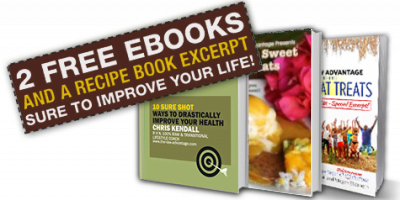 Grab your New or Refurbished Vitamix Blender with FREE shipping Here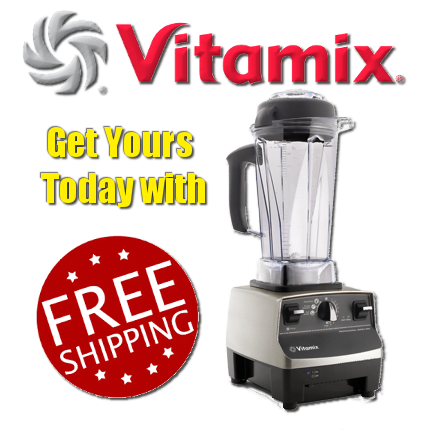 If you want to learn the ins and outs of a well planned raw vegan diet / lifestyle, the one I live and promote grab the 80/10/10 diet Here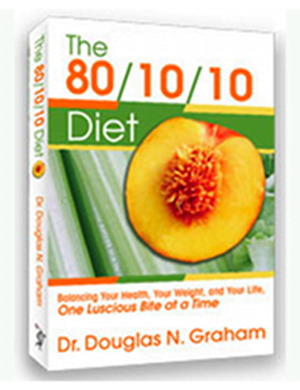 Whoa that was a lot of links, each and every one something I stand by as having great potential to increase the quality of your life and upgrade your health!!
I hope you enjoy it all with much
As Always
Wishing You Much
PeaceLovenSeasonalFruit ck