On the Cover of Raw Food Magazine!
Feeling so blessed to be featured on the cover of Raw Food Magazine with my Raw Vegan Taco Shell recipe for this March / April issue!!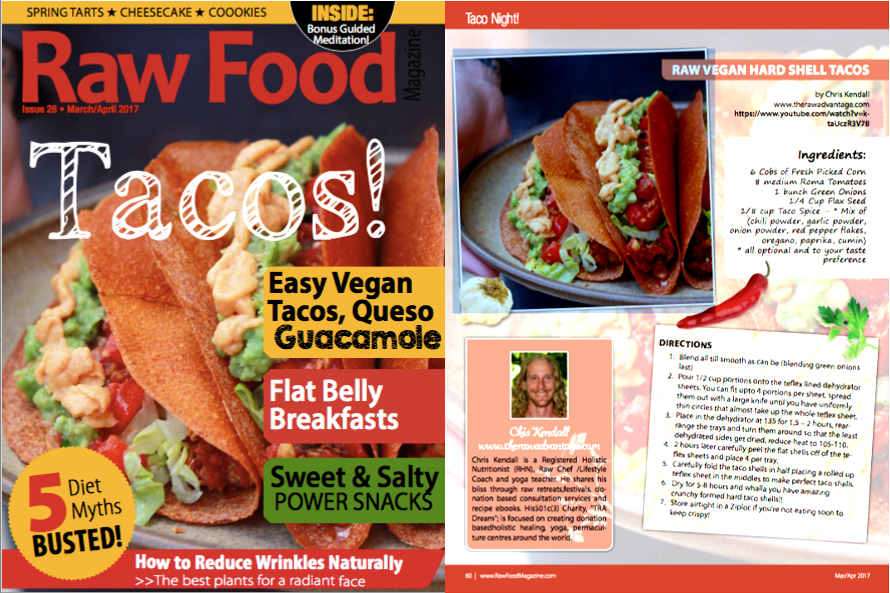 Check the cover and recipe in the picture above!
If you want to dive into the full magazine filled with many other amazing recipes, inspiring and enlightening articles and more Click the Image or right Here 🙂
I have had a few recipes in this fine publication over the last year or two, but I gotta say this is a extra honour! Raw Food Magazine features some of the most well accomplished and known raw food chefs, educators and experts. Each issue features amazing recipes, articles and inspirational thought provoking stories.
If you want to watch the full Raw Taco Shell Recipe and peep that Post simply Click the Image below 🙂
I really hope you enjoy the recipe and check out Raw Food Magazine, it is for sure the most frequent diverse and quality magazine on raw food out there!
As Always
Wishing You Much
PeaceLovenSeasonalFruit ck