Super Easy Apple Sauce Recipe
In the winter months when fruit variety is a little low it can be extra rawesome to make this Super Easy Apple Sauce Recipe 🍎
Save this post to make sure you try it🥳
This is great for all types of apples, even bruised ones, I prefer sweet ones like gala, Fuji, honey crisp, golden devious, pink lady etc🥰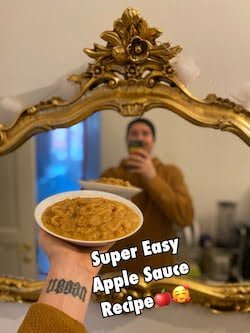 Super Easy Apple Sauce Recipe
🍎Slice and core 3-6 apples and add them to your blender💥
🌴Pit n add .5 – 1 cup of soft sweet dates🙌🏼
🔥Add a little optional ginger n cinnamon🤩
Blend until smooth using the tamper or a few stalks of celery to get it started👌
Taste it and add more dates or cinnamon to desired taste, serve with a spoon n rejoice🥳
This base recipe is also amazing with soft raisins, mulberries, barley grass juice powder, Spirulina, or even carob powder, the sky is the limit get creative and enjoy ❤️
A Little Apple Sauce History!
Apple sauce is a sweet and tangy condiment that has been enjoyed in many countries for centuries. It's traditionally made by cooking down apples with water or cider until they break down into a smooth and creamy consistency, that said the raw super easy apple sauce recipe version above is even simpler to make and healthier. Apple sauce is often sweetened with sugar or natural sweeteners like maple syrup or agave nectar, but I really find dates to work best. Classically apple sauce is spiced with cinnamon, nutmeg, and/or allspice.
In the 18th and 19th centuries, apple sauce was a popular side dish served with meat in European and American households. However, as more people started adopting a plant-based lifestyle, apple sauce became an even more popular ingredient in vegan and vegetarian cooking and makes a great snack or meal on its own. For fancy bakers that follow me, apple sauce is a versatile ingredient that can be used as a substitute for oil, eggs, or dairy in baking recipes. It's also a great way to add natural sweetness and flavor to dishes like oatmeal, pancakes, or smoothies.
During World War II, apple sauce was a key food source for soldiers, as it provided a nutritious and long-lasting food option. Today, apple sauce is still a beloved condiment and ingredient in many vegan dishes. It's a great way to add fiber, vitamins, and antioxidants to your diet, and can even help lower cholesterol levels.
So whether you're a long-time vegan or raw vegan, or your just starting out on your plant-based journey, apple sauce is a delicious and nutritious addition to your diet and recipes. Give this super easy apple sauce recipe a try and enjoy the sweet and tangy taste of this timeless classic!
As Always
Wishing You Much
PeaceLovenSeasonalFruit ck