The Raw Advantage Patented Secret Best Raw Pizza Crust Recipe
So stoked to share a recipe that so many people tell me is the best Raw Pizza Crust Recipe they have ever had!
Watch the Video to enjoy the Making of my Patented Secret Special Ultra Delicious Best Raw Pizza Crust Recipe!
I hope you enjoy the Video, Written Recipe Below!
Having been in the raw food world for over a decade (written in 2014) now I have tried my fair share of raw Pizza. While I have had some pretty awesome ones I have always felt a need to create a simple, easy to Digest, more Deep Dish feeling soft crust that you can pick up and doesn't fall apart. I also wanted to make this rawvolutionary best Raw Pizza Crust Recipe low fat and still delicious…
Well, I can say I have done Just that!
PS be sure to check out the Deluxe Pizza Toppings video to complete the best raw vegan pizza recipe, hands down!! More info is below!
---
Before we get into the best raw pizza crust recipe itself if you like pizza and want to become the ultimate raw pizza ninja…
 I'm excited to say that you have no need to dream, after 5 more years of raw pizza-specific RnD I feel so blessed to bring you my newest Book/Ebook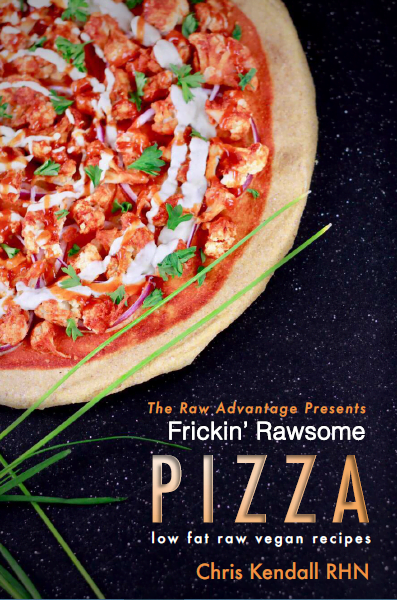 Enjoy your step-by-step recipe guide filled with 18 of my absolute favorite pizza recipes,
– 8 new quicker, tastier, and easier to make low to no-fat pizza crust recipes
– 12 delicious sauce recipes
– loads of simple and low-fat raw gourmet toppings
– 6 creamy cheese recipes
all ready to combine to make your own custom pizzas sure to satisfy all of your pizza cravings!
I can honestly say that these pizzas are better than 99% of the cooked pizzas I have had in my life!
This recipe book also has fine-tuned tips to help you make the toppings taste and texture of your old favorite cooked pizzas!
Now I have to be honest, when I first posted this "Best Raw Pizza Crust Recipe" it 100% was the best raw vegan pizza crust recipe that I had ever made and/or seen in the raw world…
That said the pizza recipes and specifically the new improved crust recipes in "Frickin Rawsome Pizza" take raw vegan pizza to a completely new level, and even better can be done in under 1/3 of the time!
Enjoy 96 pages of Frickin Rawsome Pizza on 100% Recycled Paper with a Coil Binding!
Prefer an ebook? Download yours and start making Frickin Rawsome Pizza's today!
Learn a ton more and see some of the pizza recipes in the link above!
---
Back to the OG Best Raw Pizza Crust Recipe that started it all!
PS Watch the Video for the size of the ingredients and how to put them together, I always recommend going with weights rather than numbers of each ingredient…
I will explain the process below but sometimes seeing it once really helps!
The Best Raw Pizza Crust Recipe
(1 big crust, serves 2-4)
3 big Zucchini (1.5 lb / 680 g)
1 big Tomato (.33 lb / 150 g)
Full handful Sun Dried Tomato (1/2 cup)
A small handful of Basil (.1 lb / 45 g)
2-4 leaves of Oregano (.5 tsp / 2.5 ml)
6-10 Chives or 3 Green Onions (.1 lb / 45 g)
2 handfuls of Raw Pumpkin Seeds (.25 cup / 60 g)
2 Medjule Dates – be sure to Pit (.08 lb / 40 g)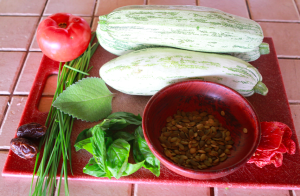 1. To start make noodles out of the 2 straightest Zucchini's (or 2/3's of the zucchini's total) using the Saladacco Spiralizer, a Julienne Peeler or the Joyce Chen Spiral Slicer. If you don't have any of these you can use a grater, peeler, or mandolin trying to get as long strands/noodles as possible and place them all in a big bowl.
2. Next make the sauce (or invent your own sauce) by blending (grab a Vitamix with free shipping here) the Tomato with the rest of the zucchini, add the Dates, Sun-dried Tomatoes, and Pumpkin Seeds, and blend untill smooth.
3. Add the Chives and the herbs, Pulse and blend these to retain maximum flavor, note that over-blended basil gets bitter and less flavorful.
4. Mix the sauce with the noodles well and place on a Teflex Lines Excalibur Dehydrator Tray. This recipe is perfect for the Full Size 5 or 9 Tray Excalibur Dehydrators (Get yours here with free shipping) for awesome raw recipes and for dehydrating tomatoes and fruit when you have an overabundance or for travel and to thicken sauces!
5. Form a Thick Pizza Crust by pushing the noodles down (as shown in the video and the picture below) carefully making sure it is uniformly thick, with a thicker "crust" edge if preferred. The crust should be about 1/2 inch thick across the whole crust.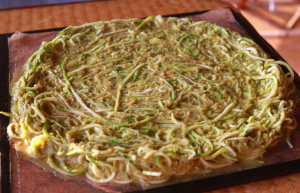 6. Place in the Dehydrator at 118°, after about 6-8 hours rotate the dehydrator sheets and turn them around, so that the side of the crust closest to the back of the dehydrator is now at the front, to evenly dry.
7. At 16-18 hours carefully flip the raw pizza crust (it should be fully dry on top) by placing an extra Excalibur tray upside down on top of the pizza crust "sandwiching it". Using both hands flip the trays, place on the counter and remove the top tray, you can then carefully peel off the teflex sheet and place back in the dehydrator.
8. Continue to dry for 1-3 hours or until the raw pizza crust is dry on the bottom side.
Once dry your Shell is Ready!!!
The whole process of making the crust and toppings can take 21 -24 hours, it's best to start just before dinner on the day before you want to have the Pizza Party in order to have it all ready!
If you want to take it all up a notch be sure to check out my  Deluxe Pizza Toppings video here!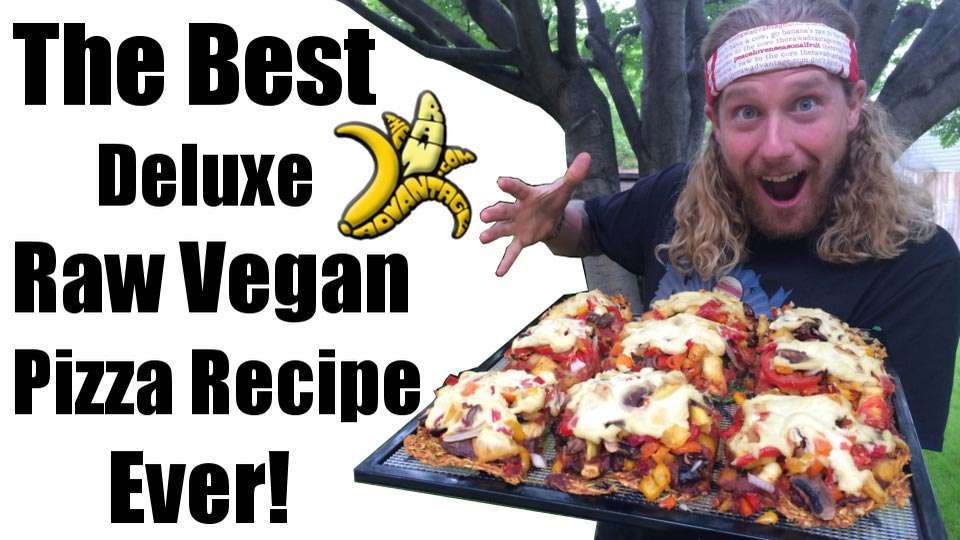 Trust me, it is beyond delicious! 🙂
To make a very basic Pizza,
1. Line the top of the crust with a layer of leafy greens, I love Spinach and arugula, but any green with medium to large leaves will do.
2. Place your favorite Pasta or Pizza Sauce on top, Such as in my "Frickin Rawsome Pizza" Recipe book
3. Top with any toppings you like. My Favorite toppings are Green Onions, Diced Red Pepper, Pineapple, and Mushrooms!! MMM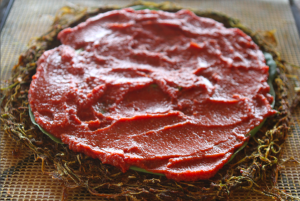 4. Dehydrate for another 2-4 hours until perfectly done, cut, and Serve up
The Best Raw Pizza Party Ever!!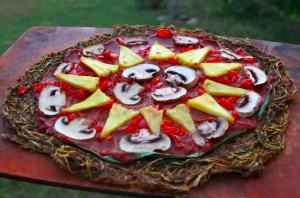 I hope you love this "Best Raw Pizza Crust Recipe", let me know in the comments below, and have fun trying different sauces and toppings! 🙂
As always
As Always
Wishing You Much
PeaceLovenSeasonalFruit ck