Banana Commander Pudding at the Ape Living retreat in Costa Rica
Blessed to share some Banana Commander Pudding from a past Ape Living Retreat in Costa Rica!
I had a real blast at the 2017 Ape Living retreat with Zander aka the great white ape, and everyone else!
It was a truly immersive experience diving deeper into our roots than most dare to go. FOr a ton more info learn more about this years retreat below!
To the Recipe!
Banana pudding is a really calorie rich simple and filling meal that can serve you for any meal of the day. I find it especially helpful when one is having a hard time getting enough calories in general or has a hard time eating a lot of volume. Feel free to make a bigger batch of this recipe or use different varieties of bananas or ripe plantains. 
Banana Commander Pudding

(base recipe)
6-8 bananas
1/2 cup raisins
1 shake cinnamon
Optional:
A shake of carob or cacao
Cubed, slivered, shredded or "riced" – apples, young coconut jelly, jackfruit, dates, mamay, pears, persimmons, fennel, nibs etc
Directions
Squish 75% of the bananas with your hands in a big bowl and slice the remaining banana's. Mix in the rest of the ingredients, as well as the optional ingredients and serve this delicious sweet treat!
I Hope you LOVE the pudding, this simple base recipe has been a game changer for many and you can switch it up by adding in any of the optional ingredients or by getting creative with your own. I sometimes make this recipe by peeling bananas into a plastic bag and squishing it with my hands through the bag, then biting off a corner and squishing it in my mouth.
Sometimes called, Ghetto Pudding… 
Useful in a pinch or during travel!
---

I also want to share more about Zanders Ape Living Retreats in Costa Rica!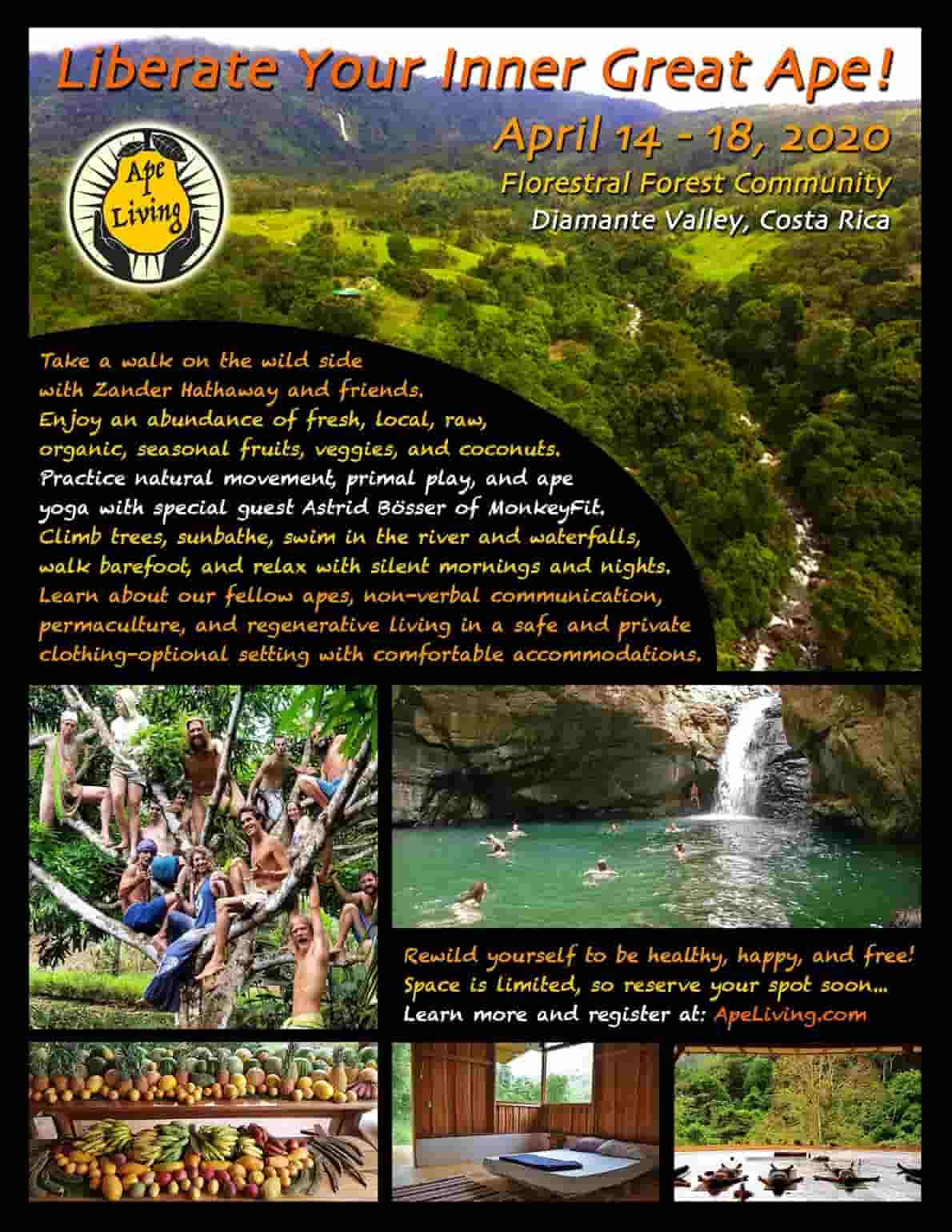 Take a walk on the wild side with Zander Hathaway and friends. Practice natural movement, primal play, and ape yoga with natural movement instructor Astrid Bösser of MonkeyFit. Climb trees, sunbathe, swim in the river and waterfalls, walk barefoot, and relax with silent mornings and nights. Enjoy an abundance of fresh, local, raw, organic, seasonal fruits, veggies, and coconuts. Learn about our fellow apes, non-verbal communication, permaculture, and regenerative living in a safe clothing-optional setting with comfortable accommodations.
Check out Ape Living Retreats Here for all the juicy details!
---
If you're looking for a Raw Food n Yoga Surf Adventure retreat,
I am Excited to invite you to my yearly
Raw Food n Yoga Surf Adventure Retreat
at the beautiful Farm of Life in Costa Rica!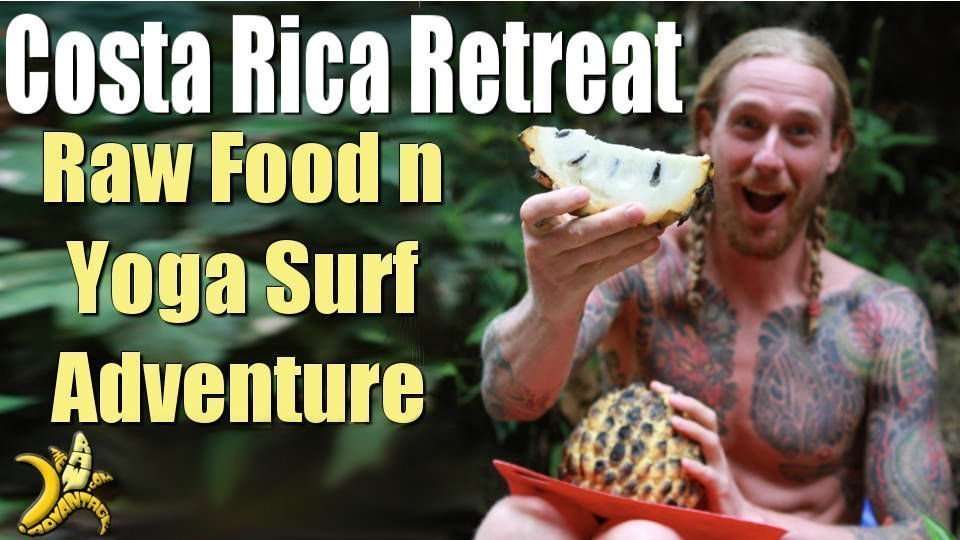 *Only 4 spots left on my Raw Food n Yoga Surf Adventure Retreat in Costa Rica this coming Feb 28th – March 7th 2020!
 This is a truly holistic experience diving into breath work, raw food nutritional science / culinary skills, emotional poise, fitness, yoga, barefoot walking, surfing, hiking, nature, all you can eat amazing local organic tropical fruit, both simple and gourmet low fat raw vegan cuisine, emotional support, energy work, flying trapeze, beach time and so much more! Join me for the time of our lives and leave refreshed, transformed and bursting with vitality and optimism!
Learn more on my retreat page here!
---
I really hope you really enjoy the Banana Commander Pudding recipe
and that you take a leap for a tropical raw food retreat with one of us in Costa Rica 🙂
As always wishing you much 

As Always
Wishing You Much
PeaceLovenSeasonalFruit ck