Deluxe Low Fat Raw Vegan Burger Recipe!
It's been a little bit since I shared a new recipe with you and I know you are going to want to try these raw Burgers!
This is one of the simpler, super delicious deluxe raw vegan burgers for my recipe book collaboration
"80/10/10 American Classics" with Dr Douglas Graham and Naturally Ashley! 
They really tastes like a cooked garden burger but has no oil, is low fat and no salt!
TO the Burgers!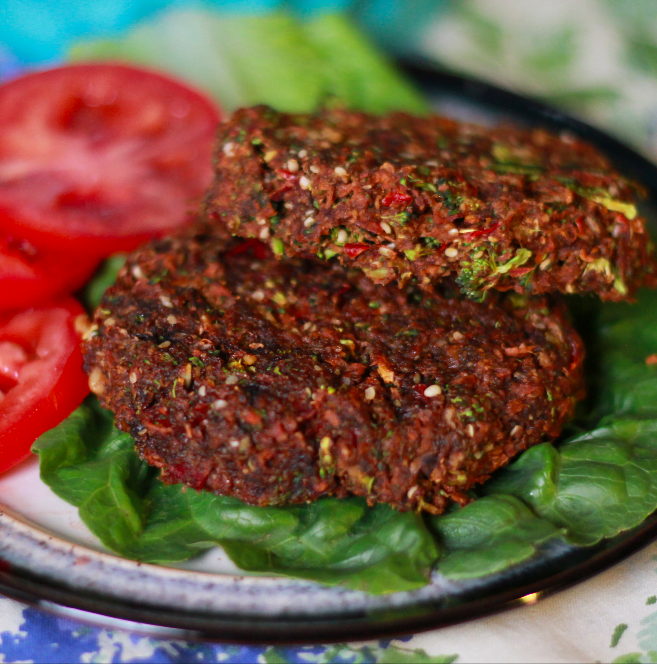 Simply Veggie RV Burger Patties (makes 6)
Carrots, 2 (.5 lb / 230 g)
Broccoli, 1 floret (.5 lb / 230 g)
Mushrooms, 8 crimini (.25 lb / 115 g)
Tomatoes, 4 roma (1 lb / 460 g)
3 green onions (.06 lb / 27 g)
Pumpkin seeds, 1/4 cup
Hemp seeds, 2 tbsp
Date, 1 medjule
Italian Herbs, 1 tbsp each dried oregano and basil or double fresh herbs
Optional:
1 Jalapeno for a bite
Finely shred the carrots and broccoli with a grater or a food processor, put in a big bowl. Dice the mushrooms and the outside edges of 2/3's of the tomatoes (reserving the seeds / juicy parts of the tomatoes) into a fine dice and add to the big bowl. Blend the remaining tomatoes with all remaining ingredients except hemp. Stir the tomato based sauce into the shredded / diced ingredients, add the hemp and mix well.
Form into 6 large thick patties and set directly on your dehydrator trays, best 2-3 at the front of 2-3 sheets so they are closest to the fan and dry in the least amount of time. Dehydrate at 109° – 115° for 4 hours or till dry enough to carefully flip without falling apart. Dehydrate for 1-2 more hours or till desired dryness.
Serve on a large iceberg or a romaine lettuce leaf with a big slice of tomato and sliced avocado, I find 1 avocado works well for 4 – 6 burgers.
If you LOVE this recipe and are looking to go Deluxe, add the super mega amazing home made raw ketchup and ranch dressing both from "80/10/10 American Classics" ebook, you will want to grab it here!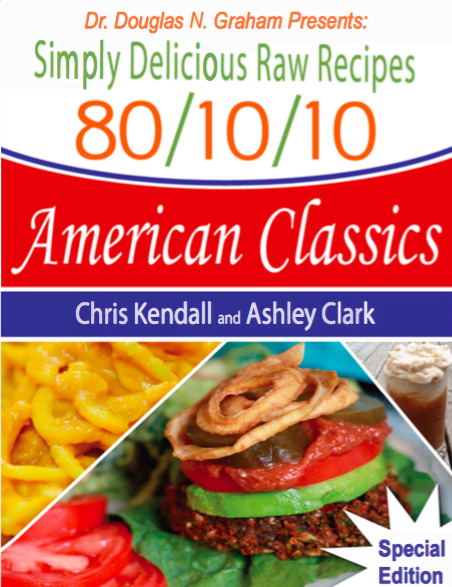 If you don't have a dehydrator I highly recommend a Excalibur Dehydrator,

they really help bring more tastes textures and a bit of warmth to your raw food lifestyle. Whether you wish to dry tomatoes, fruit leather, make raw Pancakes (as in my "Super Sweet Treats EBook, Free Here) or some Raw Pizza Crusts (see Super Secret Raw Pizza Crust Recipe here) or some truly Raw Vegan Sushi Wraps (see Raw Sushi Wrap Recipe here) you can grab one here with free shipping.
Trust me, they are worth it! 🙂
PS don't forget to subscribe and peep all of my free recipes in my Raw Recipes Playlist Here
Hope you all enjoy the Burgers and all the recipes above with
As Always
Wishing You Much
PeaceLovenSeasonalFruit ck