Become a Raw Sauce Master with Chris Kendall
Really Excited to share my recent appearance on Chef AJ Live to go into all things Saucy and how to become a Raw Sauce Master
Chef AJ has been devoted to a plant-based diet for almost 40 years. She is the host of the television series Healthy Living with CHEF AJ which airs on Foody TV. With her comedy background, she has made appearances on The Tonight Show Starring Johnny Carson, The Tonight Show with Jay Leno, The Late Show with David Letterman, and more. A chef, culinary instructor, and professional speaker, she is the author of the popular book "Unprocessed: How to Achieve Vibrant Health and Your Ideal Weight", which chronicles her journey from a junk-food vegan faced with a diagnosis of pre-cancerous polyps, to learning how to create foods that nourish and heal the body.
Speaking of being saucy, beyond a fun QnA, we went into my top tips for becoming a raw sauce master, some bonus tips, and more key insights from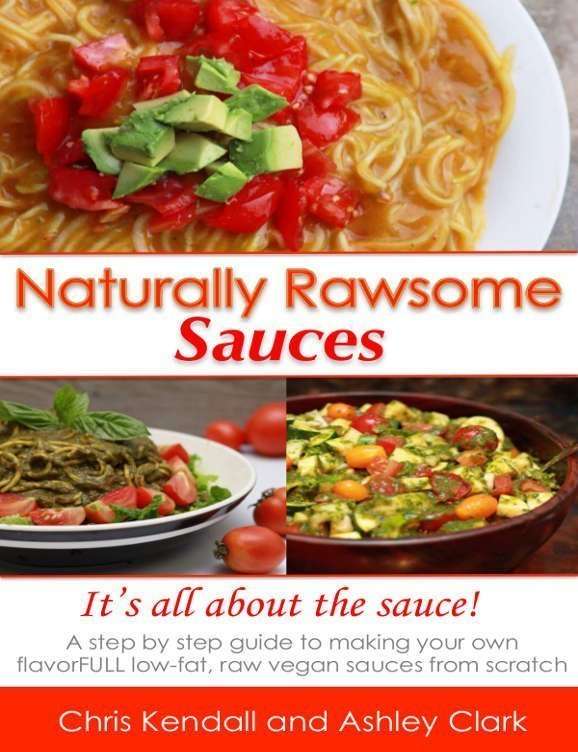 A step-by-step guide to making your own flavorFULL low-fat, raw vegan sauces from scratch, because…
It's all about the Sauce!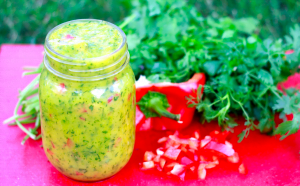 Have you ever noticed that a sauce can make a drab meal better,
Or how a sauce can make a good meal awesome?
Sauces can make any dish more exciting. If the thought of creating your own sauce from scratch sounds daunting, or if you have been curious about how to create a mouth-watering sauce that others will rave over then this book is perfect for you.
Ashley Clark and I have explored the secret to making a perfect raw vegan sauce and compiled it into this straightforward, easy-to-use guide/ebook. We give "Top Ten Tips" that break down the key elements needed to create an awesome sauce from scratch. This will help you better understand existing sauce recipes and allow you to experiment and make your own with confidence!
One of the problems with pre-made sauces found in stores is that they contain sugar, preservatives, processed oils, artificial flavors, colors, sugar, and salt. With this book, you can avoid all of that by giving you the tools to create your own. We teach you in this book how to make low-fat creamy sauces and how to thicken and sweeten sauces naturally and make them savory without the use of salt, plus a whole lot more!  Whether you are fully raw or looking to add more raw foods to your diet, this book will help you gain the tools you need to be a saucy pro!
Learning how to be a Raw Sauce Master can significantly improve your enjoyment of and success on the Raw Food Lifestyle, here are a few ways:
Adds Depth of Flavor: A great raw sauce can take any dish to the next level by adding depth of flavor, this is made much easier with Tip #4.
Enhances Presentation: A beautifully and brightly colored sauce can enhance the presentation of a dish, making it more visually appealing and getting the mouth watering in anticipation. A top chef knows that the presentation of a dish is just as important as the taste, and a well-made sauce can really add an artistic touch to the plate.
Versatility: Delicious sauces can be used in a wide variety of ways and dishes such as dips, dressings, soups, and even stews, making them a versatile addition to a chef's arsenal.
Improves Kitchen Skills: Learning how to make amazing sauces from scratch requires a variety of kitchen skills, that can dramatically help new, would-be, and experienced chefs improve their culinary skills and develop a better understanding of how ingredients work together.
Creativity: Once a chef has mastered the basics of raw sauce-making, they can use their creativity to experiment with new flavors and ingredients. This can lead to the creation of new and exciting dishes that stand out from the crowd as they start to see recipes as guidelines and inspiration rather than static must be followed rules.
If you want to take your raw cuisine and healthy lifestyle to the next level by becoming a Raw Sauce Master, check out Naturally Rawesome Sauces Here!
A heads up on the Bundle Promotion in the video…
I am sorry to say the Ultimate Health and Weight Loss Bundle promotion is over for 2023. 
Be sure to subscribe and follow me on Instagram to be notified first for the next bundle!
As Always
Wishing You Much
PeaceLovenSeasonalFruit ck