Chris Kendall Interview on The Herban Farmacy Podcast
Really blessed to have the chance to virtually sit down n chat with my new friend Stacey Heiny CHN of
The Herban Farmacy Podcast to dive into my story as well as the advantages of eating raw!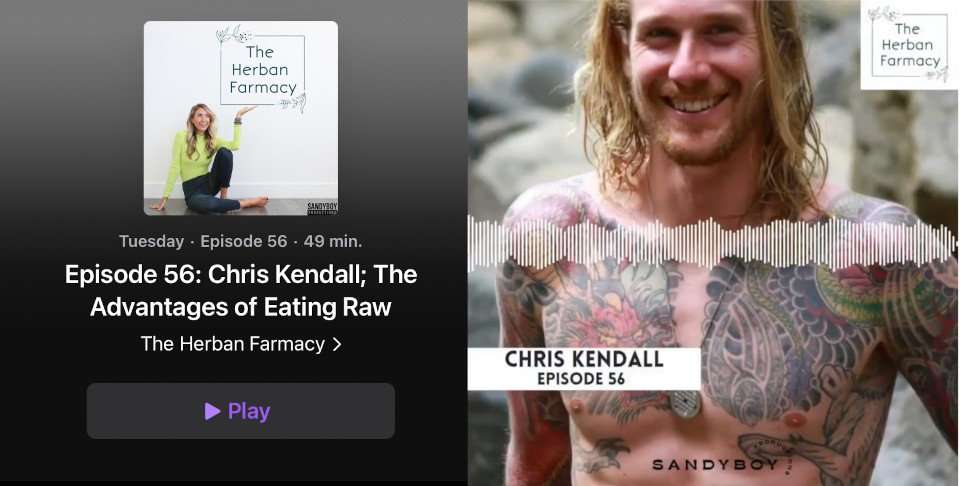 Stacy and I share a lot in common, from similar beginnings to our health journeys, to both becoming
emblazoned to learn more and grow as Holistic Nutritionists sharing what we have learnt!
What we talked about:
3:30- Introduction to Chris
5:00- Why he became plant based and his journey with yoga
11:55- What changes he noticed when he changed his diet
13:25- How he maintained this diet as an athlete
14:55- When he started helping other people with their vegan eating
19:10- What his diet looks like
24:00- Where he is buying his high volumes of food
32:30- What food combining is
38:50- Why the way that you eat affects your recovery
40:35- The motorcycle accident that he was in a few years ago
46:00- Wrap-up
I really hope you enjoy our conversation, thanks again Stacy for sharing your time,
be sure to check out her podcast and more!
Wishing you much
PeaceLovenSeasonalFruit ck
As Always
Wishing You Much
PeaceLovenSeasonalFruit ck