Quick and Easy Fitness Tips Plus Sweet n Salty Celery Slaw :)
I'm really excited to bring you this video blog!
My niece Charlize makes her big debut, we got some fitness tips, a simple exercise routine and last but not least
one of my favorite recipes from my new recipe eBook,
"101 Frickin' Rawsome Recipes"
available by donation on my shop page 🙂
Hope you enjoy it much!
Enjoy!!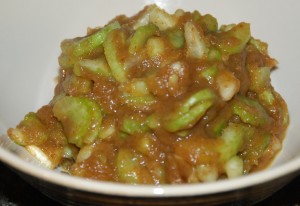 Sweet n Salty Celery Slaw
celery (1 lb / 460 g)
8 – 9 medjool dates (.4 lb / 180 g)
dash of cinnamon
Dice 2/3 of the celery, blend remaining celery with the dates and cinnamon. Mix well and serve. One of my favorite most eaten slaw's, goes great after a sweet fruit meal, a must try. Works well with raisins in place of dates, or with a small handful of raisins or chopped dates mixed in. Also great with cucumber noodles. (580 cal.)
Optional: Try using fennel in place of part of celery to add a liquorice flavor treat. 
If you have any questions or comments don't hesitate to throw them at me 🙂
enjoy
As Always
Wishing You Much
PeaceLovenSeasonalFruit ck