The Final Issue of Vibrance magazine!
If you haven't heard of Dr. David Klein and Vibrance Magazine I am not sure where you have been hiding.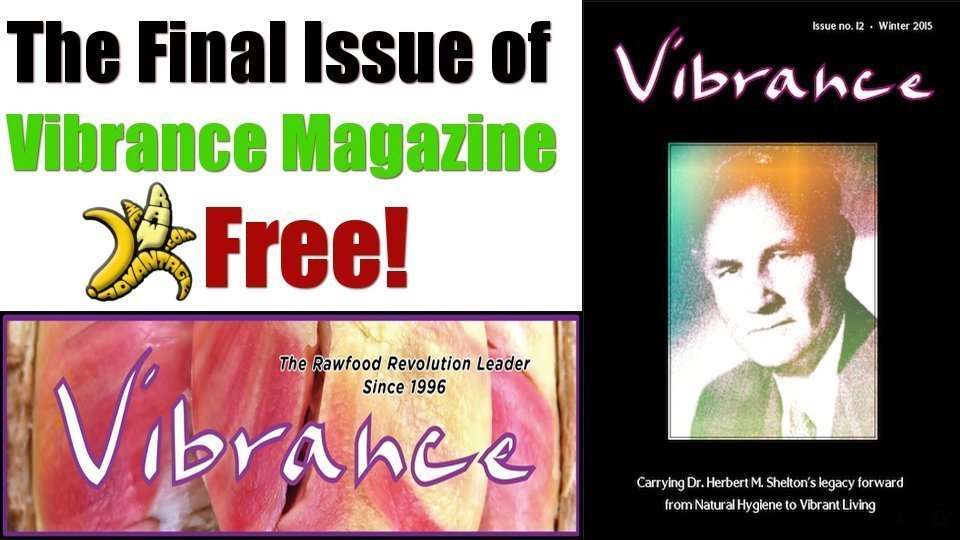 Vibrance Magazine is the longest running highest quality Holistic Health magazine out there focusing on sharing the science of health, aka, Natural Hygiene with a strong emphasis on the Raw Food Lifestyle!
Headed by 25 year raw foodist and head of UNH (university of Natural Hygiene) Dr. David Klein this amazing publication has helped thousands and thousands of people come into higher levels of health, vitality and happiness! Coming together with some of the most well know and concise raw food educators, enthusiasts and experts, Vibrance has been spreading the message of health in print, and more recently in digital, for over 20 years!
I feel really blessed to have been a part for the last few issues writing articles on holistic health creation. This all brings me to sharing that Dr. Klein has decided to bring on a new chapter by closing Vibrance Magazine with this final amazing Edition!
On the bright side, David wants to celebrate his 24th year as a raw food vegan by sharing this 20th Anniversary Edition, the Final Issue of Vibrance Magazine with all of us for free, thats Right Free!
This issue is really is jam packed with amazing articles filled with perception shifting and life changing info!
You will want to keep this issue for yourself and to share with loved ones!
Grab the Final Issue of Vibrance Magazine here for Free!
Magazine is the world's only health periodical which dares to teach the whole truth about human health. The world's finest health journal is here.
is the offspring of Living Nutrition magazine, which we published from 1996 – 2007 (all 20 back issues are available).
teaches and inspires health enthusiasts in how to succeed at eating our natural diet of vibrantly alive raw foods, how to self-heal using our God-given powers within, and how to build everlasting vibrant health the natural way via the principles of the world's most successful health system: Natural Hygiene. When you align with the natural laws of life, incredible health transformation is the happy result! These teachings have uplifted and saved millions of lives!
David Klein has been a blessing to the Natural Hygeine Movement spreading his own story of healing from ulcerative colitis and from there spreading this info and helping Thousands of Others!
While Vibrance is coming to a close David is focused on spreading the message through The Vibrant Wealth and Health Accademy Affiliated with UNH, the University of Natural Hygiene.
Learn a TON more about Dave Klein and all he is flowing out here! 🙂
I really hope you enjoy this last free edition of Vibrance magazine and check out the Vibrant Health and Wealth Academy to help spread the message of holistic and hygienic wellness 🙂
Bless you De Klein for all you have shared and continue to share 🙂
As Always
Wishing You Much
PeaceLovenSeasonalFruit ck