Bringing you video blog #47 A Raw Vegan Christmas, chock-full of family, friends, a recipe or two n much enjoyment!! Hope you love it! 🙂
Well well well, A Raw Vegan Christmas 🙂
Kicking the video off with a Xmas visit to Regina to see My Sister Terry, her hubby Rupin and my nieces Safia and Meila 🙂 I dare say I don't get out there often enough, but it's always great to see family and enjoy the holidays.
Speaking of seeing family, we had a huge family gathering for my Grandma Bea on her 97th birthday!
It was great, many of us all together, I enjoyed a big salad while everyone else enjoyed KFC (my grandma's Fave and choice) and cake. I must admit the last struggle I have had with being a raw vegan is in accepting my loved ones' self-destructive habits and choices. At times I still recoil with a lack of understanding, but all the time my internal reaction and thoughts lay in calm.
Loving the end of December with a huge host of persimmons and fresh Medjool dates, two of my favorite seasonal wintertime fruits!
A quick sweet recipe to thrive on: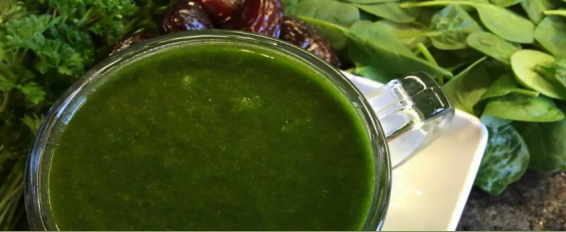 SWEET GREEN DATE!
10 Medjool dates (.5 lb / 230 g)
Spinach (.5 lb / 230 g)
water (1 Liter)
1. If using a Vitamix simply pit and blend the dates with water. Once smooth add the spinach and blend well.
2. If you are using a regular blender you will want to pit and then pre-soak the dates overnight first. Remember to pit the dates (easiest before soaking) if you bought them pitted it's very likely they have been steamed = booo!
This sweet treat has around 650 calories!
If you are a seasoned sweet eater you may wish to double the recipe, for me this is a nice big lunch 🙂
Enjoy!
Entering a raw vegan Christmas eve, you will have to watch for the sweetness of Charlize and the thoughtfulness of my family. Love it, I will say they may have succeeded in finding my action figure!!! Xmas brunch used to be one of my favorite meals, a big cooked breakfast, this year I didn't feel left out nor deprived at all eating one of my favorite meals, Persimmons and Sweet Celery Sticks!!! SOooo Good and easy.
The recipe is in my "101 Frickin' Rawsome Recipes" I'm sure you can figure out the recipe from the video!!! 🙂
It was a wonderful Xmas scene, with much excitement around the present opening you can bet a few squeals were heard! aha At Christmas dinner Charlize asks me "Uncle Chris what are you having" to which I reply "I am having a big thing of orange juice and some spinach, orange, pineapple, tomato soup" to which she replied "…Oh" haha. True story, much funnier on video 🙂
Love Jenga!! A nice family game reveals the winner of a video camera battle between me and my brother. I have decided this year I will for sure upgrade my filming quality, what do you think?
The day after Xmas brought me to my friends Beate and Paul Epp to teach them some yoga and enjoy the time. We did a mixed hour of Kundalini with some simple yoga flow. Beate is an amazing Artist, Holistic Healer as well as Writer! Much time was enjoyed at her house I highly recommend you watch the video to see more on her and her amazing organic farm as well as her paintings and book "The Magical Horses"!! I read her book and loved it, a fictional uplifting story of wonder and imagination sure to please both youth and adults alike 🙂
After almost 7 years on a low-fat raw vegan diet, I went to my family doctor to get my 3rd consecutive year of full spectrum blood work. I enjoy getting this work done to compare to previous tests as well as for the comfort of my mom and to bring them to you! If you haven't seen my 1st blood work video I highly recommend checking it out here, in fact, spread it around if you know anyone with doubts regarding a raw vegan diet and optimal health.  My results from this most current blood test will be posted in my next video blog! Ohh anticipation!!
Oh blessed day, enjoying persimmons with my good friend Agni 🙂
An amazing yoga teacher and human being, truly a master of blissful happiness! Really I can't wait to get a chance to do a full interview with her, mayhaps in Nepal!
Check out more on her and yoga, meditation, veganism, bliss, and much more at https://harshitayoga.com
More n more sweet recipes from my "101 Frickin Rawsome Recipes" this time bringing some Stew and Wraps for me my sis and Alli boo 🙂
My good friend and "Diabetes Crusader" Robby Barbaro sent me a sweet clip of the produce he bought after I tipped him off to Heath and Lejunes (the best organic wholesale market in LA)  as well as the Los Angeles Wholesale Market.
Robby is an amazing example of the power of the raw vegan diet. A type one diabetic himself, he has achieved amazing health and clarity in following a simple 80/10/10 style raw vegan diet. He has set up a non-profit organization fully dedicated to teaching others that "Type 2 Diabetes is a Choice, Make an Informed One". If you or anyone you know has Diabetes or is on the road to developing it, I would highly suggest checking and recommending his site and expertise!
Finishing off with a new years countdown, I hope you enjoy it all!
Much
As Always
Wishing You Much
PeaceLovenSeasonalFruit ck