Best Wholesale Produce in LA
I love to shop for produce wherever I go and am excited to share where to find the Best Wholesale Produce in LA, the Los Angeles Wholesale Produce Market!
Before I get into where you can find the Best Wholesale Produce in LA,
I want to follow the flow of the video and start out with a visit to "the cheesecake factory" to enjoy dinner with some friends.
Eating out is as easy as you make it, I choose to eat some fresh rip whole juicy fruit beforehand so that I am sure to be satisfied, on that day I ate 5 oranges and 3 mangoes before I went. When the waiter came I told him that although I may be a little difficult compared to some customers I will make it really easy. Instead of ordering a salad from the menu and saying no onion, no cheese no dressing, etc, I simply asked for what I wanted. Could I please have a giant, huge salad of mixed greens, tons of tomato cucumber, 1/2 an avocado, and some lemons on the side for dressing. It cam was easy and delicious and only cost 8 bucks compared to everyone else spending 14 – 25 $ with drinks.
We have been sucking up a fair number of mangoes here in the Well's house, even though they are hot water treated (another post and video will deal with this whole process and what it means) the seeds were still sprouting, I have actually started a tree from hot water mango seeds, showing their vitality. Armed with two seeds/pits I venture out into fertile ground here in Marina Del Rey hoping to create a fruitier future for all around. I believe food should be free, just like it has been for over 99% of our time here on earth. The more we plant and grow in our areas and all around us the closer this reality comes to being part of our experience again! Learn what grows in your area, how to plant it, and start doing all you can to help create a sweeter juicier future for us all 🙂
The first market I bring you to is the downtown "Central Market" between 3rd n 4th st on Broadway right in downtown LA. This market has been here since 1917! It has a few different produce vendors with amazingly low prices for ripe produce, nearly all conventional and often 2nd or 3rd quality. If you are hungry and right downtown or need to pick up a bunch of produce quick downtown this is the place to go for deals 🙂
Los Angeles has a beautiful and bustling Chinatown, between Broadway and Hill on College is one of my old favorite markets the "AI Hoa Supermarket". I used to go here as often as I could for amazing deals on citrus as well as exotics you can't find around too often 🙂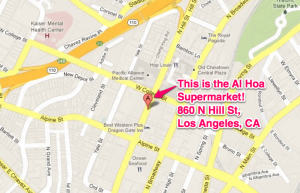 From cases of Thai coconuts for cheap to burro bananas, cherimoya, longan, frozen jackfruit, and frozen durian, there is much to enjoy.
Best Wholesale Produce in LA
By far the best deals are found at the "Los Angeles Wholesale Produce Market" on 8th and Central right in downtown LA. This is where all of the grocery stores, restaurants, and little fruit trucks get all of their fresh produce. They are open Monday through Saturday from 1 am until 9 am except Saturday only till 7/8 am. There are literally 2-3 city blocks worth of giant produce vendors all selling their wares. By cutting out the middle man and buying by the case only you stand to save tons of cash. Come early walk around the whole place and find the best deals and your favorites.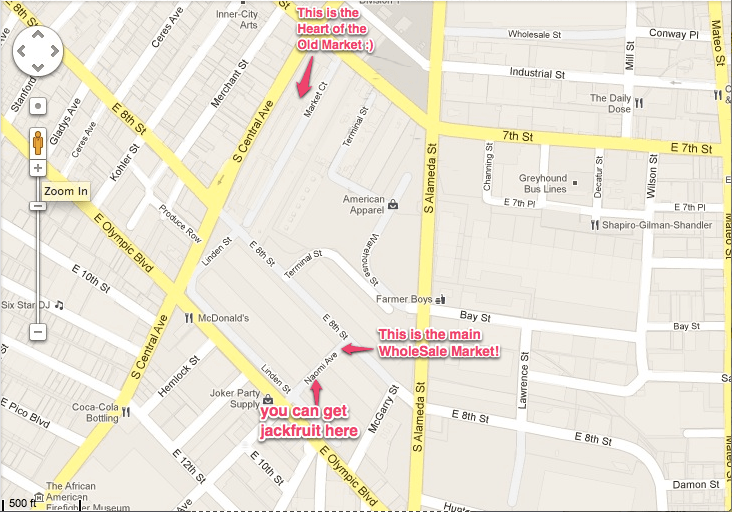 By far my favorite is just off the side of the main entrance, the "old Market" simply the oldest part of the market where the second and riper produce is sold for cheaper prices. I have gotten cases of ripe mangoes for 4 $, 35 lb. boxes of papaya for 8 $ and 40 lb. cases of organic bananas for 8 $ there. While Both the main market and the Old Market have conventional and organic, it's spotty at best and only in a few select spots.
There is a fully organic wholesale market that I love called "Heath and LeJeune" It is by far my favorite Wholesaler! They like you to call the night before to preorder your cases, You can also request a price list and ask for what is the best deal n in large quantities at the moment. 213 614 1909 
If u go Say Hi to Nick Lejune for me!! 🙂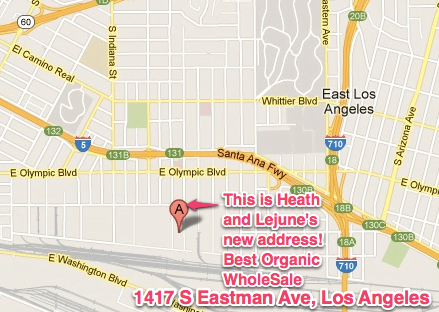 Hope you enjoyed the blog today, much more to come!
Enjoy Much
peacelovenseasonalfruit ck
As Always
Wishing You Much
PeaceLovenSeasonalFruit ck