Kendall Bites, Skateboarding Roadtrip to Lloydminister!
Oh my another quick day in the Life, this time with a Skateboarding Road trip with some good friends!!
Join Brent, Telly, Derek and I on a Quick Jaunt to North Battleford, Lloydminister and the Infamous SkateIsland!!
I hope you really enjoy it!!
p.s apologies for the low volume, the imovie I am using doesn't let me increase the volume, new videos I will correct this.
Where to start, well I guess as the video does at 7:45 am a bright n sunny Saturday morning!!
I awoke a little tired, had a late night of work to prepare for a day away, I can be a bit of a workaholic ahaha, passion fed. Getting ready for a road trip day I made myself a nice 1 Liter banana smoothie with 8 banana's, a Lb of Dates blended with 1.3 liters of water to fill at 1.5 liter wine bottle, gotta keep up gangster appearances, a perfect Honeydew (tips on that later) 4 mangos, 2 mini cucumbers and a little bit of emergency raisins!!
A great way to prepare!! 🙂
Sure as the Sunshine, Brent epic sasky shredder, over 25 years skating tech gnar and consistent, Bucky/Derek over 31 years skating fast smooth and well rounded, and Telly over 27 years skateboarding, mega pool, street and all round ATV destroyer, picked me up just after 8:20 am and together we set off for adventure.
In the Car Brent Showed me some awesome new Iphone apps and gadgets, one of which I do think I will Purchase. A Iphone Wide Angle Lense, which switches around and is a Macro Lense as well!! This Iphone Wide angle lense, olloclip,  just slides on securely and really is great quality allowing you to see a much wider perspective from close up. Perfect for skateboarding and shooting oneself for video's I do think this iphone wide angle lense would be a great addition to my flow!!
After checking a few pictures and clips, with some good conversation and near stops for Street/trainer skate spots we made it to North Battleford. Ill admit I had to pull teeth to get them to stop as everyone was hyped for Lloyd n had skated NB before. I hand't skated at North Battleford yet so pushed it and was glad we did. At NB we all got a few tricks, skating for a good hour at least. After getting all sweaty we decided to get back on the road. Skating before noon is something I feel strange doing, preferring to workout in the morning and skate mid afternoon ahaha all with regularity.
Another hour and a bit on the road and we made it to Lloyministers skateboarding park, the time flew by with good conversation, my Banana Smoothie and the new Almost skateboards Video on Brent's Ipad3! A quick stop at subway where I ate a few mangos led us to the gates of a new and amazing skate park!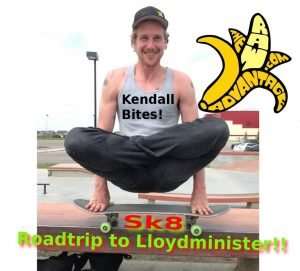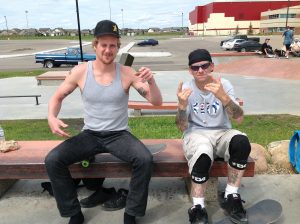 Made by newline Parks, this new skate park "Harty Developments Skatepark" is really really well built with tons of different ramps rollers a bowl ledges manuals rails and more. One of the better parks I've skated in a while we were indeed in skateboard heaven! Oh oh here comes pouty pants!! ahah A few people have asked me if I ever have a off day, ever get bummed out or fail to be positive. Perfect timing as even though I was in a great skate park, even though I had tons of great food, good company and felt good body wise, mentally i had resistance. I had my Pouty Pants on, felt Like leaving a few times, working a few other times and like I couldn't skate, which made me bummed out a few other times. With a few moments of extreme pouty pants I decided to simply take it easy, roll around n have fun, let it go. Sometimes what we want and what is is different, this is when pouty pants can rear its ugly head ahha. I find acceptance n gratitude for the ever changing now to be the best mode of bringing ease, not always easy but true 🙂
More on Pouty pants in a later post! ahah
At the park we all felt a bit lacklustre compared to how we wished we would feel, all in its place. Reguardless we skated 3 hours at the park n smashed a few lines and tricks, meeting some new friends n others we had met before. I got a sick Line of Telly and talked with him about Making your Own Skateboards!
Swigging some of my Gangster Date Smoothie from my Wine Bottle I felt like the true rebel I am! ahha 🙂
After sharing my Perfect Honeydew in the parking lot we took off to hit Superstore and head home. At superstore I gave everyone a Lesson in Picking the perfect Honeydew (they were intrigued as the one I shared was the best they had ever had!) dubbed, How to pick out a good honeydew, hmm or how about adventures in Picking out a Perfect honeydew, or How to Pick a Honeydew hmmm, ok I am just appealing to keywords now, sorry. The secret to picking a great Honeydew is finding the honeydew that is really nice and velvety, not smooth and hard. Nice and velvety soft honeydews are the best!! A nice yellowy Green, Bright and vibrant rather than dull and light green. Slightly soft to the touch, yielding to pressure on both the stem end and opposite side. If you pick at the step end and give a whiff you should smell a nice sweet aroma. I like to wait until the Melon is quite soft, just about to show some translucent bits, you can usually shake it and note the seeds sloshing around inside!! With practice and these tips you too will learn how to consistently pick the best honeydew melons ever!!
After grabbing 14 banana's myself, a bottle of Wine for my Parents, n various other goodies (near everyone with banana's n Brent Strawberries yeee) we were off again!
Part way Home Bucky let us know he had a secret special stop!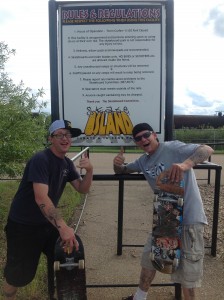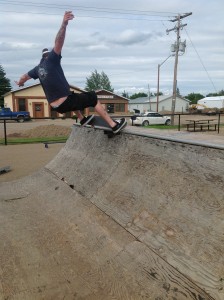 We went to this small town to check out their skatepark! Named "skateboard Island" it really was worth the visit. ahah Well it actually was but unless they fix it it probably wouldn't be a place I would go to again. A old skatepark with really rough ground and a ramp full of holes, but we still had fun. At the end we called the skatepark community and asked if they could update the park, you can too by calling the number on the video 🙂
I really hope you enjoyed the Road trip, I sure did!
Thanks to Bucky Telly n Brent for the awesome times!! 🙂
As Always
Wishing You Much
PeaceLovenSeasonalFruit ck