Discounts for Top Raw Food Festivals of 2018
Raw food festivals have been a huge part of my life over the last 8 years, in fact I would say fruit festivals have really blessed me in connecting with my tribe and growing through sharing the abundance I have found with this high vibing raw food lifestyle! Wether you wish to grow in your understanding of raw food nutrition, fitness, raw recipes, come together with like minded health seekers making lifelong frineds or just want to have a healthy vacation and have unlimited amazing raw foods… A raw food festival is for you!!
I hope you enjoy the video and take advantage of the discount codes I am offering!
First up we have the First EVER Canada Fruit Festival!!
Thats right, first ever!
I am so excited for this festival, as a Canadian I have dreamt of a festival in my home country for near a decade!! Bringingthis vision into being my friends Ted Carr and Ronnie Smith have put together a amazing event in the heart of the Okanagan Valley in BC this August 10th – 13th!
In appreciation of you I am able to offer a $200 discount just for using my code "banana" when you sign up!!
Click the poster or this Canada Fruit Festival Discount link to claim your spot!!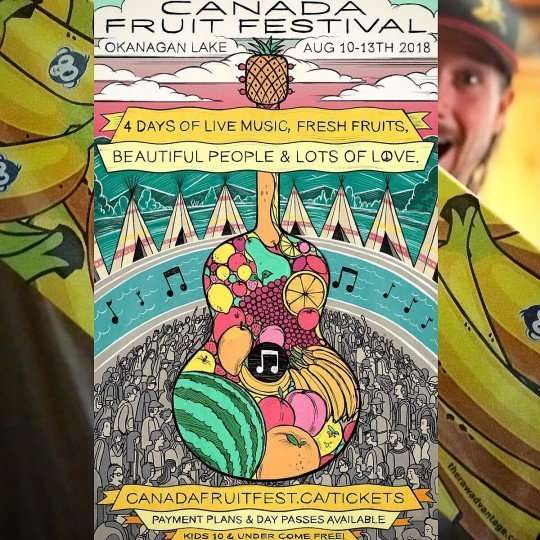 Be sure to watch the video and or the link to see all of the amazingly inspiring presenters, activities and music at the Canada Fruit Fest!!
It really is set to be a amazing fruit party with some of the best local organic fruit in the world!! I am talking Peaches, Nectarines, Cherries, Figs, Melons as well as amazing organic tropicals from Florida brought by MiamiFruit.org and so Much more!
I am excited to share via a talk, yoga class and food demo, check the site to learn more and Don't forget to use my code "banana" to get $200 off, learn more Here!
---
After the first Canada Fruit Fest we have the biggest raw food festival in the world…
The Woodstock Fruit Festival!!
I feel so blessed by Woodstock aka WFF, really they put me on the raw food map by taking a chance on me! Woodstock really is amazing, I have been to every single event they put on serving the community with my culinary skills, talks, yoga classes and food demos! Having grown so much with WFF and a loving community who have become my fruity family I just want to share that with everyone!
If its your first time at Woodstock get  $100 off with my code "banana" Here!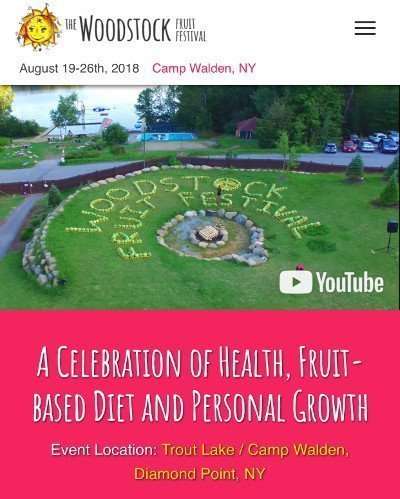 The Woodstock Fruit Festival really is the raw food rock show of the world with the largest line up of expert presenters, fitness classes, food demos and activities! After all the activity and learning we are going to nourish and fill you up with the largest variety of local and tropical fruit as well as the biggest fully raw vegan salad bar in the world! As if that wasn't enough enjoy hundreds of liter's of Naturally Rawsome Dressings / Sauces created by Naturally Ashley and Myself.
If you want to get a sneak peak of those dressings and start making them at home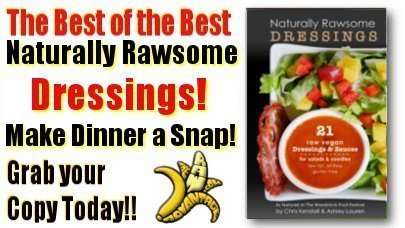 be sure to grab a copy of the ebook or paper book here!
I just love Woodstock and am excited to serve via some talks, yoga classes, two food demos and a support group. Coming together and sharing from our experience and abundance is what these festivals are all about, I really hope to see you at one or both n please come give me a hug and say hello.
If its your first time at Woodstock get  $100 off with my code "banana"!
---
To follow up WFF we will have the 8th annual post WFF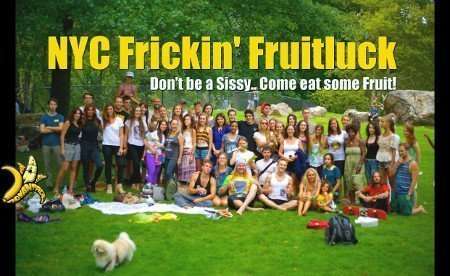 at Sheep's Meadow, Central Park, NYC Tuesday August 28th!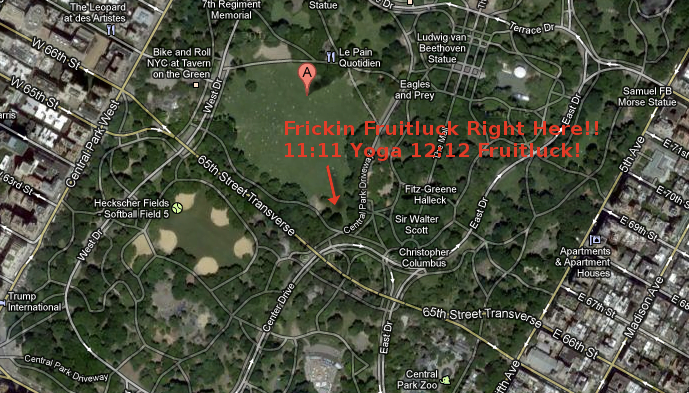 Join us for a free yoga class at 11:11am followed by the biggest fruitluck around!!
Learn more and rsvp on the Facebook Group Page Here!
Excited to enjoy these amazing fruitful events with you this summer!
Remember to use my coupon code "banana" at both of them to get your discount! Also please come up and say hello and share a hug.
As Always
Wishing You Much
PeaceLovenSeasonalFruit ck