Fruit soups are quick and easy to make, really satisfying satiating and a hit with all ages! Here I share my favourite simple sweet fruit soup recipe sure to knock your socks off!
Fruit soups are perfect for any meal of the day and work really well before your dinner meal as a satiating high carb sweet fix. With endless variations by changing which ingredient you blend, which is in chunks, adding a herb or a green to it for a green fruit soup for a savoury fix! Try some out I am sure you will be amazed by how delicious and filling they can be!
Something I have lived by that serves me really well is to desert dessert and eat fruit first, this helps you keep your dinner meals lower fat and still be really satiated.  An extra added bonus to fruit soups is that they require you to slow down when you eat them, instead of chugging like some people tend to with smoothies and juices, your using a spoon and chewing which sets yourself up for better digestion and absorption!
To the Recipe
Tropical Fruit Soup
1/2 a medium pineapple
4 mandarin oranges (or 3 navel)
2 mangoes
Peel and blend the oranges with the mango, if using navels juice the oranges first. Chop the pineapple into small cubes and place in a bowl, squeeze the juice from the pineapple skins into the blender or over the chunks. Mix well together and serve 🙂
If you liked the look and taste of this recipe enjoy more simple well food combined hygienic raw food recipes in my hit books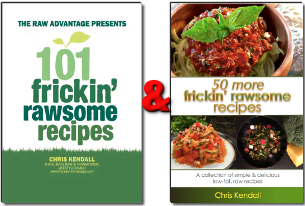 "101 Frickin Rawsome Recipes", or  "50 More Frickin Rawsome Recipes"
---
Also be Sure to Check out all of my free recipes in my iPhone app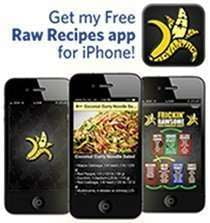 as well as in my Rawsome Recipes Playlist!
---
If you wanna spread a sweet loving message with style…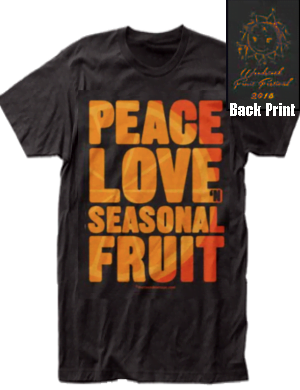 Grab a Organic Peace Love n Seasonal Fruit Shirt here 
---
Plus I just want to let you know that Vitamix has some Limited time sales going on and you can get free shipping through my links!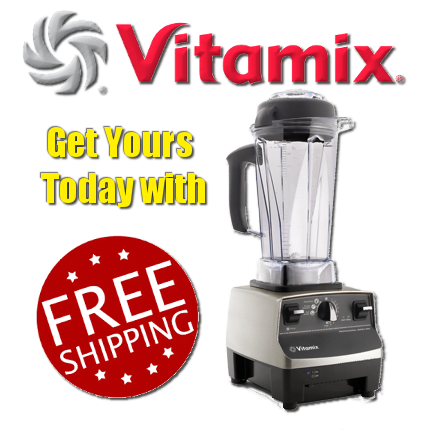 Check out a Shiny new or Refurbished Vitamix Here!
---
I hope you Love love the simple fruit soup recipe and as always
Enjoy Much
PEACELOVENSEASONALFRUIT ck