Raw Vegan Pizza Chef Chris Kendall HASN'T BEEN SICK FOR 22 YEARS!! The Raw Advantage Sebcast #571
Blessed by this epic interview and conversation with my new super inspiring friend Seb Cam!
In this fun interview and chat we dive into a wide variety of topics ranging from my personal story, raw food nutrition, common myths around raw food diets and much much more.
From Seb Cam
If you become "a Vegan" does that means you will no longer enjoy or taste a variety of yummy food ever again?
Have you ever heard of an 80/10/10 Diet?!
If you become a raw vegan, all you can eat is cucumbers and salad. Is this true? Are we absolutely SURE this is true?!
In this interview Seb Cam speaks with a RAW Vegan Chef, who has focused his life on serving up "80/10/10" High Carb / Low Fat vegan foods to the world. Changing people's mind one smoothie at a time, one salad at a time and one Raw Vegan PIZZA at a time!
Did I mention Chris Kendall has not been sick for 22 YEARS?!!!
That's The Raw Advantage 80/10/10 = 80% Carbs, 10% Fat and 10% Protein preferably from from whole, fresh, ripe, raw plant foods!
We both hope you tuck in and really enjoy this interview and the casual chat at the end!
Learn More about Seb Cam and be Sure to Subscribe to his channels below!
Speaking of Raw Vegan Pizza…
If you like pizza and want to really become the ultimate raw pizza chef like Chris…
 I'm excited to say that you have no need to dream, after 5 years of raw vegan pizza specific RnD I feel so blessed to bring you 
 FRICKIN RAWSOME PIZZA!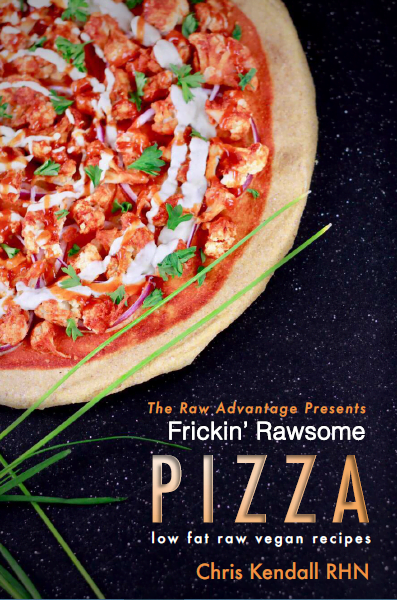 Enjoy your step by step recipe guide filled with 18 of my absolute favourite pizza recipes,
– 8 new quicker, tastier and easier to make low to no fat pizza crust recipes
– 12 delicious sauce recipes
– loads of simple and low fat raw gourmet toppings
– 6 creamy cheese recipes
all ready to combine to make your own custom pizza's sure to satisfy all of your pizza cravings!
I can honestly say that these pizzas are better than 99% of the cooked pizzas I have had in my life!
This recipe book also comes with fine tuned tips to help you make the toppings taste and texture of your old favourite cooked pizzas!
Enjoy 96 pages of Frickin Rawsome Pizza on 100% Recycled Paper with a Coil Binding!
Prefer an ebook? Download yours and start making Frickin Rawsome Pizza's today!
Learn a ton more and see some of the pizza recipes in the link above!
PS – Watch out for the next video where I interview Seb Cam on his amazing running journey around the world as well as all that inspires him!
As Always
Wishing You Much
PeaceLovenSeasonalFruit ck