The Best Canadian Kale Chip Flavour – Raw Vegan Recipe
What is the BEST Canadian Kale Chip Recipe?
Beyond being a Kale Chip flavour that I have NEVER Seen Before its also a NO Fat Raw Vegan Kale Chip Recipe which is pretty uncommon!
I hope you enjoy the video and give these Kale Chips a Try!
Could you guess before watching?
If you are Canadian, like me, or have some Canadian friends and know the most popular "chip" flavour then you should know…
Ketchup Kale Chips!
Its funny, every Canadian knows how amazing ketchup flavoured potato chips are, they are easily one of the nations favourite flavours, but in other countries the most common reaction is whattttt?!
Think french fries and ketchup, a common match made in heaven, this is the same with chips / fries and as I have found out with Kale Chips!
I urge you to give them a try, I feel very confident saying this is the Best Canadian Kale Chip Flavour and a Raw Vegan Recipe you don't want to miss!
Ketchup Kale Chips
Curly Kale (500 g / 1.1 lb)
Roma Tomatoes (800 g / 1.75 lb)
Red Onion (50 g / .11 lb)
1/2 Lemon (50 g / .11 lb) – 2 tbsp Juice
5-6 Medjool Dates (125 g / .275 lb pitted)
Sun Dried Tomatoes (60 g / .14 lb)
Start by removing the stems from the kale and ripping into bite sized pieces.  You will likely find you have 350 – 400 g after removing the stems, you can compost the stems, feed them to a rabbit or use for other recipes. If you haven't already, washing the kale well. You will want to squeeze and shake the kale to get rid of any water so that you don't thin out the sauce, refer to the video for more tips on this.  Rough chop the tomatoes and onion then add to the blender with the lemon juice, pitted dates and sun dried tomatoes. Blend until completely smooth adding more sun dried tomatoes and or dates / lemon to desired thick texture and taste.
Coat the kale with the sauce and mix with a spoon or your hands to make sure that every piece is covered. Spread in a one kale chip layer across 2-3 teflex sheet lined dehydrator trays and set at 118 for 12-15 hours or until fully dry. Turn the trays around at the half way point and flip the tray in the last few hours by sandwiching between two trays and removing the teflex sheet. See video for more clarity on this.
And there you have it, the best Canadian Kale Chip Recipe, Ketchup Kale Chips!
Ohh as Mentioned in the Video,
I really love my new Raw Obsession Knife from my friend Viktor, it is seriously the sharpest nicest knife I have ever had!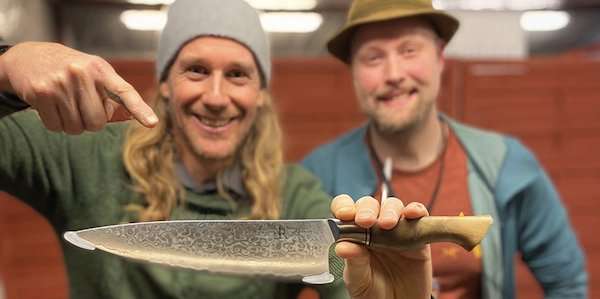 I hope you really enjoy the recipe a ton!
Wishing you Much
PeaceLovenSeasonalFruit ck
As Always
Wishing You Much
PeaceLovenSeasonalFruit ck