Fruitluck NYC | Why Host Fruitlucks?
Fruitlucks are sweeping the globe, a amazing way to connect with likeminded people and nature, find out more and enjoy some fun from the 6th NYC Frickin Fruitluck video to follow the Woodstock Fruit Festival!
Ps- first timers to Woodstock get 100$ off with my coupon code "banana" upon sign up here for the 2017 event next august!
Sign up here 
If you want to build community, gather friends to share in your love of fruit, have fun in the sun and grow in connection with self, others, fruit and nature… host fruit lucks!!
7 years ago I felt the need to start holding potlucks that were based around fruit, no recipes needed or allowed, no forks spoons or knifes needed…
Fruitnic was a thought then Fruitluck Stuck!
Raw Potlucks are great but so often emphasis culinary skills and poor combinations and or digestion, fruit lucks celebrate natures perfection, the bounty we are designed to thrive on.
Everywhere I go I try to host at least one fruit luck to get the community together, to share and to enjoy.
So easy to start and spread, Fruitlucks are taking over, start your own! 🙂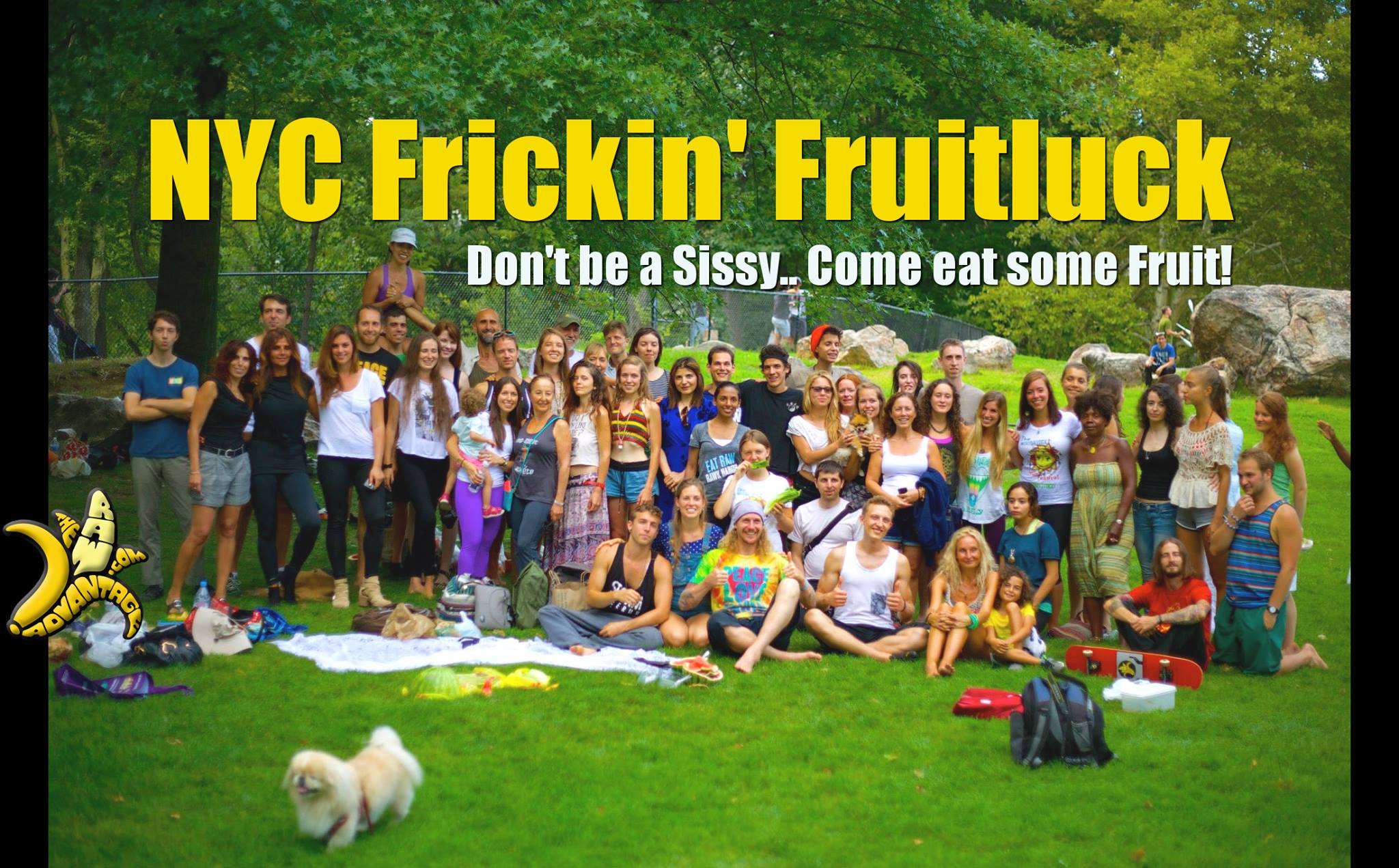 From the last fruit luck poster
Come enjoy and make The Sixth Annual NYC Frickin' Fruitluck to Follow up the Woodstock Fruit Festival!!
There Will be a Free Yoga Class at 11:11 am to rise our vibes and get our juices flowing for the Fruitluck following at 12:00 pm until you want to leave!
Help Me Shout it out!!
Invite your friends, family, acquaintances, dogs, cats, peeps on Facebook, Twitter, Linkedin, Pintrest, Instagram, message boards, blog posts, 30BananasaDay..
Tell people you don't know, just grab em and say.. "Hey are you going to the last Post WFF NYC Frickin' Fruitluck on Tuesday the 25th?.. You Should!"
This is a BYOB (Bring Your Own Banana's/Fruit) event, bring as much as you could ever eat and a few bites more, all to share!!
It is a Durian Encouraged Event too BTW..
No Need to Make a dish or bring Cutlery or Plates, Just your Favorite Whole Fresh Ripe Raw Fruits and Veggies and hungry hands!!
I hope you enjoy the video and choose to host some fruit lucks of your own
Wishing you Much
PeaceLovenSeasonalFruit ck
Subscribe to Ted Carr @ Fruit Living Here