The King of Kale Chips Raw Recipe Demo
Blessed to connect with Lauri aka @thegentlehomeopath and her sharing her health journey as make her new "King of Kale Chips" Recipe!
Now I will admit I have tried a fair number of Kale chips in my day and this amazing kale chip recipe by Lauri really is the King of Kale Chips!
King of Kale Chips
Creates 6-7 cups kale chips (1-2 cups/serving)
1 bunch curly kale (5-6 large leaves or .4 lb / 70g)
1/2 cup water
1/2 cup cashews (.19 lb / 85g) not necessary to soak
3 green onions (.7 lb / 36g) coarsely chopped
1/2 large red bell pepper (.18 lb / 82g) coarsely chopped
3 tablespoons lime juice
1/2 tablespoons miso
1/8 teaspoon cayenne pepper
Instructions:
Wash kale, then dry off excess water. Tear leaves from stems (discard stems) into chip-size pieces.
Transfer kale to a large mixing bowl then set aside.
PREPARE COATING In a blender, add the remaining ingredients in the order listed.
Blend sauce until thick and creamy; bits of cashews and bell pepper may still be visible which is fine.
Tip: Place your mixing bowl containing kale in the kitchen sink then drizzle sauce over the kale.
Toss kale using your hands or tongs until each piece is coated with sauce, but do not massage the kale.
Arrange kale on teflex food dehydrator sheets, and dehydrate @ 112 degrees for 8-10 hours or until crispy.
Store kale chips in a large recycled lettuce container with a lid and keep them in a cool, dry place.
If you like the looks of this recipe Lauri's wonderful New "MY GENTLE KITCHEN" ebook is jam-packed with deliciousness!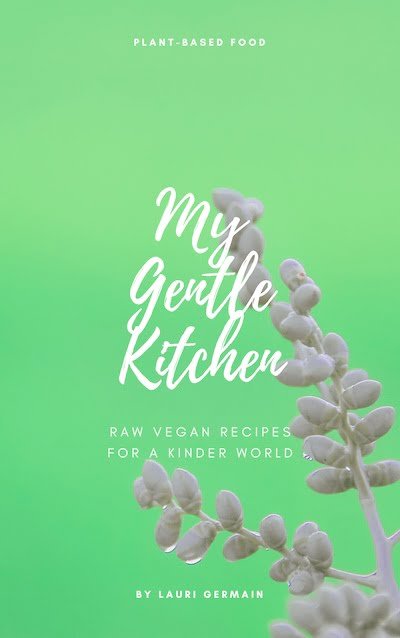 Join Lissa's @rawfoodromance 's amazing mother with her brand new, delicious, high-vibrational raw recipes for your healthy life!
Easy and fun to create treats for the whole family!
Try new twists such as Beet Jerkee, Rad Bac'n Bits, and Mangolicious Fritters!
All recipes are gluten-free, oil-free, and low in fat grams! Lauri is so sweet, caring and fun it's easy to see where Lissa got her heart n creativity from!
Thanks so much for the fun Lauri, be sure to give Lauri a follow on Instagram and check out her first awesome book!
Instagram @thegentlehomeopath
I am sorry to say that the Ultimate Raw Vegan Bundle promo period is over for this year, 

stay tuned and be sure to sign up to my mailing list here to be notified first when the all-new bundle comes back!
As Always
Wishing You Much
PeaceLovenSeasonalFruit ck