Dark Pepper Wine Smoothie Recipe by Alanna Jordan
Unwinding with a "Dark Pepper Wine Smoothie" Recipe Demo from Alanna Jordan aka @naturominta from her new book SMOOTHIES & SPICE and Everything Nice!
Ps the recipe demo starts around 40 minutes in!
This smoothie seriously blew my mind, it tastes like a warming wine, but is cool and super refreshing and satiating. As a bonus it's made from ingredients that store really well so you can easily have it ready as a backup smoothie when your other fruit is ripening. I hope you enjoy it as much as I do!
To the Dark Pepper WIne Smoothie Recipe!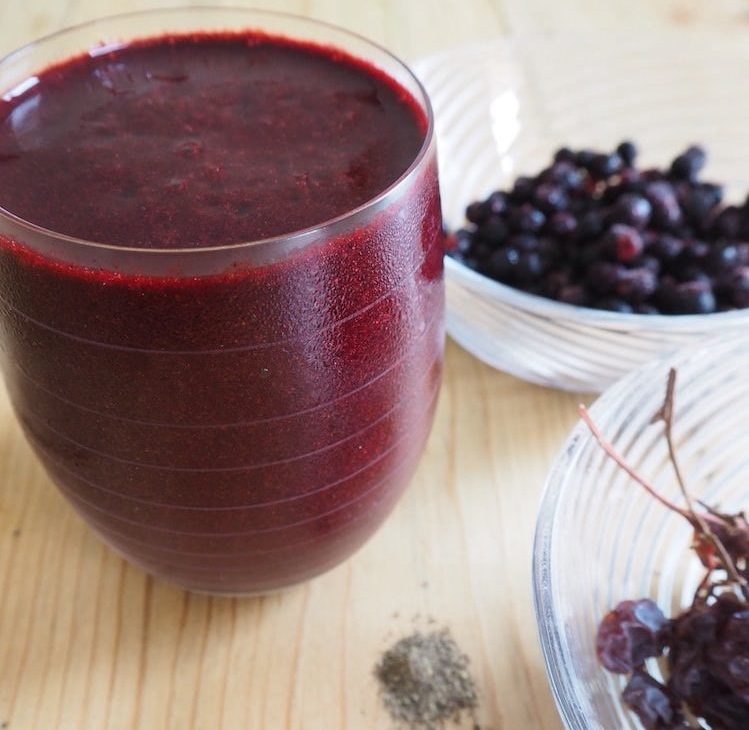 Dark Pepper Wine Smoothie Recipe
For approximately 1 liter / 1-4 servings, blend:
Wild Blueberries, frozen: (3.5 cups / 350 g)
Raisins, dried: (.33 cup / 45 grams)
Water (1.5 cups / 360 ml)
Lime, juiced: juice from 2 limes / 4 Tablespoons
Black Pepper, ground: 3/8 teaspoon
Blend all ingredients until smooth and serve, seriously SO delicious.
SMOOTHIES & SPICE encourages you to explore a world of flavour and support your health with smoothies that utilize spices and herbs!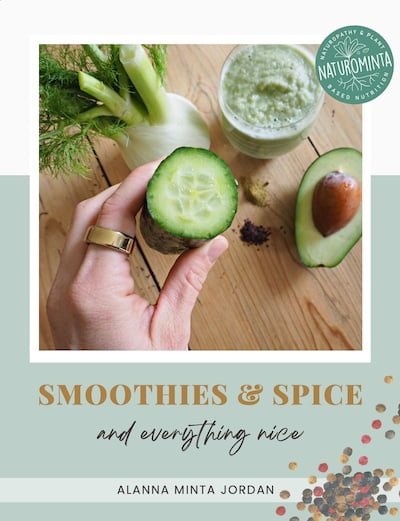 Learn Fun facts and benefits about everyday spices and herbs
Fall in love with some new fantastic smoothie recipes
BONUS: Best Spice & Herb Pairings for your Favorite Fruit & Veg Chart
PPS Get the pink peppercorn Chai Recipe by emailing Alanna at contact@neturominta.com
Be sure to give Allana a follow On IG @naturominta 
Thanks again Alanna
I am sorry to say that the Ultimate Raw Vegan Bundle promo period is over for this year, 

stay tuned and be sure to sign up to my mailing list here to be notified first when the all-new bundle comes back!
As Always
Wishing You Much
PeaceLovenSeasonalFruit ck