Treat-More Bars, Raw Vegan Recipe!
When I was little I used to love Eat-More bars but now I love Treat-More Bars!
Just in case you haven't seen it before the Eat–More bar is a Canadian candy bar made by the candy bar and processed food giant Hershey. It is essentially a chocolate bar although it's more like a flattened stick of firm yet soft and chewy textured toffee with crushed roasted peanuts. It was first produced in 1975 and has become a very popular and common chocolate bar in Canada.
However, like most candy bars, the Eat–More bar is very high in processed sugar, high fructose corn syrup, and refined palm oil, milk, and is really high in unhealthy calories. A far cry from healthy food, it should go without saying that eating them many of them can lead to weight gain and other health problems. They also contain artificial ingredients such as preservatives, food colourings and flavourings, which are not beneficial to health.
For those who have never tried it but are curious, or who enjoy the flavour and texture of this bar but are looking for a healthier alternative to the Eat–More bar, I have created the Treat-More bar! These are for sure a way healthier version of this classic Canadian candy bar utilizing raw hemp seeds, which are a great source of healthy balanced fats and protein, and dates, which are packed with vitamins, minerals healthy carbohydrates and fibre. These Treat-More bars can be a tasty treat or even a big part of a healthy sweet fruit meal.
 A few caveats to mention, these treat-more bars are quite sticky on the teeth so it's best to accompany them with apples or even greens and celery to help clean the teeth, also a good idea to brush after. One other consideration is that they are a bit of a challenging digestive combo being that they are a mixture of sweet fruit and fat. You can also always substitute mulberries for the hemp if you want to avoid the fat—sweet combo, I find a small mix like this on occasion isn't a big deal by any means, but this isn't necessarily an everyday recipe especially if you have candida or blood sugar issues. 
I hope you enjoy this simple raw vegan version I created, it's really similar, healthy, and delicious.
To the Recipe!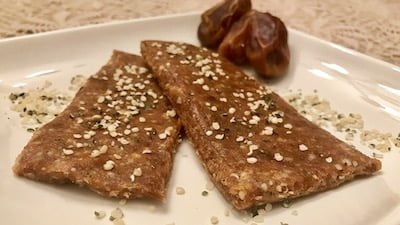 Treat-More Bars (1100 calories)
Dates (.75 lb – 345 g)
Hulled hemp hearts (4 tbsp / 40 g)
Choose soft dates, pit the dates and then add them to a food processor pulsing until they are well mixed into a semi-smooth consistency.

If you do not have a food processor you can mash the pitted dates by hand into a semi-smooth consistency.

Slowly add 2/3 of the hemp hearts to the mix and then roll and mash them into the dates to get a unified mixture.

Place the remaining hemp hearts on a sheet of wax paper, add the date hemp mixture and roll into a long 3/4-inch thick log covered in the extra hulled hemp hearts.

Fold the wax paper over the log to the desired bar shape, as shown in the video, and squish them into 1/4-inch flat bars on the wax paper.

You can cut them into any length of raw candy bar that you wish, and wrap them in wax paper for ease of handling.
These tasty bars are now ready to eat as is and/or can be refrigerated or frozen for a firmer texture if you prefer!
I really love making this recipe with Halawi dates, they are so chewy and delicious, slightly Carmel flavoured, and well worth trying, you can use Medjool or Khadrawi if you can't find Halawi.
Check out this post on my favourite date varieties and where to get them by mail order direct to your door!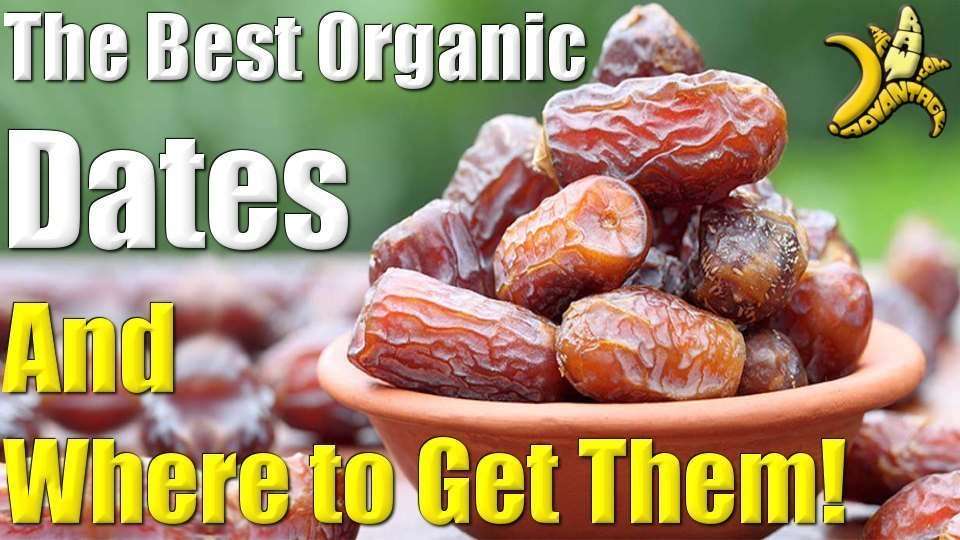 I have to say my favourite place to order dates is Bautista Family Organic Dates
These Treat-More Bars are ridiculously delicious and filling, are great as travel food and go really well with a simple banana nice cream for a fun chunky mix. Since they are quite sticky, as mentioned above it's great to eat along with, or before celery, lettuce or apples to act as a natural toothbrush. I would still recommend brushing your teeth (See my post on the Ultimate Oral Hygiene Plan Here) shortly after having them though. 
I hope you enjoy these delicious and healthy raw vegan candy bars as much as I do!
As Always
Wishing You Much
PeaceLovenSeasonalFruit ck