Savoury Irish Stew Raw Vegan Recipe
Enjoy this fun food demo with Victoria and I making my "Savoury Irish Stew" from my brand new Cravings Busters Sweet & Savoury Stews ebook!
This is one of those savoury, hearty, nostalgia-provoking recipes that leaves you really satisfied but is also simple and quick to make as well as easy to digest!
I am so excited to announce my newest book
Cravings Busters Sweet & Savoury Stews!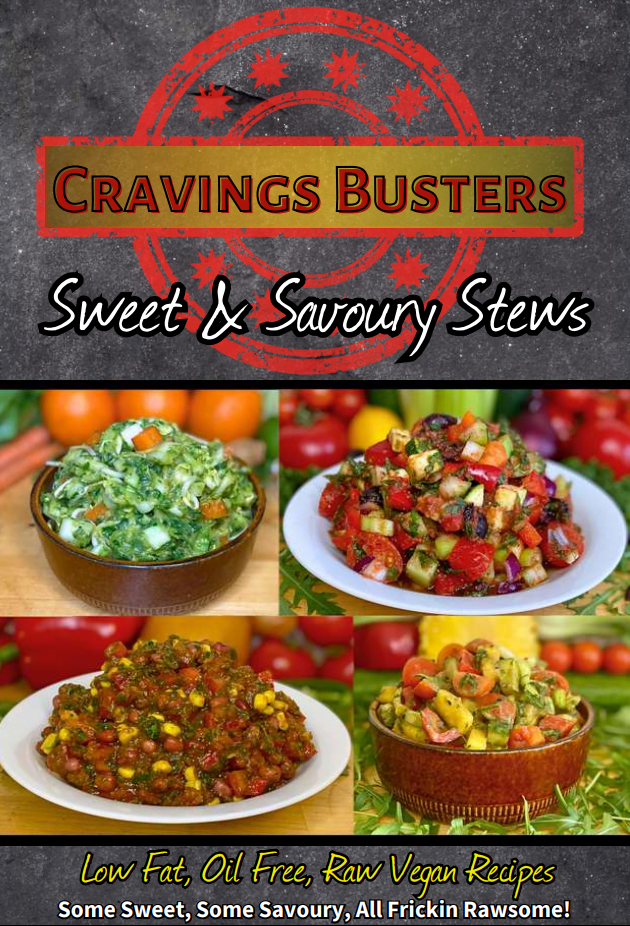 Move Over Salads, it's Stew's Time To Shine!
?Enjoy 21 classic stew recipes from around the world made Raw Verified Cravings Busters recipes sure to bust the toughest cooked food cravings
?Flexible recipes ranging from simple hygienic, to nightshade free to low-fat raw gourmet
?Bonus produce texture tips and two ethnic spice mix recipes
To the Savoury Irish Stew Recipe!
I really hope you enjoy this deliciously filling stew that really sticks to your ribs, I gotta say it reminds me of a classic country gravy-based stew!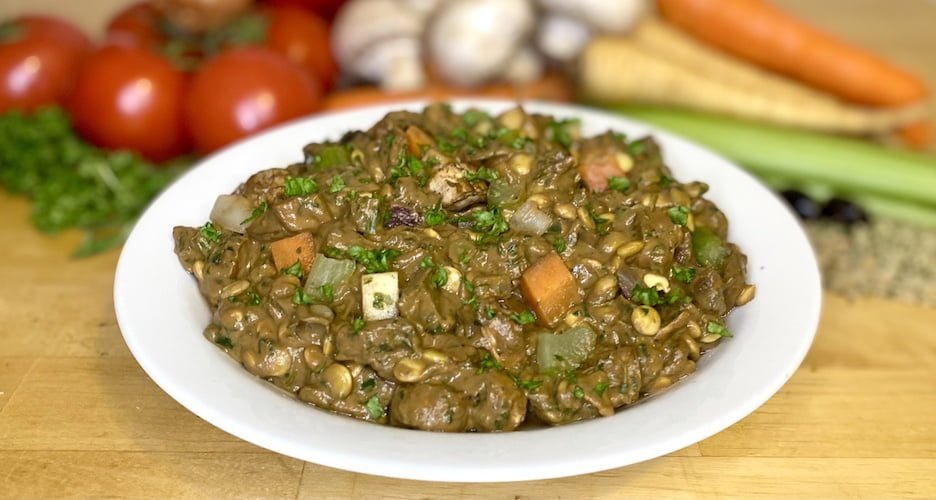 Savoury Irish Stew (710 calories)
3 Tomatoes (.75 lb / 345 g)
6 Celery (.5lb / 230g)
2 cups Green Lentil Sprouts (.35 lb / 160 g)
8 Mushrooms (.35 lb / 160 g)
2 Carrots (.25 lb / 115 g)
1 Parsnips (.11 lb / 50 g)
1/2 Onion (.11 lb / 50 g)
Arugula (.11 lb / 50 g)
Hemp Seeds (.25 cup / 35 g)
1/2 Medjool Date (.02 lb / 10 g)
Pitted Raw Black Olives (.11 lb / 50 g)
Sun-dried Tomatoes (1/4 cup / 15 g)
1 tsp Garlic Powder
Rosemary Thyme & Parsley to Taste
Directions:
Sprout, rinse, and if desired freeze lentils at your desired sprout length.
Pre-chop and freeze the carrots, parsnips, onions, and 1/2 of the celery the night before, the day you make the dish thaw together with the lentils in a big bowl.
Cube and dehydrate the mushrooms for 1 hour at 118°, and add to the bowl.
Blend the tomatoes with the remaining celery, date, hemp, olives, sun-dried tomatoes, and garlic powder until smooth.
Pulse in the arugula and herbs to taste, mix together with the contents of the bowl, and serve.
Thanks so much Victoria for the fun time connecting over the Savoury Irish Stew recipe.
be sure to follow Victoria on Instagram @rawveganse
and on her Youtube channel @Rawveganse
I am sorry to say that the Ultimate Raw Vegan Bundle promo period is over for this year, 

stay tuned and be sure to sign up to my mailing list here to be notified first when the all-new bundle comes back!
As Always
Wishing You Much
PeaceLovenSeasonalFruit ck