The Power and Simplicity of Fruity Living with Raw Coconut Girl
Blessed to flow with Kindred Spirit Magdalena aka  @rawcoconutgirl  going into the Power and Simplicity of Fruity Living, amazing healings with raw food and the magic of Hawaii and DURIAN!
This fun talk went into many aspects of Magdalena's healing journey from being in a wheelchair to dancing with raw food and creating her fruity living into a thriving business! We touch on fruitarianism, raw food, and different ways of approaching the raw food lifestyle. Be sure to listen to the whole interview to learn more about and from Magdalena!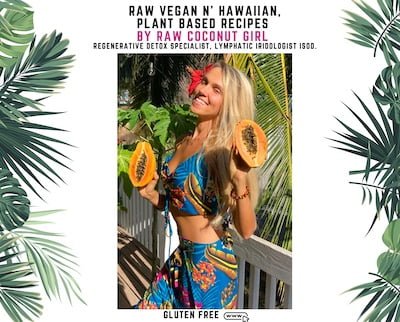 Excited to share that Magdalena's brand new book "RAW VEGAN N' HAWAIIAN" is now available on her site!
Bring the highest electromagnetic energy into your body with Raw Coconut Girl's new recipe ebook
20 raw vegan high-frequency recipes from the Universe to Planet Earth
Enjoy creations like pizza, sushi, kale chips, Hawaiian-Polish soup, lasagna, wraps, pies, and more!
Be sure to give Magdalena a follow
on Instagram @rawcoconutgirl on YouTube  @rawcoconutgirl 
and on her Website to check out all of her amazing books and offerings! Rawcoconutgirl.com
I am sorry to say that the Ultimate Raw Vegan Bundle promo period is over for this year,

stay tuned and be sure to sign up to my mailing list here to be notified first when the all-new bundle comes back!
As Always
Wishing You Much
PeaceLovenSeasonalFruit ck