The Raw Food Critic – Nosh Eatery and Tap
In search of the best Raw Food Restaurants around the world I am excited to share the raw vegan cuisine of Chef O'Reilly of
"The Original Nosh Eatery & Tap"
in Saskatoon Saskatchewan!
Plant based restaurants are hard to find in central Canada, let alone a actual fully raw or fully vegan restaurant. The winds of change are coming through the prairies with amazing Plant Based restaurants like The Original Nosh Eatery and Tap! I feel very blessed to have such a establishment in my home town, a place I can bring friends and family on any diet opening their eyes to amazing plant based / raw options, while still giving them the choice.
The Original Nosh is a vibrant feeling hip restaurant located at 820 Broadway Avenue (the liveliest street scene in Saskatoon), this venue for change is lighting the way with huge flavour and style to match!
Both Lena E n I were entranced by the atmosphere as well as the amazing offering on the varied Menu.
Click on the Menu to see it Full Size.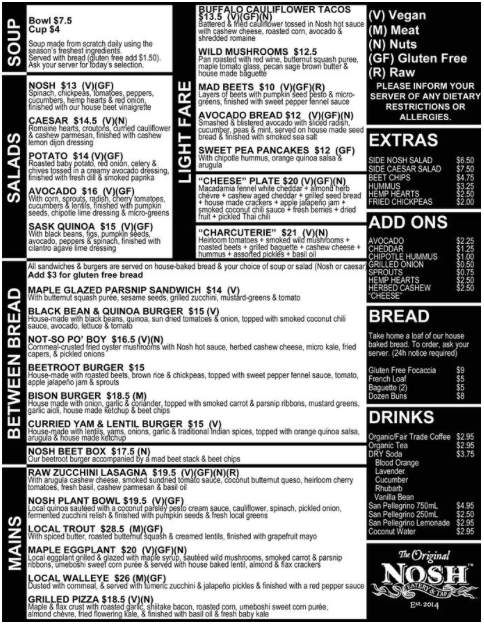 *Menu Subject to Change
After some deliberation as well as asking the recommendations of Co Owner Tania Friesen we decided upon a true Feast!
Some Happiness Tea to start, nice simple and refreshing, then the Mostly Raw and Vegan Cheese Platter!
Chef Justin O'Reilly was kind enough to introduce himself, chat a bit and explain the cheese plate among other recipes for us! Blessed by the connection and delicious food!!
After talking and mentioning that he had been trying to perfect the Cheese's for over two years I must say that Chef O'Reilly makes the best raw cheese I have ever had. I have had cheese plates at many raw restaurants all over the world and by far these are the best. The sharp Cheddar is insane, tastes like hickory smoked cheddar and the raw crackers for both cheeses are the perfect texture and compliment.
As a whole I would easily give this plate a A++ and recommend it to anyone!
Next We shared the Mad Beats
Bursting with flavour, the beets just the right thickness and texture with a delicious Carrot Creme between the Beets and the micro greens, I coulda eaten a dozen of these. Both Lena and I Loved the pesto filling and fresh tastes! A
After such delightful appetizers Lena decided to try out the Black Bean & Quinoa Burger, which she Loved


And I decided to go for the Raw Lasagna!
Now I have had my fair share of raw lasagna's before and I must say when I first looked at Chef O'Reilly's my first thought was that the zucchini was too thick…
But..
It was perfectly marinated creating a soft noodle like texture that left me rethinking how I make my own lasagna. The noodles held together perfectly with the best raw cheese combinations I have ever tasted, each bit getting better and better. Lasagna is often a signature dish at raw restaurants and make no mistake Chef O'Reilly has out done himself here.
By far my favourite raw lasagna I have ever had, for sure worth a try no matter if your vegan or raw. A++
While I am not a big dessert guy (preferring to eat my sweets, fruit, first for optimal digestion) we decided to go all out and try their raw Chocolate Torte!
Served with some orange slices, mint and raspberries this chocolate mint tort was a perfect finishing move. Smooth and thick as a cheesecake we were taken back to the old dessert days before I started reading up on nutrition, but without the "guilt". If your a chocolate cheesecake lover you are going to go crazy for this one! A
Over all I give The Original Nosh Eatery and Tap 3 thumbs way up with A++ for almost every dish we tried. For sure some of the best gourmet raw food I have ever tried and I would encourage anyone and everyone to go with a loved one / family member or friend to introduce them to quality [plant based cuisine!
Check out there site for more info
Thanks to Tania Friesen and Chef O'Reilly for having us, I 100% recommend checking out Nosh when in Saskatoon! 🙂
PS- if you wish to have me Review your Raw Restaurant contact me at info@therawadvantage.com
As Always
Wishing You Much
PeaceLovenSeasonalFruit ck