Kendall Bites, Comicon in Calgary, TRA meets Star Trek TNG
Was so awesome at Comicon in Calgary, I got to meet everyone from the Star Trek Next Generation crew and talk to most of them about Raw food, Veganism and share my Raw Recipe books!
So much to say but hey, the video really sums it up well!!:)
Hope you love love love it! 🙂
Comicon is a really sweet Sci-fi Comic Book Festival that goes on all over the place, this April it was in Calgary Alberta. Comicon has tons of booths filled with collectibles, clothing and comics from your favorite tv shows, comics, movies, and even video games! This year the biggest draw was the fact that they had The Whole Star Trek The Next Generation Cast, Star Trek TNG Cast, at the festival!
I grew up Watching Star Trek TNG and must confess
I am a Trekie!! 🙂
This video shares This weekend trip I went on to Comicon to Meet the Whole Star Trek TNG Crew with my Brother Curtis, Sister in law Heather, Nephew Jacob and Niece Alijah! We all went dressed up as Characters from "Dr Who"! Do you love Dr Who? I do!! Curtis Was Rory, Alli was Emilia Pond, Heather River Song, Jacob Dr Who and I was Captain Jack Harkness! I love Torchwood!!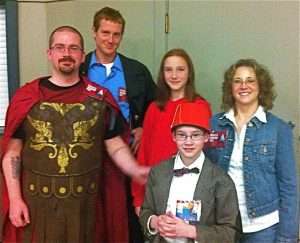 On the way to the Festival, at the festival and on the way home we shared some epic times and got into some antics n sweet tom foolery! Gotta Love it!! 🙂
I got a chance to do a short Interview with Michael Dorn, who plays Worf on Star Trek TNG as well as on Star Trek Deep Space Nine. He is easily one of my favourite Star Trek Characters and also turns out to Be a Vegan Actor! Once I found this out I wanted to share my stickers with him, at that time I also offered him a copy of my "101 Frickin' Rawsome Recipes". He let me know Brent Spiner, Data on Star Trek, was a vegetarian, so I decided I would give the whole crew My recipe Book as a Gift for giving me so much over the years.
There are a few Secrets Released in the video, as well as Interactions with the Star Trek TNG Cast!! Watch it Silly!
I got a chance to talk to nearly every one of the cast, Brent Spiner was really excited to get the gift of my 101 Frickin Rawsome Recipes, he even shared that his girlfriend is a Vegan, stoked to be able to share the simple sweetness of a raw food diet with them! Gates McFadden, Dr Crusher from Star Trek told me that she is Dairy and Gluten Free and is another vegetarian Actor, she was really excited to get my Raw recipe book!! Denise Crosby, Tasha Yar on Star Trek TNG, exclaimed that she is a Vegetarian and was really excited to share my stickers and recipe book with others!! I feel so blessed by this opportunity to share my flow with the whole Star Trek Cast, it was really a joy to connect! I didn't get a chance to talk directly to Will Wheaton, plays him self on "the big bang theory" and Wesley Crusher of Star trek TNG, nor Sir Patrick Stewart, Captain Picard on Star Trek TNG and Professor Xavier from the X-men, nor Jonathan Frakes, William Riker on Star Trek. Although I didn't talk directly to them I did talk to Their Main Handler, gave him the books and he said he would make sure they got the Gifts. I am confident I actually got my book "101 Frickin' Rawsome Recipes" to each and every Main Cast Member of Star Trek The Next Generation. So so so Stoked!! 🙂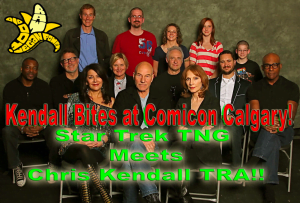 We also met Stan Lee, the biggest Comic Book/ Super Hero Writer that is!!
He created Spider man, The Fantastic Four, The X-Men among his most famous, with dozens of other Comic book Characters on his Resume! Being the creator of Marvel Comics, well all this makes him a Legend.
While there I had to purchase a Star Trek Captain James T Kirk Bath Robe, I do think I may just Live in this Robe! ahha
Hope you love love love the Video, it does a better job of explaining itself than I do here.
If your still reading this, sorry about my poor grammar and English, well hmm maybe u enjoyed it as much as I did Writing it, so Ill take back that sorry!! 🙂
Wishing you much much 
As Always
Wishing You Much
PeaceLovenSeasonalFruit ck