Raw Food Festivals You Don't Want to Miss 2016!
We are so blessed by such an abundance of amazing raw food festivals and events this year!
Coming together in community is a amazing way to connect share and all grow together! With that in mind I want to extend the sweetness your way!
I feel so blessed to be a part of these amazing festivals all over the world this summer and really hope to meet you at one or a bunch of them for the fun!!
First up
The First Ever Raw Vegan Cruise in Croatia June 25th – July 2nd!!!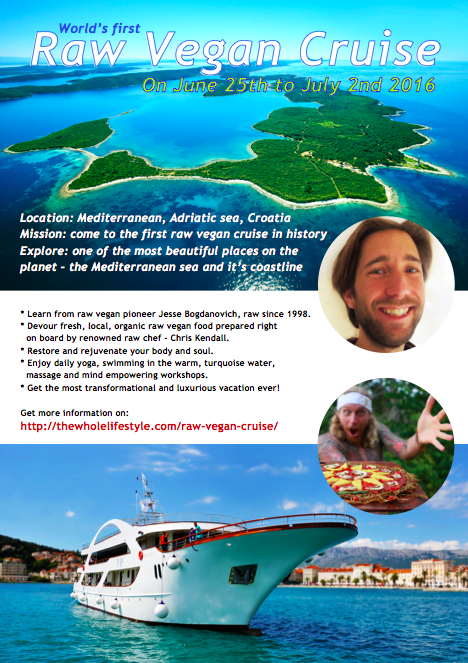 Join Jesse Bogdanovich, Raw Raw Reny a epic crew and I as we visit 7 amazing destinations in the Mediterranean!!
Besides the ridiculous times shared in such a beautiful setting, I will be serving as the head chef providing amazing food & demos while Jesse will be providing lectures, and Reny amazing Yoga Classes!!
We are so excited to enjoy this once in a lifetime event with you, click one of the images to learn more and claim the last spot, that's right, ONLY ONE SPOT LEFT!!!
After that join me for
The Sweden Raw Food Festival July 16th – 19th!!
This will be my second year back to Mundekulla for their yearly raw food festival and I gotta say it is a real treat!!! Mundekulla is a amazing rural retreat center with a amazing vibe and lots of Swedish character!
Besides enjoying the traditional Sauna beside a cool lake, I feel blessed to be heading back to share via talks, food demos and yoga classes!!
I hope you join us for a amazing expansive time, learn more and sign up here!
The Fun then Continues at the…
Denmark Fresh Food Festival July 21st – 24th!
I am so so excited for the Fresh Food Festival in Denmark, it will be my 3rd year returning and there is good reason!! The food quality is amazing, there is a real family feel and I just love the crew!!
I feel quite blessed to come back again as the Head Chef, to put on Food Demos, teach some Yoga, and lead a few Lectures as well!!
There are so many amazing speakers this year including Dr Rosalind Graham, Dr Douglas Graham, Petr Cech, Louise Koch, Tim Van Orden and myself!! 🙂
Learn more and join in on the fun here
Keeping the raw fun rolling up next…
The UK Fruitfest July 27th to 31st!
I soooo love it in the UK such amazing energy, scenery and people!!
This will be my second time at the UK Fruitfest, feeling really blessed to be heading back to share via talks, food demos and yoga!!
The food is always top notch, I actually have had some of the best Tropical fruit I have ever had at a raw food festival at the last UK Fruitfest!!
With amazing speakers, activities and people I really hope to meet you there! 🙂
Learn more and Sign up here! 🙂
Back in the USA…
The Woodstock Fruit Festival August 21st – 28th!!
I am so excited that community support has been so high and has kept Woodstock going!!
This will be the 7th Woodstock Fruit Festival I have been blessed to attend as a presenter / yoga teacher and at times chef!
This is by far the biggest raw food event of the year and is seriously such a blast with the best vibes, so many experienced speakers, activities and adventure!!
I really hope to enjoy this amazing festival with you!!
Last but not least!
The NYC Frickin Fruitluck August 31st
Join the NYC Frickin Fruitluck Facebook Page Here..
This Years NYC Frickin' Fruitluck will be held in the same Place and Space as Last years Frickin Fruitluck, Wed Sept 3rd In Sheep's Meadow, Central Park NYC.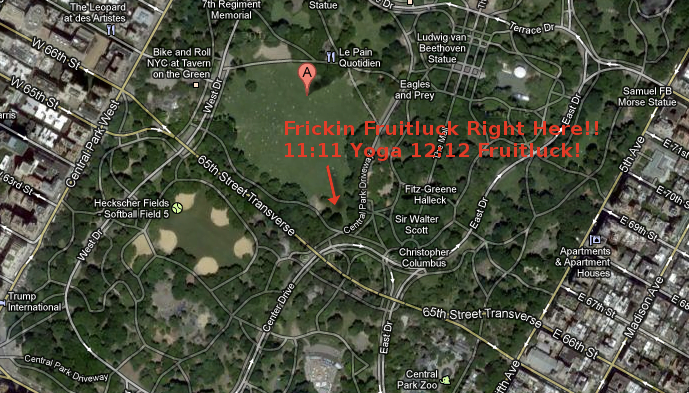 Starting at 11:11am for a Free Kendalini Yoga Class, Fruitluck Loosely around then and Officially at 12:12pm with a epic Durian Showdown!
This is a Durian Encouraged Event!!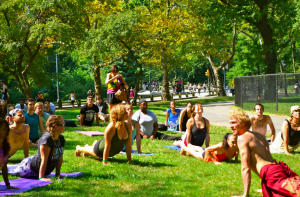 No need bring anything other than your Favorite Whole Fresh Raw Ripe Fruits and Vegetables, No need for special dishes, cutlery and or bowls, Lets just smash it proper with our hands!!
Many of the Pioneers from The Woodstock Fruit Festival will be glowing and still i the afterglow of the festival, If you are unable to make it to One be sure to check the other and enjoy the Sweet Company!
Spread this post and/or the Facebook Page everywhere Lets Make all of these events bigger than ever!
Hope to meet n connect at one or all of the events above!
Do give me a slap and hug when you see me, can be a bit dizzying going to so many events but I wouldn't have it any other way!
Wishing you much
PeaceLovenSeasonalFruit ck