Day in the Life of the Banana Commander!
Flowing as current as can be with this video from past Saturday June 2nd!
Enjoy a "Day in the Life of The Banana Commander"!
P.S two bonus Recipes!! 🙂
Enjoy the Video!!
Wow a day in the life,
Ive wanted to do one of these for a long time, I was tempted to call this "a Saturday in the life" ahah so I could do a day in the life for each day of the week!! I still may! I wont go through the whole video here, you can watch it, But it does include The Farmers market, Great Tomatoes, A silly movie, showing my work day including The Raw Un-Challenge Low Fat Raw Food Recipes and Menu Plan. So excited to be a part of this awesome event aimed at bringing ease to the raw lifestyle, interviews and tips with Ka Sundance, Durian Rider, Dan Life Regenerator Macdonald, and so many more awesome raw food experts. After work I get some exercise, share some of my favorite exercises, have lunch and then more work!
Off skating for a while, some silliness then Back home for dinner!
Stoked to share some new simple raw food recipes, two new low fat raw recipes that I have never made before filming this!
Its crazy as I make different things all the time, but having a raw starter and raw main course that I have never had, oh my! Hope you love the recipes!!
HoHoSicle!!
1 Santa claus melon
6-8 oranges, juiced
Scoop the Insides of the Santa Clause melon into the Blender, Juice the oranges and Blend with Melon! Simply Delicious! 
Orange Heirloom Arugula Cuke Pasta!
 Sauce:
3 Oranges
Top 1/3 of 2-3 lbs heirloom tomatoes
 Handful salt-free Sun Dried Tomatoes 
4 Handfuls Arugula
Bunch of Basil
Noodles:
Two Cucumbers
1 head Romaine
Bottom 2/3 of tomatoes 
Cherry Tomatoes (as much as u want!) 
 Using a Hand tool known as the Julien Peeler Make noodles out of the Cucumbers and place in a bowl. Slice the head of romaine very thin to make Noodles, mix with cukes. Slice the remaining Cucumber centers into cubes and mix 2/3 with noodles. Cut bottom 2/3 of heirloom tomatoes (reserving tops for sauce) and dice into big chunks, Mix 2/3 in with noodles.
Juice 3 oranges, place juice in the Vitamix with the tops of the tomatoes and any bits or butts from the lettuce. Blend well, add sun-dried tomatoes and blend until a thick sauce is created, about 1 cup. Add Arugula and basil to the Blender and blend at slow speeds, 5-6 on Vitamix to create a chuncky consistency! Pour over noodles, stir and place remaining Cuke, cherry tomatoes and Tomato chunks on top. Enjoy, its so so so good, the Arugula gives it a bite!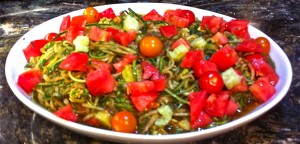 Hope you love love love the recipes n the video!!
As Always
Wishing You Much
PeaceLovenSeasonalFruit ck