Do you miss eating Cabbage Rolls on your raw vegan lifestyle?!
Now you don't have to, check out these Authentic tasting raw vegan cabbage rolls that have the texture of the real deal!
Satisfy those hardier cravings with this simple raw cabbage roll recipe! Bet you didn't know it was so easy to make cabbage rolls vegan!
I'll admit it had been a long while since I had a cabbage roll, then I realized I had unlocked certain secrets that would make my older cabbage roll recipes 1000 x better, thus this authentic tasting and textured raw vegan cabbage roll recipe was born. You can do it without a Vitamix, food processor, or dehydrator, but I do recommend using them as it does make a difference.
Grab your very own Vitamix or Excalibur Dehydrator with FREE shipping!
but really they make a huge difference in your raw lifestyle, I Promise!
So to the Recipe, ps this serves 2-3 as a main or 6-8 as a side dish and can be refrigerated or frozen! 🙂
The Best Raw Vegan Cabbage Rolls
1 large green cabbage or 2 medium
1 medium cauliflower (approx. 2 lb / 920 g)
1 tsp each parsley and dill (more if desired)
1/2 cup sun-dried tomatoes (more if desired)
6 tomatoes (1.5 lb / 690 g)
3/4 cup chopped chives
1 cup walnuts
1 lemon
2 dates
SOoooo if you want to get extra fancy you will want to start a day or two before you are going to eat this. Firstly you want to get the freshest cabbage/cabbages you possibly can, the fresher and higher the water content the better this recipe turns out. Simply place the whole cabbage/cabbages in the freezer for at least 12- 16 hours, this is the one-day-before step I would 100% recommend, it makes all the difference, and when thawed leaves the cabbage leaves soft supple and cooked-tasting!
PS you can leave it in there for days or weeks, which makes it easier to store long-term too. Take the cabbage out on the day you intend to make the cabbage rolls to start to thaw.
Next chop the cauliflower into a crumble, much easier in a food processor with the "s" blade or in smaller batches with the Vitamix and tamper. Place the cauliflower crumbles / "rice" on a cookie sheet and place in the freezer for at least 6 – 8+ hours. After that amount of time, you can store them in plastic bags for weeks, or on the day of the cabbage rolls simply take them out and let them thaw at room temperature.
The night before you are making the cabbage rolls chop the raw walnuts into a crumble as well, this simulates the "beef", place it in a bowl of water to sit for 4 – 12 hours (any longer than 6 hours best in the fridge). This softens the walnuts, makes them easier to digest, and removes some of the inhibitors and bitter flavor. When ready to make simply strain the nuts and place them in a big bowl.
Once the cauliflower is thawed place it in a nut milk bag and squeeze out any excess liquid, this can be reserved to drink or make a soup base out of. Mix the squeezed cauliflower with the walnut crumble, add 1/3 – 1/2 cup chopped chives and let sit.
Grab the thawed / thawing cabbage and place it in a sink of hot water, if necessary. Cut the base of the cabbage so it's easier to remove the leaves, carefully and slowly remove each leaf without tearing, you may need to run it under hot water while doing this at times. You are aiming for 12 – 18 leaves depending on the size, all sizes work well. Once you have all the leaves cut the thick bottom stem portion of the leaf off, about the size of a walnut, this makes it easier to roll.
Next, you're on the sauce, chop the tomatoes and place them in the Vitamix, add the lemon, pitted dates, and sun-dried tomatoes, and blend till smooth and thick. Last, add the remaining chives and herbs, and pulse to mix in but still love some texture.
Mix 1/2 – 2/3 of the sauce with the cauliflower nut mix, and stir in till well coated. Carefully take each cabbage leaf and fill it with 1-3 scoops of the mixture, fold the bottom stem end over, then each side, and finally the last flap, you may want to watch the video for that part. Carefully place each roll seam side down into a casserole dish, preferably a large one with handles as in the picture/video.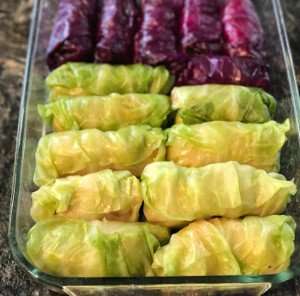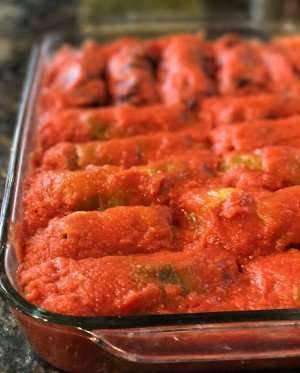 Once all are rolled up add the remaining sauce and smooth on top!
You can serve them just like this, but if you want to take it to the next level then place the whole casserole dish into your dehydrator for 2-6 hours (I love pyrex casserole dishes because they fit perfectly in a 9 tray Excalibur dehydrator!). Once the sauce dries up on top of the raw vegan cabbage rolls they are perfectly ready, serve with a nice salad or on their own!!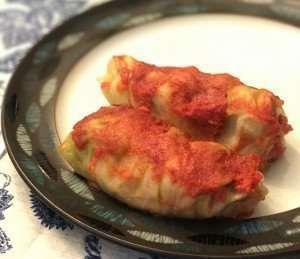 I hope you love these raw vegan cabbage rolls as much as I do!
PS if you want an epic Raw Vegan Borscht to go with these raw vegan cabbage rolls then Click Here!
If you liked the look of this grab more simple low-fat raw recipes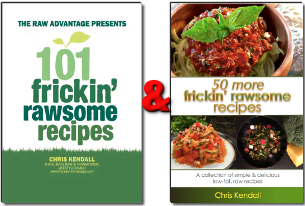 (101 and 50 more frickin rawsome recipes)  
As well as my low-fat raw gourmet recipes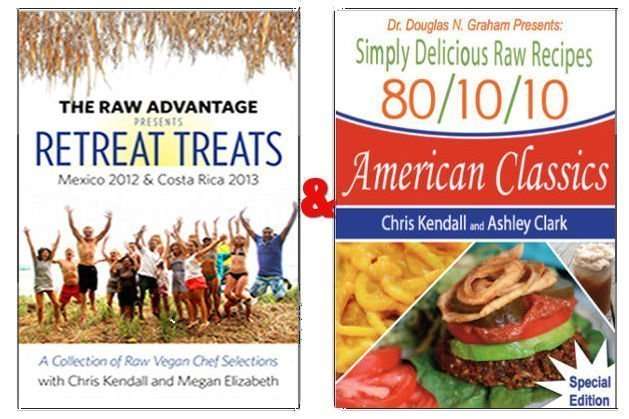 (TRA Retreat Treats and American Classics)
---
If you  want to learn more texture tips, check out my "Top 3 tips to make raw veggies taste cooked!"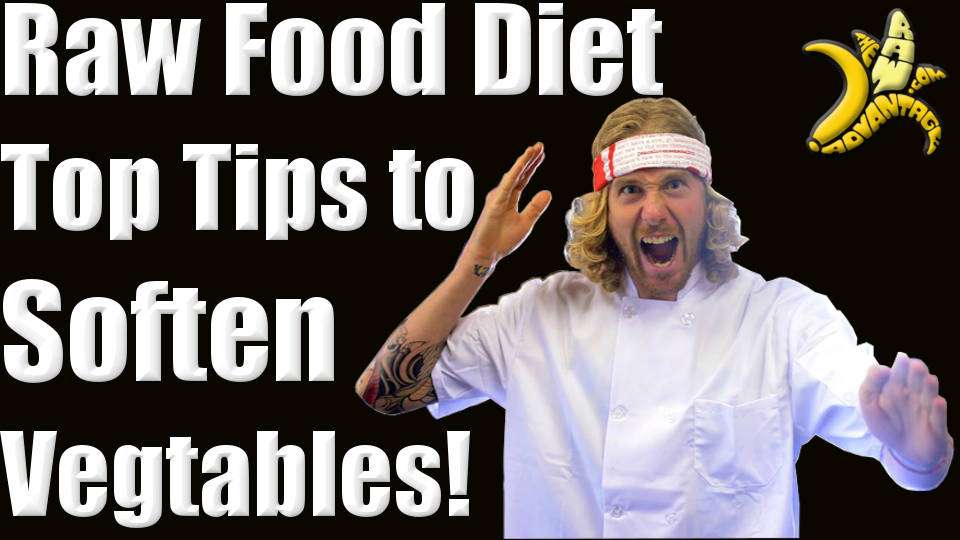 As Always
Wishing You Much
PeaceLovenSeasonalFruit ck