The Best Raw Vegan Borscht
I have had many different types of Borscht in my life and many raw versions since going raw in 2004.
After many experiments, I really feel I hit the nail on the head and can safely say this is the Best Raw Vegan Borscht!
I hope you Love it!!
PS if you have never had borscht or think the idea of a beet soup does not make your mouth water, Trust Me it will once you try it and you will love this recipe!!
Borscht is a sweet and sour beetroot-based soup popular in several Eastern European cuisines, including Ukrainian, Russian, Polish, Belarusian, Lithuanian, Romanian, and Ashkenazi Jewish cuisines. Often served hot but also served cold, more commonly red but also available as a white borsht, sometimes a thin broth while other times thick and stew-like. It is really hard to say where exactly borsch originated and even the correct spelling as this is actually a matter of heated debate with some. The name Borscht is actually Russian, in Poland, it's barszcz, while in Lithuania, they call it barš?iai. From Sevastopol to Szczecin, they claim the dish as their own with many variations.
I grew up on what I was told was Ukrainian Borscht and as it's the variety I have come to enjoy most this Borsch recipe is based on that version. I really hope you love it and the Bonus raw vegan Sour Creme Recipe, something I always Loved with my Borscht.
PS if you want an amazing Raw Vegan Cabbage Roll recipe to go with your Borscht Click Here 🙂
While the recipe looks a bit intimidating it is really quite simple and takes almost no time at all, read on and enjoy authentic borscht that is both raw and vegan!
The Best Raw Vegan Borscht
Chunky Ingredients (start here)
1/4 Red or White Cabbage (200 g / .44 lb)
 1 Carrot (75 g / .17 lb)
1/2 Onion (50 g / .11 lb)
Tomatoes (115 g / .25 lb)
* If you haven't watched my video on my top 3 tips on how to make raw veggies taste / feel cooked then click here, or simply follow the instructions that follow for my favorite, especially with these ingredients.
1.  The day before you want to make the borsch prep the first 3 ingredients. Using a mandolin, food processor or a sharp knife cut the cabbage into fine strips, and place it in a freezer-safe bowl or bag. Grate the carrot and add to the same bowl, finely cut or mandolin the onion, and also place in the bowl. Mix all well and place in the freezer for 10+ hours.
The above is optional but really makes the dish, I fully recommend trying this freezing method before simply making it with fresh veggies.
2. On the day that you are going to make and serve the borscht take a serving of the frozen sliced veggies out of the freezer and let thaw for 6-8 hours. You can alternately thaw them under warm water / place them on a dehydrator tray at 115° for an hour or in a warm oven (turn it to its lowest setting, then turn off the oven and place the veggies inside to thaw). My preferred method is to let them thaw at room temperature.
3. Once the shredded ingredients are thawed dice the tomatoes and mix them into the bowl. You are now ready to make the broth.
* As a special note, you can do the above in larger batches and freeze on a baking sheet, scoring the mixed vegetables into approximate serving sizes before freezing so that you can separate them into individual freezer bags once fully frozen. This way you can have many batches of the vegetables ready to go in a pinch for the future. Frozen veggies will stay good for weeks to a few months.
The Broth 
Tomatoes (460 g / 1 lb)
1/2 lemon (1 tsp juice)
1 Beet (115 g / .25 lb)
A handful of Fresh Dill (.1 lb / 44 g)
or 1 – 2 tbsp dry Dill
Optional
1 clove garlic
1 green onion
1 tsp black pepper
1. Loose chop the tomatoes and add to your Vitamix Blender (I highly recommend a Vitamix for the best texture and taste, get your new or refurbished Vitamix with FREE shipping here at the best price).
2. Juice the lemon and add 1/2 to the blender.
3. Loose chop the beet and add to the blender as well. If desired add any of the optional ingredients as well.
4. Blend till smooth and creamy, taste for tartness, and add remaining lemon if desired.
5. Add the dill and pulse to leave some texture, if using dry no need to pulse much.
6. Pour the broth over the chopped and sliced veggies and you are done… That is unless you want to make the Raw Vegan Sour Creme, which I recommend.
Raw Vegan Sour Creme
Zucchini (115 g / .25 lb)
up to 1/2 Lemon (1 tsp juice)
 Hemp Seeds (1/8 cup / 30 g)
1. Peel the zucchini and chop into a medium dice, and add to a clean blender.
2. Juice 1/2 a lemon and add 1/2 of that along with 1/8th cup hemp hearts (or half if lower fat is desired) to the blender and blend at high speed till creamy. You may need the tamper or even need to add a tiny bit of water, or more zucchini depending on how fresh and juicy your zucchini is.
3. Taste and add lemon to the desired flavor. This is actually easier to make in a double portion but is fine depending on your blender or if you have the tamper and fresh zucchini. Play with it and get your desired consistency and flavor.
You Are All Done!!
Pour or spoon a dollop of Sour Creme on top of your Borscht and either mix together for a pink Borscht or eat each red spoonful with a bit of sour creme on the tip of your spoon. Absolutely delicious, low fat, and filling!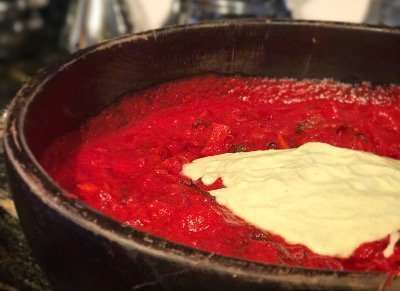 I really hope you Love love love this recipe, if so share it with a Borscht Lover, on your Instagram or Facebook page, and be sure to link back to this post / tag me in it!
PS if you want an amazing Raw Vegan Cabbage Roll recipe to go with The Best Raw Vegan Borscht then Click Here
If you Loved this recipe also be sure to check out my Ebooks/Books with more of my Top Raw Vegan Recipes, from fully simple well food combined Hygenic recipes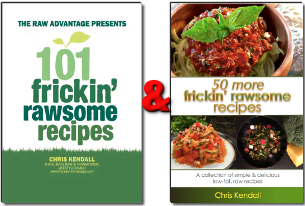 as in 101 Frickin Rawsome Recipes & 50 More Frickin Rawsome Recipes
or my low-fat raw gourmet recipe ebooks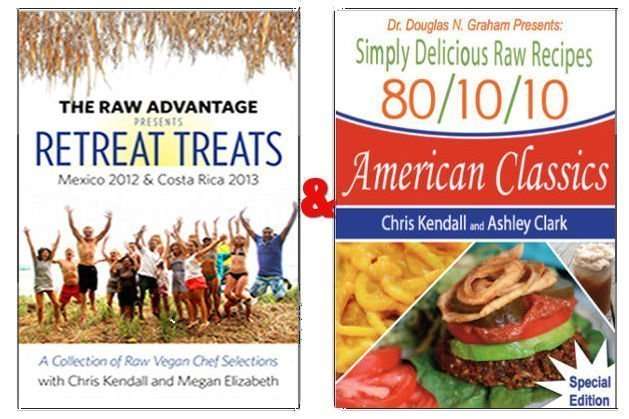 TRA Retreat Treats, Simply Delicious American Classics,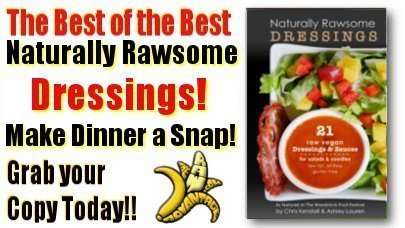 and my sauce book from the Woodstock Fruit Festival, Naturally Rawsome Dressings!
As Always
Wishing You Much
PeaceLovenSeasonalFruit ck