Ema's Tantalizing Pad Thai and Raw Journey
Join Ema aka @raw.veganema and me as we make her super delicious Raw Vegan Pad Thai recipe from her brand new 7-DAY RAW VEGAN RESET!
I hope you really enjoy the food demo and conversation with Ema, this recipe was super delicious and I fully encourage you to make it and check out her new book below for more!
To the Pad Thai Recipe!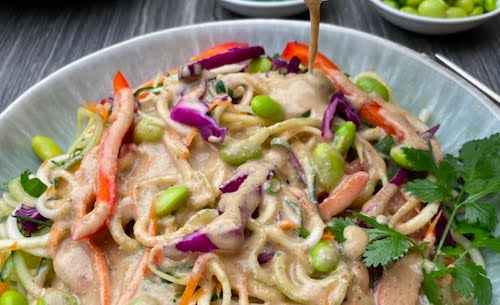 Ema's Tantalizing Pad Thai
Ingredients:
NOODLES
1 zucchini or cucumber, spiralized (0.5 lb / 230g)
1 carrot (0.13lb / 61g)
1/2 red bell pepper (0.1lb / 60g)
1 cup red cabbage (0.2lb / 89 g)
1 cup edamame (0.3lb / 160 g)
SAUCE
1/4 cup raw almond butter (57 g)
1 garlic clove (1/5 tbsp / 3 g)
2 tbsp lime juice (30 g)
1 tbsp coconut amnios (15 g)
1 pitted date (1 tbsp / 24g)
TOPPINGS
1/4 cup green onions (2 g)
1/4 cup cilantro (2 g)
1 tsp sesame seed (3 g)
Instruction:
Spiralize the cucumber or zucchini.
Julienne the carrot, bell pepper, and red cabbage. Defrost the edamame. Add everything to a bowl.
In a separate bowl add all the sauce ingredients. Whisk together until smooth. Add water (about 2 tbsp) if too thick and keep adding water until you achieve the desired consistency.
Pour sauce onto the noodles and top with diced green onions, diced cilantro, and sesame seeds.
If you like the looks of this recipe and are looking to start the raw food lifestyle or for a quick raw vegan reset then Ema's new book is for you!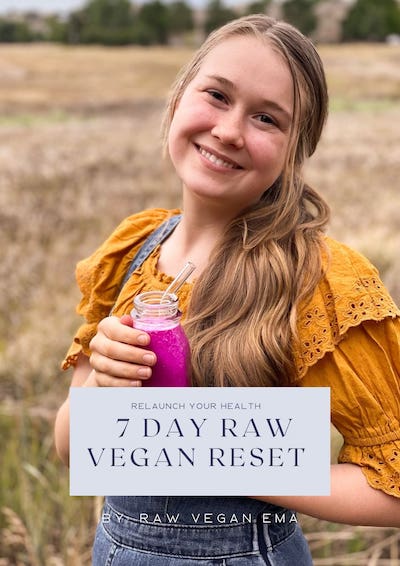 With the 7-Day Raw Vegan Reset relaunch your health with a streamlined 7-day raw vegan meal plan that includes:
7 days of simple and delicious raw meals
Easy to Follow Grocery List and a Helpful Raw Food Pyramid
Decadent Bonus Dessert Recipes you will drool for
All recipes are raw, low-fat, whole-food vegan recipes.
Be sure to give Ema  a follow on Instagram @raw_veganema
I am sorry to say that the Ultimate Raw Vegan Bundle promo period is over for this year, 

stay tuned and be sure to sign up to my mailing list here to be notified first when the all-new bundle comes back!
As Always
Wishing You Much
PeaceLovenSeasonalFruit ck