Sweet Purapple Sauce Recipe
I have really been on an Apple Sauce Tear lately, speaking of that
Let's Make Sweet Purapple Sauce!??
During the latter fall and into winter I really like to monopolize on seasonal fruits such as apples, pears, citrus, persimmons, and more. Lately, I have really been enjoying apples and have been making a fair bit of apple sauce, such as my basic Super Easy Apple Sauce Here, and my Mango Grapple Sauce here. Apple-based recipes are really filling due to the two different types of fiber in apples that not only slow digestion compared to most other juicy fruits but also are really great at helping bind and carry certain toxins such as heavy metals from the body.
Due to the fiber content of apples, they don't usually make a great ingredient for smoothies, unless it's just a little bit of apple blended with a lot of another more juicy fruit, or if you add a lot of water. One such example is a date and cinnamon smoothie, blended with lots of water of course, with one added apple, it really tastes like a candy apple! Speaking of candy apples I also really love to make raw vegan candy apples by squishing dates on apples for an amazing simple sweet and crunchy treat, this is often a go-to when traveling especially when on airplanes! As a bonus apples almost act like a toothbrush so it's great to keep a few bites of apple for the end of the candy apple meal to help clear your teeth from sticky dry fruit.
When making raw vegan apple sauces, such as this Sweet Purapple Sauce, I highly recommend using a high-powered blender such as the Vitamix Blender.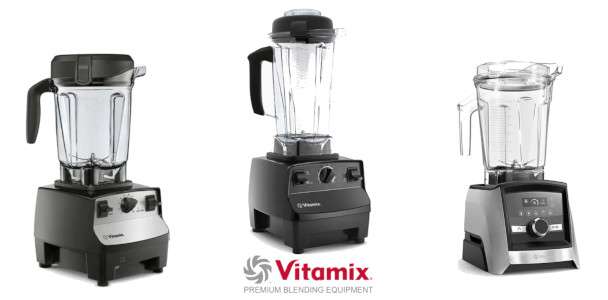 IMHO the Vitamix Blender makes the absolute best blenders in the business and has been doing so for just over 100 years! While it is really rare you would ever need it, they come with 7 – 10 year warranties on their new Vitamix blenders and 5-year warranties on their refurbished models. If you do not have a high-powered blender then you can also try to make this recipe in a food processor, or simply do the best with what you have using some celery to help push the ingredients into the blender blades. That is one big bonus of Vitamix Blenders, the tamper which really helps get tougher ingredients going and helps you to make the thickest creamiest sauces, nut butters, dips, and nice creams!
If I was to recommend one high-quality kitchen appliance to help take your raw food lifestyle to the next level it would for sure be a quality blender such as Vitamix.
Now that we got all of that fun info on seasonal fruits, apples, and the best tools to make this delicious recipe let's get to the Purapple Sauce!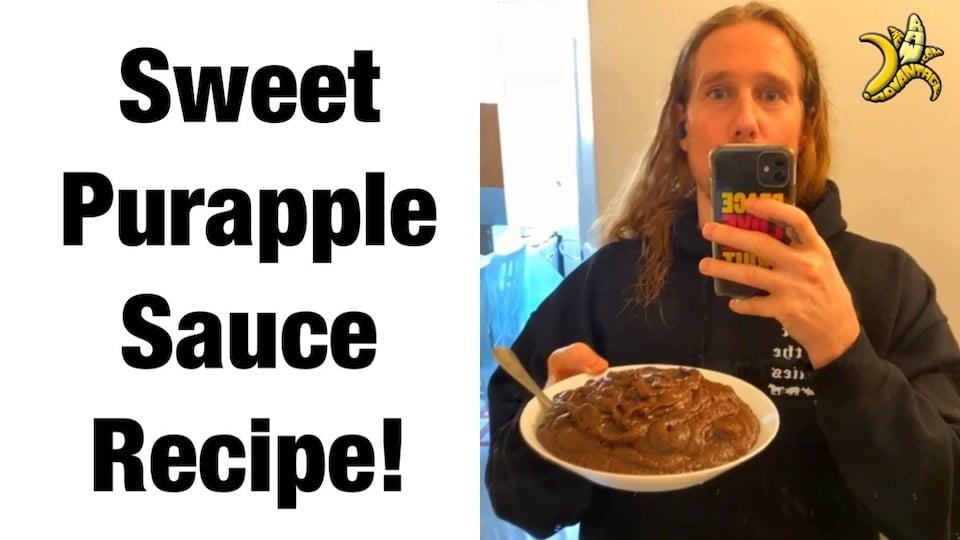 Purple Apple Sauce treat aka Purapple Sauce ??
?Sweet Apples (1.75 lb / 800 g)
?Barley Grass Juice Powder (1 TBSP)
?Blueberries (.5 cup)
1. Start by quartering and coring your apples and then rough chop them and add them to your Vitamix Blender
2. Add 1 TBSP Barley Grass Juice Powder, learn more about my favorite brand, and get the best deal on barley grass juice powder here.
3. Add the Blueberries, they can be fresh or frozen.
4. Pit and then add the Dates, be sure to pit every single one, it's really a pain when one sneaks in the blender!
5. Blend everything up using the Vitamix Tamper to get it started ??
?Enjoy with a big spoon?
I hope you really enjoy this simple purapple sauce recipe a ton! 
As Always
Wishing You Much
PeaceLovenSeasonalFruit ck